Studying Law at UChicago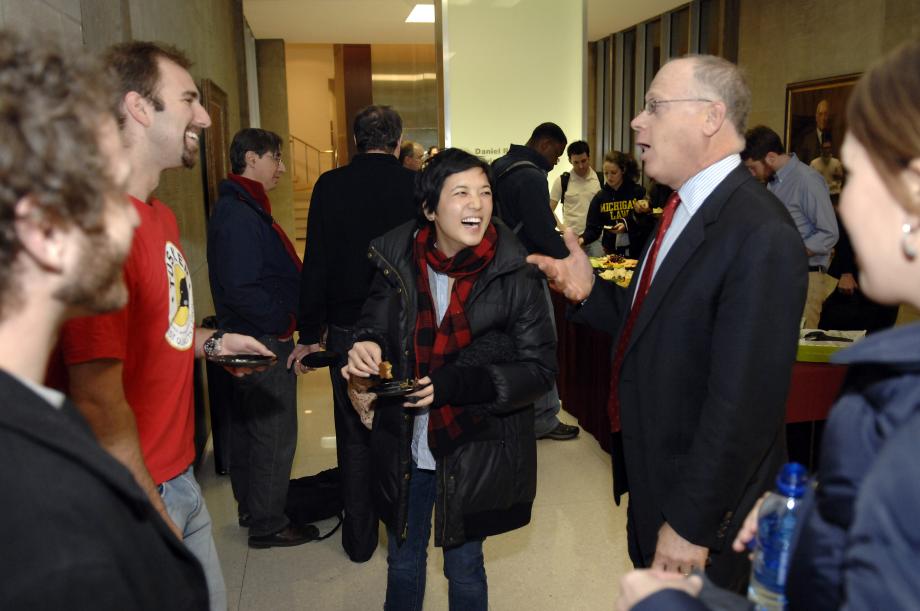 The Life of the Mind
The University of Chicago Law School is about ideas.
This is what sets us apart from other law schools: we have an unabashed enthusiasm for the life of the mind—the conviction that ideas matter, that they are worth discussing, and that legal education should devote itself to learning for learning's sake, not just for earning's sake. UChicago Law is small enough to allow students regular, in-depth interaction with their professors, who take a deep interest in their success. But the Law School also offers a chance to be part of the larger, world-class UChicago community—and to engage with a Law School alumni network that stretches from Congress and the federal bench to academia, public service, business, law firm practice, and nearly every corner of the profession.
The result is an unmatched energy, camaraderie, and way of thinking that UChicago Law students carry with them long after they graduate.
Our Faculty
Our faculty are not just leading law scholars. They are philosophers, economists, historians, political scientists, and more—and many have joint appointments in other departments on campus. Faculty practice an open-door policy and they engage with students in ways uncommon in academia. The Law School sponsors the Chicago Policy Initiatives, which encourage faculty members and students to work together, examine important social problems, and propose solutions. Many students participate in Greenberg Seminars, where professors from different disciplines team up to teach casual seminars on unusual subjects in their own homes.
Interdisciplinary Inquiry
UChicago's devotion to interdisciplinary inquiry is as old as the school itself. It grows out of our conviction that the law does not exist in a vacuum. The faculty includes historians, economists, philosophers, and political scientists, and each year several Law School classes are cross-listed with other departments of the University.
Read more about specific interdisciplinary programs.
The Socratic Method
At UChicago Law, the professor does not lecture the students but rather engages them in a dialogue. By asking questions about thorny legal concepts and principles, the professor challenges students to articulate and defend positions for themselves. Known as the Socratic Method, this dialogue presents students with questions, to which there are no easy answers, regarding some of our most complex legal and social problems. This method prepares students to think on their feet when the stakes are high in the courtroom, legislative chamber, or boardroom and to explore the underlying dynamics at play in a legal issue.
Read more about the Socratic Method at UChicago.
Profound Learning, Powerfully Applied
All first-year JD students begin their education with the Kapnick Leadership Development Initiative, building a foundation of leadership training based in brain science. And in the Harry A. Bigelow Legal Research and Writing Program, they master a lawyer's most powerful skills—researching, writing, and presenting well-reasoned arguments—under the guidance of one of the full-time Bigelow Teaching Fellows.
After their first year, students have a broad latitude in determining their own path, both in terms of electives and professional development experiences. The Law School's highly-regarded transactional and litigation-based legal clinics offer opportunities to learn litigation, legislative advocacy, and transactional skills. Those admitted to the selective Doctoroff Business Leadership Program spend all three years incorporating the best of the MBA curriculum into their JD. The International Immersion Program provides first-hand experience navigating other cultures. And the Pro Bono Service Initiative and Public Service and Public Interest program offer a chance to start making a difference now.
Read more about the Doctoroff Business Leadership Program, the Public Service and Public Interest program, and more professional development opportunities.
Read more about clinics, journals, moot court, and more experiential learning opportunities.