International Immersion Program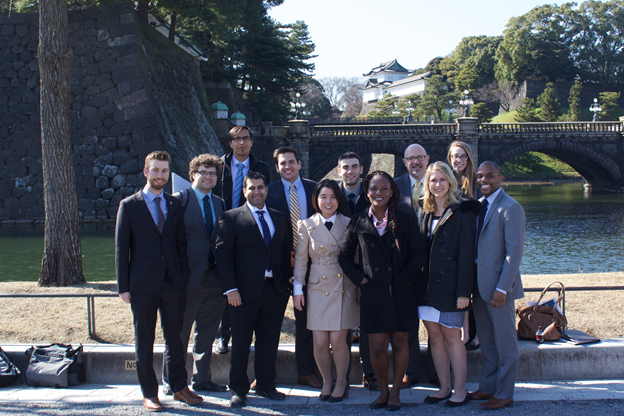 The University of Chicago Law School launched the International Immersion Program (IIP) in February 2012 to provide support to students seeking substantive, immersive international experiences and to help prepare students to enter an increasingly globalized profession. Students in the immersion program have an opportunity to travel on a short term study trip to a foreign country during their breaks and learn about international and comparative law through seminars with legal scholars, meetings with professionals at law firms, businesses, international organizations, government institutions, and exchanges with alumni and local law students.
To date, the Law School has funded hundreds of students on a dozen immersion trips to countries in Africa, Asia, Europe, and South America. Each trip has a theme and includes classes in the host country on the trip's topic, meetings with attorneys, meetings with judges and policy makers, meetings with alumni, and a service component. Trips also include visits to other sites related to the trip's topic (health clinics, schools, etc.). Students are expected to participate in training sessions in advance of traveling, and to write a research paper and share their experiences with the Law School community at a post trip seminar.
Past trips include such destinations as Argentina, Bahrain, Belize, Chile, China, Cuba, France, Hong Kong, Japan, Kenya, Morocco, The Netherlands, Russia, Singapore, Switzerland, Qatar, Thailand, Tunisia, UAE and Vietnam and cover such topics as law and economic development, comparative constitutional law, international human rights law, international trade and investment law, etc.
As just a few examples, in addition to several seminars on Chinese law, the students who traveled to China met with attorneys at large law firms and major corporations to learn more about legal issues and explore job opportunities in China. The students who traveled to Belize worked with different NGOs in Belize on issues related to disaster relief law, various human rights issues, and land rights. The students who traveled to Vietnam, in addition to attending an introductory course on Vietnamese law and visits to law firms and NGOs, participated in a workshop with members of the country's Constitution Revision Committee to discuss proposed constitutional amendments, setting up a constitutional review body, and improving provisions on human rights protection.  Students who traveled to Cuba took courses on various aspects of the Cuban legal system taught by professors, lawyers, and judges; met with municipal court judges; toured the University of Havana; met with business owners; visited a health clinic; visited cultural sites; and received a briefing from the Political Chief of the U.S. Mission in Havana.
IIP participants are expected to cover the costs of their plane ticket, travel insurance, touristic activities outside the trip program, and non-business meals. A travel subsidy of up to $500 is available to each participant whose plane ticket exceeds $1200.
To learn more about the 2023-2024 IIP in Uzbekistan during the Winter Break and Brazil and Mexico during the Spring Break, attend the IIP Information Lunch Meeting in Room I at 12:15-1:15 pm on 5th Oct 2023 or Register to join a Zoom Meeting on 10th Oct 2023 any time between 12:00 - 1:30 pm. 
Students interested in the IIP, please submit your application via email to aican@uchicago.edu by 14th October 2023. Each application must include the following documents:
A research proposal for a chosen trip (maximum 200 words)

An unofficial Law School transcript or an unofficial undergraduate transcript (1L applicants only)

A current resume