Doctoroff Business Leadership Program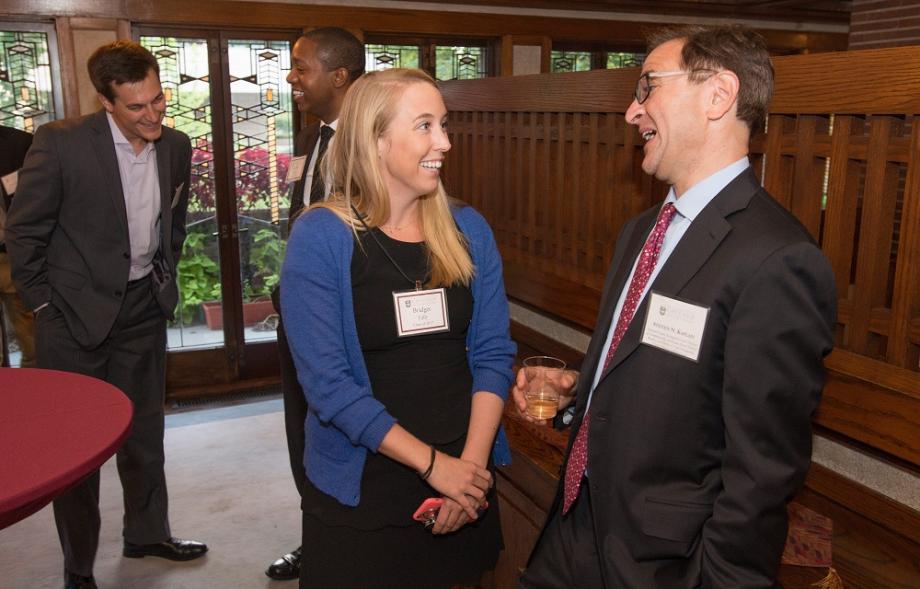 Bridget Tully, '17, with Steven N. Kaplan, Neubauer Family Distinguished Service Professor of Entrepreneurship and Finance, Booth School of Business and Thomas A. Cole Distinguished Visiting Professor in Business Law
The line between the business and legal workplace is dissolving. Today's corporations want lawyers with the business skills and savvy to serve as key advisors in today's complex global business environment—lawyers who know how to analyze financial statements, think creatively about capital structures and advise on complex business transactions. And organizations want executives with the critical analysis and reasoning skills required to lead in today's increasingly volatile and uncertain world—leaders who can deftly recognize and navigate risks and create innovative business solutions to address them.
That's why we created the Doctoroff Business Leadership Program—a certificate-granting program that blends the best of the MBA curriculum into our prestigious, three-year Law School education and is designed to arm students with the skills and knowledge they will need to thrive as corporate attorneys, in-house counsels, business leaders, and entrepreneurs. 
Each year, a select group of high-achieving students with a demonstrated interest in business and law are accepted into the Doctoroff Program. As part of the Program, students are matched with an alumni business mentor, participate in a business internship and leadership enrichment activities, and are required to complete a core business curriculum taught at the Law School by leading faculty from UChicago's world-renowned Booth School of Business.
The Doctoroff Business Leadership Program is a compelling alternative to a JD/MBA program. Our students graduate in three years with a JD and a Doctoroff Program certificate—and, more importantly, a broader and more nuanced perspective about their careers. Our program is selective, but the experience is powerful. If you're planning a career at the intersection of law and business, apply today.
If you have further questions about the Doctoroff Program, please contact Associate Dean for Admissions Ann K. Perry at akperry@uchicago.edu or Meg Bingle Krishnan, Associate Director of Admissions at mbingle@uchicago.edu. 
If you would like to apply to be part of the Doctoroff Business Leadership Program, please select "Yes" under the "Doctoroff Program" section of the University of Chicago Law School Application and attach a statement of interest to your application describing your interest in the Doctoroff Program.
Please note Doctoroff Business Leadership Program admissions decisions will follow in an email separate from the admissions decisions emails, in late March or early April. For questions on the Doctoroff program, please email: Meg Krishnan megkrishnan@uchicago.edu
Complete a core business curriculum taught by eminent UChicago Booth and Law School faculty during your 2L and 3L years.  Current courses for the 2021-2022 Academic Year include:

Competitive Strategy
Accounting and Financial Analysis
Corporate and Entrepreneurial Finance
Strategies and Processes of Negotiations
Managerial Psychology. 
Participate in a 3-year mentorship program. Each student will be matched with a business mentor who provides career guidance during the student's three years.
Complete a summer business internship between 1L and 2L years.
Participate in enrichment activities and programs focused on business, entrepreneurship, and leadership.
Chicago Booth Faculty
Philip G. Berger – Accounting and Financial Analysis
Wallman Family Professor of Accounting
Eric Budish - Competitive Strategy
Steven G. Rothmeier Professor of Economics and Centel Foundation/Robert P. Reuss Faculty Scholar
Ayelet Fischbach - Managerial Psychology
Jeffrey Breakenridge Keller Professor of Behavioral Science and Marketing and IBM Corporation Faculty Scholar
Steven Neil Kaplan – Corporate & Entrepreneurial Finance
Neubauer Family Distinguished Service Professor of Entrepreneurship and Finance, Booth School of Business and Thomas A. Cole Distinguished Visiting Professor in Business Law
George Wu – Strategies and Process of Negotiation
Professor of Behavioral Science, Booth School of Business, and the Barry and Jan Zubrow Distinguished Visiting Professor in Business
Faculty Director
Douglas G. Baird
Harry A. Bigelow Distinguished Service Professor of Law
Mentorships & Internships
Each Doctoroff student is matched with an alumni business mentor to provide the student with invaluable advice, connections and coaching as they think through their career possibilities and choices. Every effort is made to match students with mentors who have backgrounds, experiences or connections aligned with the student's career interests.   
Participants in the Doctoroff Business Leadership Program are required to complete a summer business internship between their first and second years. Each student works closely with the Executive Director and program faculty to identify business internships, submit applications and prepare for interviews. Since inception, Doctoroff students have interned with a number of leading companies across a diverse array of industries, including:
Baxter International
Bloomberg L.P.
Burford Capital
Cantor Fitzgerald, L.P.
CDW
Evergreen Real Estate Services
Gerchen Keller Capital, LLC
HEICO Companies LLC
Hilco IP Merchant Banking
Illinois State Department of Commerce
Illinois Toolworks
JPMorgan Investment Bank
McArthur Foundation
Marvel Studios
MB Real Estate
Mesirow Advanced Strategies
Microsoft
MLB.com
National Basketball Association
Nuveen
Ocean Tomo
Polsky Center for Entrepreneurship and Innovation
Propel Financial
The Options Clearing Corporation
TMZ
United Continental Holdings (United Airlines)
U.S. Department of Treasury
Ventas, Inc.
VMware, Inc.
Business and Entrepreneurship Campus Resources
Law School Clinics
Social New Venture Challenge — Over the last few years, three Law School teams have competed and placed in the competition. You can read about them here.
Open Impact Studio Workshop — Open Impact is a studio workshop series during which UChicago students and faculty collaborate with colleagues from across disciplines, get inspired by emerging, global challenges, and learn how to use design thinking to develop an idea and test its potential.