About Chicago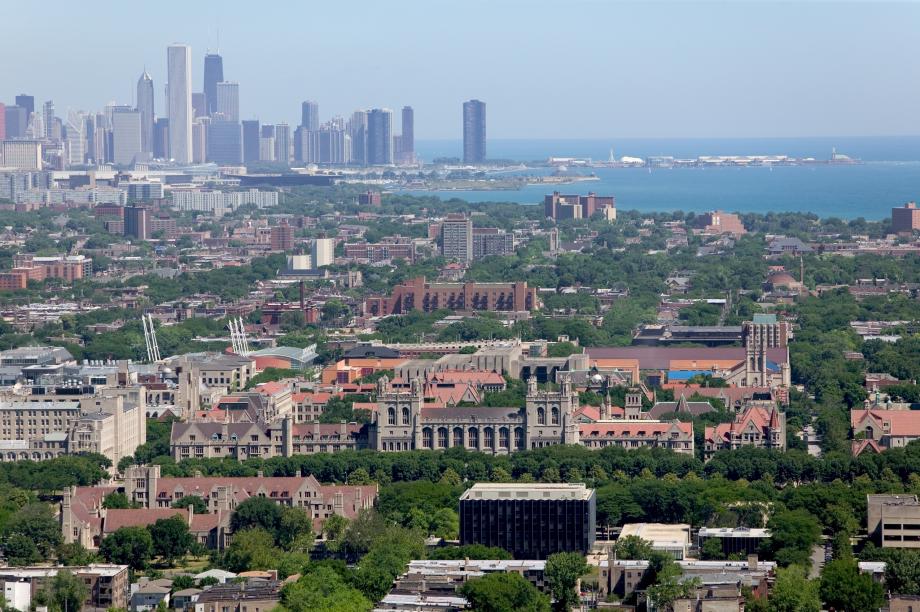 "It is hopeless for the occasional visitor to try to keep up with Chicago—she outgrows his prophecies faster than he can make them. She is always a novelty; for she is never the Chicago you saw when you passed through the last time."
- Mark Twain
The Windy City, the City of Big Shoulders, the Second City
"The city is so unbelievably beautiful. It's one of the greatest cities on the planet. My heart beats differently when I'm in Chicago. It slows down and I feel more at ease." - Jeremy Piven
It would be very hard to provide a true picture of all that the city of Chicago has to offer in one page. Chicago is a world-class city known for its jazz and blues, sophisticated yet affordable restaurants, fantastic shopping, theater and improvisational comedy, professional sports, modern architecture, lakefront and river cruises, and beaches. Venues such as Navy Pier, Millennium Park, the Chicago Loop, the Magnificent Mile, the Field Museum, the Museum of Science and Industry, the Shedd Aquarium, and the major observation decks make Chicago a mecca for tourists. Locals, however, know that the city is full of everyday delights, too. Chicago is one of the best large cities for bicycling in the US, and you will see Chicagoans riding on their own bikes or on Divvy Bikes throughout the city. We (believe we) have the best hot dog in the country (no ketchup, please!), and with all due respect to New York, a pizza isn't serious if it's less than an inch thick. 
Parks and "Green Chicago"
"I'd rather be a lamppost in Chicago than a millionaire in any other city." - William A. Hulbert
When Chicago was incorporated in 1837, it adopted the motto "Urbs in Horto" ("The City in the Garden") and lives up to that motto today in many ways. Few cities take more pride in their public spaces than Chicago. The Chicago Park District boasts 8,100 acres of green space, 26 miles of shoreline, 77 swimming pools, 23 swimming beaches, 10 major museums, a free public zoo, ice rinks, golf/mini-golf courses, batting cages, and much more. The entire Chicago lakefront is owned by the city, which means that you can go to beaches, theater performances, and festivals right on the waterfront and run, walk, bike, blade, and even rock climb along the shoreline. Among the events the Park District hosts are the Chicago Air and Water Show, the Grant Park Music Festival, Theater on the Lake, and the annual food festival, Taste of Chicago. In addition, Millennium Park, a downtown multimedia park that has a Frank Gehry-designed bandshell, a skating rink that doubles as a sports bar in the summer, and the 160-ton "bean," a stainless steel, mirrored sculpture that is a Chicago landmark. In concert with the beauty and usefulness of our park system, former Mayor Daley started—and Mayor Emmanuel is continuing—a campaign to make Chicago America's Greenest City. Chicago's City Hall was the country's first municipal building with a rooftop garden, and Illinois is on the top of the list of total square feet of LEED-certified space per resident — with Chicago housing a majority of these buildings. Other projects include rehabilitating wetlands areas inside the Chicago city limits, testing for rain-permeable alleys and green fueling stations.
Sports
"Every player should be accorded the privilege of at least one season with the Chicago Cubs. That's baseball as it should be played - in God's own sunshine. And that's really living." - Alvin Dark
In the minds of many, Chicago is first and foremost a sports town. Chicago loves its teams, and with good reason. Soldier Field, right on the lakefront, is home to the Bears. Chicago's United Center hosts the Blackhawks, which have three recent Stanley Cup wins in 2010, 2013 and 2015, and the Bulls, which won the NBA championship six times between 1991 and 1998 with two three-peats. For baseball, Chicago is unparalleled, hosting the White Sox at U.S Cellular Field (a short trip from the Law School) and the 2016 World Champion Chicago Cubs at beautiful Wrigley Field, right in the middle of the North Side's Lakeview neighborhood. Chicago's own Major League Soccer team, the Chicago Fire, plays in nearby Bridgeview.
Art
"Eventually, I think Chicago will be the most beautiful great city left in the world." - Frank Lloyd Wright
If art or architecture is your passion, you will be very happy in Chicago. Largely because the downtown area had to be entirely rebuilt after the Great Chicago Fire of 1871, Chicago is often called the birthplace of modern architecture. Buildings by legends of modern architecture Louis Sullivan, Frank Lloyd Wright, Frank Gehry, and Ludwig Mies van der Rohe abound. Chicago is the home of the first skyscrapers and boasts the second-tallest building in the country, the Willis Tower. Hyde Park has stunning mansions on its north side including the Frank Lloyd Wright-designed Robie House and, of course, the Gothic gargoyles of the University itself. The Art Institute of Chicago houses masterpieces of painting and sculpture, including a superb collection of French Impressionists and major works of 20th century art. The Museum of Contemporary Art and the Spertus Museum are smaller, more focused collections, perfect for an afternoon's viewing. The University of Chicago's own Smart Museum spans Rodin to Rothko.
Music
"Chicago, Chicago, that toddlin' town." - Fred Fisher
Chicago is legendary for its music, particularly jazz and blues, with dozens of small clubs that host internationally renowned musicians every night. Blues and jazz clubs dot the city, including such famous and popular spots as the Buddy Guy's Legends, Kingston Mines, the Green Mill, and Rosa's. You'll also find fabulous venues for folk, country, hip hop, even Irish music.  The Chicago Symphony Orchestra, long acclaimed as one of America's Big Five orchestras, often premieres works by University of Chicago composers. Every year, the Chicago Lyric Opera fills the sumptuous Art Deco opera house to 103-percent capacity. And, of course, all the national music tours stop in Chicago, playing traditional venues such as the United Center, House of Blues, and Allstate Arena, and somewhat more unusual ones like Wrigley Field and Soldier Field.
Theater
"I'm impressed with the people from Chicago. Hollywood is hype, New York is talk, Chicago is work." - Michael Douglas
Theater is also plentiful in Chicago. The city boasts nearly three hundred troupes and also is home to world-class improvisational comedy, including Second City, which got its start forty years ago right here at the University. Chicago is home to the Steppenwolf and Goodman theaters, and to the Elizabethan-style Shakespeare Theater at Navy Pier. The Court Theatre is a professional theater company right here on the University's campus.  Big musicals play at large auditorium theaters downtown, and intimate plays, often locally written, are performed in spaces all over town.