Library Services for Students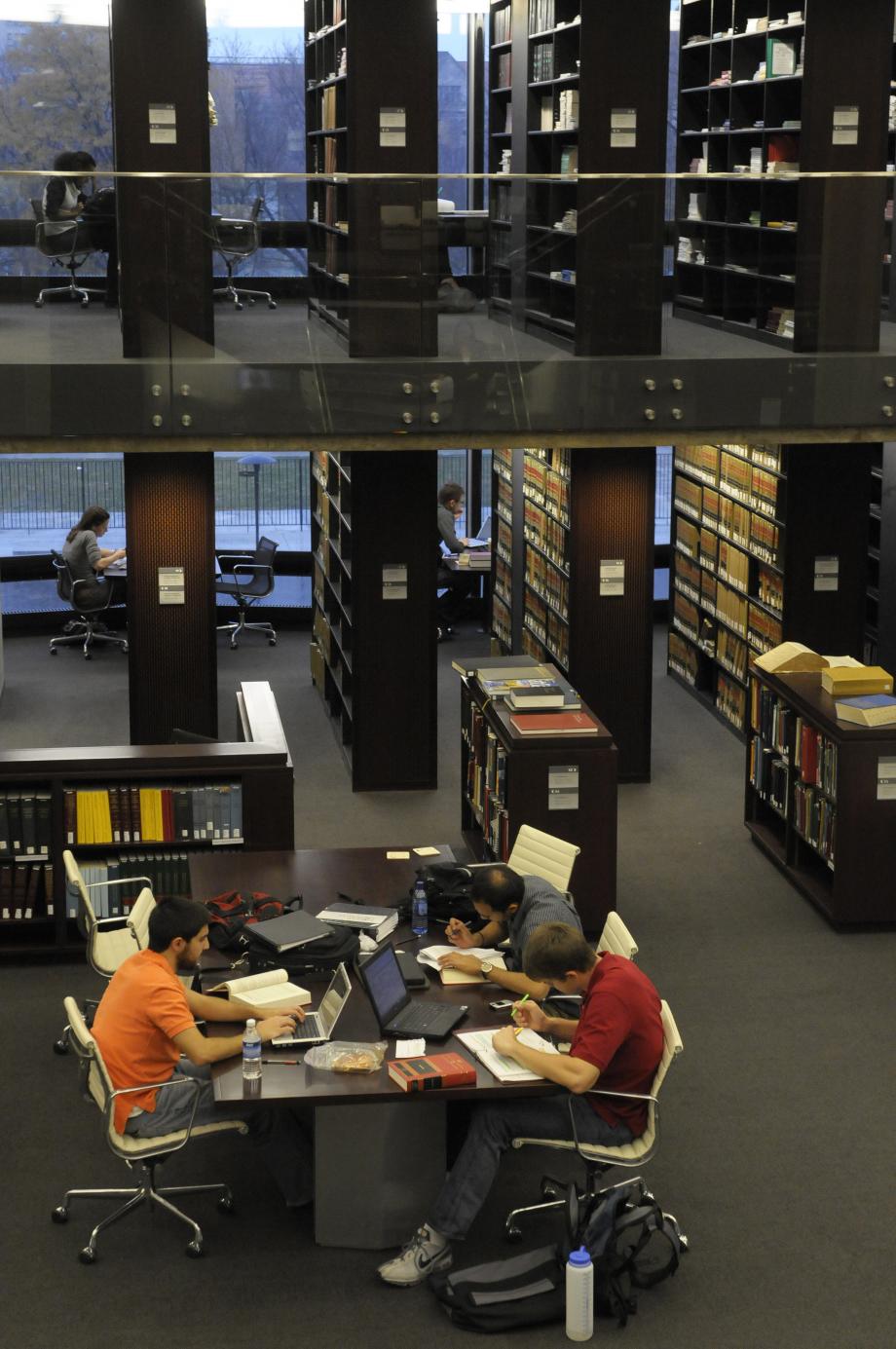 Home Page
Hours
Telephone: 773-702-9615
Circulation Desk: 773-702-0213
Reference Desk: 773-702-9631
Print collections and electronic resources: The D'Angelo Law Library's collection consists of over 700,000 volumes in print and other formats, including the primary laws of the United States and all fifty states, foreign, comparative and international law, legal commentary on a variety of topics, and resources in other disciplines of interest to legal researchers. The D'Angelo Law Library is one of six campus libraries at the University of Chicago that have combined collections of over 7,000,000 volumes. Using the library catalog, law students may identify items of interest at the D'Angelo Law Library and other campus libraries. The Library's second floor Reserve Collections Room contains texts on reserve for Law School courses along with a variety of useful study aids.
The University of Chicago Library subscribes to hundreds of electronic indexes and full-text databases, including law databases and non-law electronic resources of interest to legal researchers. Off campus access to these databases is available to faculty and students of the Law School. Law students have access to the online databases LexisNexis and Westlaw via individual passwords provided to them during autumn quarter of their first year.
Library services: The D'Angelo Law Library works closely with law students on their papers, research projects, and general information needs. A directory of librarians and library staff is available on the Library's web page.
The D'Angelo Law Library has a combined service desk on the second floor, providing Circulation and Reference assistance. Circulation staff is available to assist law students with reserve materials, checking out items, and general questions about the Library. Reference librarians staff the desk seven days a week and can answer questions about the Library's collections and resources, researching the law, and use of LexisNexis and Westlaw. The reference librarians also teach the legal research component of the first-year Bigelow program.
The D'Angelo Law Library maintains an online collection of previous law school exams.
Study space and computing facilities: Study tables are available on all floors (second through sixth) of the D'Angelo Law Library. The Library has a limited number of assigned carrels on the third through sixth floors for use of students working on law journals, faculty research assistants, law students in seminar courses, and others with special research needs. Carrels are assigned quarterly. Law students may apply for a carrel at the Circulation Desk.
The D'Angelo Law Library has seven conference rooms. Two conference rooms are on each of the 4th, 5th and 6th floors. There also is a conference room on the second floor. Law students may reserve use of a conference room.
The Law School operates a computer lab and network printers on the third floor of the D'Angelo Law Library. Carrels and study tables in the Library are furnished with network jacks for access to campus electronic resources, the Internet, and the Law School network printers. Wireless access is also available throughout the Library.
Other campus Libraries: Law students may find it helpful to visit other campus libraries and use their collections. The Regenstein Library has all-night study facilities available to all University of Chicago students. The Crerar Library is home to a popular Internet café in the basement level. Contact and location information for these libraries is set forth below. Additional information on campus libraries may be found on the Library website.
Joseph Regenstein Library (Humanities, Social Sciences and Business)
1100 East 57 th Street
Circulation Desk: 773-702-8781
Reference & Information Services: 773-702-4685
Cashier/Privileges Office: 773-702-8782
John Crerar Library (Science and Medicine)
5730 South Ellis Avenue
Circulation: 773-702-7409
Reference: 773-702-7715