Law in the Time of Coronavirus
Faculty Explain and Explore Issues Related to the Pandemic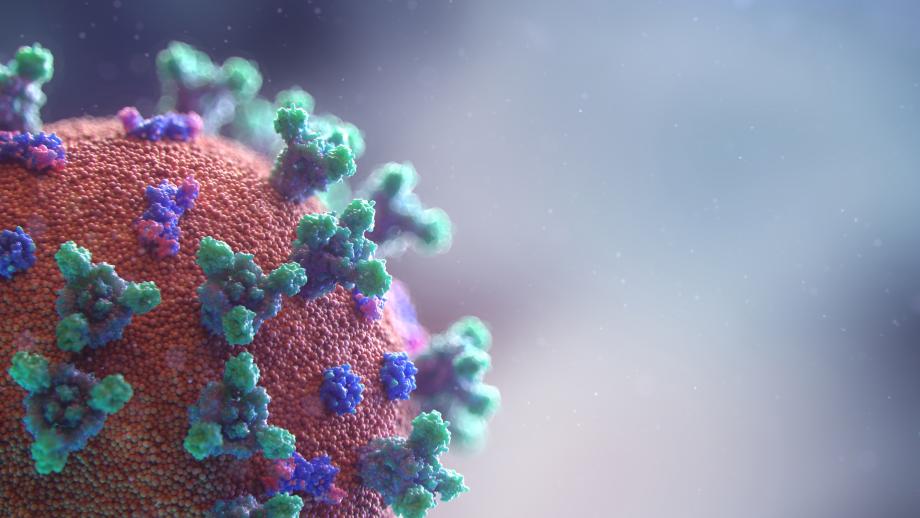 University of Chicago Law School faculty have weighed in on a variety of issues related to the pandemic, from government response to remote learning. This includes only a sampling of pieces written by Law School faculty about COVID-19. For more, visit our COVID-19 topic page. Last updated May 7, 2020.
Professors Alison Siegler and Erica Zunkel on releasing people from Chicago's federal jail to avoid a COVID-19 hot spot: In an op/ed in the Chicago Tribune, Siegler and Zunkel, the director and associate director of the Law School's Federal Criminal Justice Clinic, argue that the death in April of a Cook County correctional officer should spur judges to release people from Chicago's federal jail. Otherwise, the Metropolitan Correctional Center, or MCC, where there have been a rising number of COVID-19 cases, "will become downright disastrous." US Attorney General William Barr is taking a "draconian and misguided approach to pretrial jails like the MCC," they write.
"Jails are different from prisons—the people caged in jail are awaiting trial and haven't been found guilty of anything," Siegler and Zunkel say. "Yet for some inexplicable reason, Barr, the nation's chief federal prosecutor, is treating people in jails more harshly. Barr has recommended releasing people from federal prisons, recognizing that "time is of the essence." But he has directed his federal prosecutors—including those in Chicago—to largely oppose releasing people from federal jails. He claims that keeping presumptively innocent people in jail is the only way to advance "the safety of the community," a contention that flies in the face of the government's own data."
Professor Geoffrey R. Stone on whether COVID-19 shutdowns could be found to violate the First Amendment: In a post on the American Constitution Society's Expert Forum blog, Stone examines whether states run afoul of the First Amendment when they enforce stay-at-home orders and business closures. "Assuming that the restrictions apply across the board and are directed neither at expressive activity generally, nor at the communication of any particular messages—as seems clearly to be the case, then the First Amendment argument is a difficult one," writes Stone, the Edward H. Levi Distinguished Service Professor of Law . "These are restrictions that have only an incidental effect on speech and on these particular protesters. As a general rule, laws having only an incidental effect on speech—meaning that they are directed neither at expressive conduct nor at any particular message—come with a very strong presumption of constitutionality." Exceptions are typically decided based on three factors, one of which involves determining whether the state can reasonably accommodate the speakers while still serving its goals."That's clearly challenging, but it might be a reasonable solution if the protest takes place, for example, in a large public park or perhaps in a large stadium," Stone says. "If I were a lawyer for the protesters, I would try to work out a deal along those lines." 
Professor Alison LaCroix on who has the power to "reopen" the country: LaCroix and a Berkeley Law professor explained the difference between federal and state power in addressing the pandemic and recovery as part of a conversation on the We the People podcast. LaCroix, the Robert Newton Reid Professor of Law and an associate member of UChicago's department of history, and Berkeley Law Professor John Yoo give their takes on President Trump's claims and conduct in the midst of coronavirus and evaluate what he can and can't do in light of the system of separation of powers and federalism. They also comment on whether the president can or should withdraw from the World Health Organization, suspend immigration, and support citizen protests against governors, and place these contemporary debates in historical context.
Professors Jonathan Masur and Eric Posner say cost-benefit analysis supports continuing national shutdown: In a piece on the Regulatory Review, a publication of the  Penn Program on Regulation at the University of Pennsylvania Law School, the scholars offer a way of assessing the impact of extending shelter-in-place orders for another 30 days, followed by a gradual lifting of restrictions. Their model uses a number called the "value of a statistical life" (VSL), which is derived by asking how much people pay to avoid small risks of death—for example, by buying safety equipment or avoiding a dangerous job. They estimate the value of lives saved and compared it to projected economic costs and estimate that stay-at-home orders should stay in place until May. They explain their analysis, as well as the challenges, but argue that a cost-benefit analysis should be a part of deciding whether to re-open states. "[T]here is no alternative to counting up costs and benefits as rigorously and transparently as possible," write Masur, the John P. Wilson Professor of Law, David and Celia Hilliard Research Scholar, and director of the Wachtell, Lipton, Rosen & Katz Program in Behavioral Law, Finance and Economics, and Posner, the Kirkland & Ellis Distinguished Service Professor of Law and the Arthur and Esther Kane Research Chair. "Epidemiological models help us predict the effects of different suppression policies, but they provide no basis for evaluating their social costs and benefits. Writing in the New York Times, Gabriel Leung, an epidemiologist, observes that as governments relax lockdowns, they need some way to balance the tradeoffs between lives saved and economic harms." 
Professor Eric Posner on the limits of federalism during the COVID-19 crisis--and how governors should respond: In a coauthored New York Times opinion piece, Posner, the Kirkland & Ellis Distinguished Service Professor of Law and the Arthur and Esther Kane Research Chair, argues that although the division of powers among national, state, and local governments has allowed governors to take important steps, "federalism has allowed President Trump to indulge his worst tendencies." Federalism's limits, Posner and the New York Times Magazine's Emily Bazelon wrote, have been apparent from the beginning of the crisis. "In January, US intelligence agencies warned that the Chinese government was minimizing the outbreak, but state and local officials didn't have that information and so could not counter the president when he waved off the threat. In February, when the Centers for Disease Control and Prevention pledged but failed to put in place a system of widespread testing, states and counties didn't have the capacity to act on their own." Posner and Bazelon argue that governors "should recognize their common interest in a consistent national response to the crisis, and put coordinated pressure on the White House to make evidence-based policy."
Posner on why courts should stay out of emergency public health matters: In a Washington Post op/ed, Posner addressed several recent rulings blocking state efforts to contain the COVID-19 pandemic. Aggressive interventions by courts and the federal government in states' efforts to manage the pandemic are predictable but dangerous, Posner explains, in part because of this asymmetry: people can sue to stop lockdowns, but not to get them. "When the government issues orders that restrict liberties, our constitutional tradition allows affected people to ask judges to block those orders. But when the government fails to issue orders, when it underreaches rather than overreaches, citizens have no right to judicial review," Posner writes. "Courts do not recognize a constitutional right to health or safety; they do not allow people to sue for orders compelling the government to act.
"Thus, while gun owners, churchgoers and property owners can challenge overzealous stay-at-home orders, the elderly, the immune-suppressed and the rest of us have no legal recourse when government fails to protect us. Governors who choose not to impose adequate precautions, for political reasons unrelated to public health, are free to do so."
Professor Aziz Huq on why states should fight COVID-19 by banding together in interstate compacts: Groups of states have said they will collaborate on reopening, but in a Washington Post op/ed, Huq says they should go further and establish "interstate compacts," a legally binding form of coordination. "States clearly need to coordinate, especially given Washington's stumbles," writes Huq, the Frank and Bernice J. Greenberg Professor of Law and Mark Claster Mamolen Teaching Scholar. "Remedying testing shortages, solving the shortfalls of medical equipment and instituting measures to avoid the virus's resurgence all cry out for collective action. States don't want to bid against one another for medical equipment. They want to ensure they have roughly congruent lockdown rules to prevent the coronavirus from spreading across borders. Interstate compacts could help. Like a treaty between nations, a compact is a binding agreement among a self-selected group of states — typically backed by laws passed in their legislatures."
Professors Nicole Hallett and Claudia Flores on why the pandemic is particularly dangerous for immigrants: In a Q&A, Hallett, director of the Law School's Immigrants' Rights Clinic, and Flores, director of the Law School's International Human Rights Clinic, discuss several key issues, including immigration enforcement, treatment of immigration detainees, and access to healthcare and public benefits. They share how fear among immigrants can contribute to further spread of the virus, why they worry that the pandemic will have long-lasting effects on US policy, and how they think state, local, and federal governments should address immigration issues during the crisis. Immigrants are "more isolated and aren't necessarily receiving the same information about what they're supposed to do and where they can find help,"  Flores says. "And even if they have the information about services, there's the issue of access. Immigrants—especially those who are undocumented or have someone in their family in an irregular immigration status—are less likely to seek assistance when they get sick or need help with employment or housing. In addition, we limit which services are available to individuals in irregular or temporary immigration status."
Hallett says the US should take steps to ensure that immigrants are not excluded from recovery efforts. "We need to acknowledge that this is a community, and that many of the people who aren't receiving benefits are the same ones delivering our Amazon groceries or driving the Uber cars that take us to the hospital," Hallett says. "They're the farm workers who are continuing to put food on our table. We need them. This is a human rights concern, but it's also just a practical concern. Our immigrant population is part of our community, and we have an obligation to take care of them."
Professor Martha C. Nussbaum on how COVID-19 has re-awakened desire for social democracy: In an interview with La Prensa Latina Media, Nussbaum, the Ernst Freund Distinguished Service Professor of Law and Ethics, says that although the fear arising out of a crisis like this could lead people to seek refuge in authoratarianism, she sees evidence of something more positive. "What I see in my country is a healthy desire for coordination that is a useful corrective to the myth that we do not need a federal government. People see that it is absurd for states to compete with one another for needed supplies, and this re-awakens a desire for the social democracy of the New Deal, where essential human needs are the job of a strong federal government," she said. "I think it is a wake-up call for us in the US to fix the inequalities in our health-care system, as well as inequalities in housing and nutrition. Seventy percent of COVID deaths in Chicago are from African-American and Latino communities, so we see how illness is linked to inadequate lifelong health care, inadequate access to nutritious food, and so forth. People have a lot of time to think, so I hope we will all think well."
Professor Anthony J. Casey on why big corporations don't need a bailout: Casey, who is also the faculty director of the Law School's Center on Law and Finance, says the guiding principles for bailout policy are relatively straightforward. "To put it simply, a bailout should preserve value in the way that is as fair as possible to ordinary individuals while minimizing administrative costs," he wrote on a corporations and capital markets blog at Columbia Law School. "Thus, the principles fall into three buckets: value preservation, fairness, and administrative costs." During many financial crises, these principles create conflicts--but not in this one, where the principles all point toward relief for individuals and small businesses, he explained. "[T]he CARES Act does provide individual and small business relief, and that is a good thing. But the inclusion of large industry-specific funds for big corporations introduces major fairness costs," he wrote. "Normally, bailouts must be sensitive to the tradeoff between fairness (and legitimacy) on the one hand and administrative efficiency on the other. But here there is no tradeoff. A bailout heavy on industry-specific relief fails to satisfy any of the principles for a proper bailout. The immediate cost of that failure is the lost opportunity to provide full relief to individuals and small businesses. The long term cost will be a further reduction in the public faith that the government can be trusted with its bailout power."
Professor Tom Ginsburg on how emergency powers can pit public health against privacy, assembly, religion, and other protected rights: In the daily online magazine Tablet, Ginsburg, Leo Spitz Professor of International Law, a Ludwig and Hilde Wolf Research Scholar and a professor of political science, coauthored a piece exploring whether emergency powers can go too far. "Virtually all modern constitutions—more than 90% by our count—allow for extraordinary measures of some kind to be taken in emergencies. But the very possibility of exercising vast powers invites abuse," they write. "From Lincoln's suspension of habeas corpus to the infamous Korematsu case upholding Japanese American internment, our courts tend to be very deferential to executive authority during times of crisis."
Ginsburg compares various countries' COVID-19 responses under their constitutions: On the Harvard Law Review blog, Ginsburg and a law professor from the University of Virginia examine the extraordinary measures countries have taken to stop the spread of the virus, noting that many would be constitutionally problematic in normal times and note that "some scholars and activists have raised the alarm that these might lead to a deterioration of civil liberties and constitutional democracy long-term." In the essay, they examine the legal bases for the measures, and although they vary from country to country, find that they fall into three broad categories: (1) the declaration of a state of emergency under the constitution, (2) the use of existing legislation dealing with public health or national disasters, and (3) the passing of new emergency legislation.
Ginsburg on how countries can curb abuse of government power during states of emergency: In part II on the Harvard Law Review blog, Ginsburg and his coauthor examine how countries can reduce the risk that leaders will abuse their powers during times of crisis. To minimize these risks, three broad principles are important, they write, noting each has its vulnerabilities: "(1) providing for legislative and judicial oversight of the executive, (2) limiting exceptional measures to those strictly necessary, and (3) ensuring that such powers endure only for the duration of the outbreak." 
Professor Daniel Hemel on the $2 trillion stimulus package: In an opinion piece in the New York Daily News after the Senate approved the package (which has since been signed into law), Hemel pointed out that the legislation bars an important group from receiving rebates: elderly and disabled adults who are financially dependent on family members. "The result is that the largest aid package in U.S. history—intended to afford relief from the consequences of COVID-19—gives nothing at all to millions of people in the population segment most vulnerable to the novel coronavirus," he wrote.
Hemel on why pharmaceutical profits and public health are not incompatible: In a New York Times op/ed, Hemel and a professor from Stanford wrote about the need to balance innovation incentives and patient access as researchers work to develop COVID-19 vaccines and treatments. "[T]o contain Covid-19 now and sustain a pipeline of drugs directed at other infections with pandemic potential, we will almost certainly need to enlist the capital and creativity of the private sector," he wrote. "We don't need to compromise patient access, but we will need to promise profits to businesses that develop effective vaccines and treatments. Among all the costs that we as a society will bear because of this virus and later ones, the payout to pharmaceutical companies will be a rounding error.
Hemel on why Congress should send cash to the states: In Time magazine, Hemel and two coauthors argue that what states need right now is "cold, hard cash–with no strings attached–to pay their bills and keep the lights on." They recommend giving each state a fixed amount of money per resident per month (they recommend $150) until economic activity resumes. "This easy-to-implement approach would limit opportunities for pork-barrel politics, save states from insolvency and bolster the national economy," they write. "Congress cannot simply stand by and let the states sink or swim."
Hemel on how Trump's meat-processing plants order is another example of claiming powers he doesn't have: In a Washington Post op/ed, Hemel wrote that news of Trump's order compelling meat processing plants to remain open was blown out of proportion because it does not, on its own,   actually force the plants to do anything. "It is a paper-thin proclamation with limited legal effect," he wrote. "The president's assertions of legal authority, like his off-the-cuff medical advice, often have little basis in reality. But our responses to the president's statements do matter, because we can transform his imaginations into facts on the ground. If employees return to work at meat-processing plants because of the president's order, then for all practical purposes, he does have the power that he asserts, even though no statute gives him that power and the order drafted by his lawyers doesn't compel anyone in a factory to do anything. Presidential power is, to a large extent, what all the rest of us make of it. Right now, we are making it out to be far too much."
Professor Anup Malani on why India has comparatively few COVID-19 cases: India is four times more populous than the US, but has just 2 percent the number of cases and only 1.5 percent of the number of Covid-19 deaths. Malani, the Lee and Brena Freeman Professor of Law, examines possible reasons why, including that the epidemic struck later, that a 21-day lockdown was successful, that a shortage of tests led to an underestimation of cases, and that India has a protective characteristic such as  the low share of elderly in the population, the high temperatures and humidity in India, widespread BCG vaccination for tuberculosis, or resistance to malaria.
Malani and Hemel on why the most important parts of the coronavirus fight will happen at the state and local levels: "[T]he pandemic will be, to a large extent, a drama in 51 acts,"  Hemel, an assistant professor of law and Ronald H. Coase research scholar, and Malani, the Lee and Brena Freeman Professor of Law, wrote in the Washington Post. States and the District of Columbia will decide when to shut and reopen schools and shops, and its governors and mayors who will command medical personnel and law enforcement officials on the front lines of the response. "The diffusion of responsibility across the federal government and the 50 states is often thought to be a flaw in the nation's disaster response infrastructure. But divided responsibility also leaves us less vulnerable to failures at the national level. Here, what we thought was our Achilles' heel may be our saving grace."
Professor Adam Chilton on the bipartisan willingness to violate the Constitution to fight COVID-19: To assess how Americans weigh the trade-off between preserving civil liberties and containing the virus, Chilton, a professor of law and Walter Mander research scholar, and scholars from Dartmouth and the University of Virginia conducted a national survey in mid-March as state and local governments were beginning to implement restrictive policies. The survey, they wrote in the Atlantic, revealed "a remarkable willingness to tolerate civil-rights violations in order to confront the pandemic, regardless of party affiliation." Chilton and his co-authors presented eight possible, and constitutionally questionable, policy responses to the outbreak, including a forced quarantine in a government facility, criminal penalties for spreading misinformation, bans against certain people entering the country, and conscription of health-care workers. "Democrats and Republicans alike are willing to sacrifice civil liberties to fight the virus," the scholars wrote. "The two groups show almost identical levels of support for detaining sick people in government facilities, conscripting people to work, prohibiting the spreading of misinformation, and banning all people (citizens and noncitizens alike) from entering the country." Chilton also discussed his findings in this Q&A.
Professor Randal C. Picker on remote learning: Picker, the James Parker Hall Professor of Law, talked to Chicago Tonight as the Law School prepared to embark on remote learning for the spring quarter. "Our plan next Monday is to come as close as possible to recreating the University of Chicago experience," he said. "That means I'm going to call on students just as I do, that's the Socratic method. I'm going to ask them if they've read the material, they're going to say they have, and we're going to have a conversation. My goal is to make this technology like electricity – absolutely essential, but you only notice it when it's not working. My job is to make it work. It's a terrible time but I think we're going to deliver high quality education through this medium." Picker has experience with remote learning: in 2015, he taught a MOOC, or massive open online course, called  "Internet Giants: The Law and Economics of Media Platforms."
COVID-19