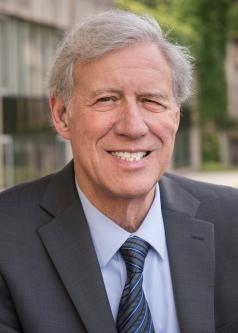 Academic Faculty
Full Time Teaching Faculty
Geoffrey R. Stone
Edward H. Levi Distinguished Service Professor of Law
Biography
Geoffrey R. Stone is the Edward H. Levi Distinguished Service Professor at the University of Chicago. Mr. Stone joined the faculty in 1973, after serving as a law clerk to Supreme Court Justice William J. Brennan, Jr. He later served as Dean of the Law School (1987-1994) and Provost of the University of Chicago (1994-2002).
Professor Stone is the author of many books on constitutional law, including National Security, Leaks and Freedom of the Press (2021); Democracy and Equality: The Enduring Constitutional Vision of the Warren Court (2019); The Free Speech Century (2018); Sex and the Constitution: Sex, Religion and Law from America's Origins to the Twenty-First Century (2017); Speaking Out: Reflections of Law, Liberty and Justice (2010, 2016, 2018); The NSA Report (2014); Top Secret: When Our Government Keeps Us in the Dark (2007), War and Liberty: An American Dilemma (2007), Perilous Times: Free Speech in Wartime (2004), and Eternally Vigilant: Free Speech in the Modern Era (Chicago 2002). He is also an editor of two leading casebooks, Constitutional Law (8th ed. 2018) and The First Amendment (6th ed. 2020). Professor Stone is an editor of the Supreme Court Review and chief editor of a twenty-five-volume series, of books on constitutional law, titled Inalienable Rights, which is being published by the Oxford University Press.
Professor Stone was appointed by President Obama to serve on the President's Review Group on Intelligence and Communications Technologies, which evaluated the government's foreign intelligence surveillance programs in the wake of Edward Snowden's leaks. He is a Fellow of the American Academy of Arts and Sciences and a member of the America Law Institute, the National Advisory Council of the American Civil Liberties Union, and the American Philosophical Society. Professor Stone has also served as Chair of the Board of the American Constitution Society and Chair of the Chicago Children's Choir.
Professor Stone has written amicus briefs for constitutional scholars in a number of Supreme Court cases, including Obergefell v. Hodges, Whole Woman's Heath v. Hellerstedt, Lawrence v. Texas, United States v. Windsor, United States v. Stevens, and Rasul v. Bush. He was also one of the lawyers who represented President Bill Clinton in the Supreme Court in Clinton v. Jones.
Education
The University of Chicago Law School
JD, cum laude, 1971
Editor-in-Chief, University of Chicago Law Review
Order of the Coif
University of Pennsylvania Wharton School of Finance and Commerce
BS, 1968
Experience
The University of Chicago
Edward H. Levi Distinguished Service Professor of Law, 2008-present
Interim Dean, Law School, July 1, 2015 - November 1, 2015
Harry Kalven, Jr. Distinguished Service Professor of Law, 1994-2007
Provost, 1993-2002
Harry Kalven, Jr. Professor of Law, 1984-1994
Dean, Law School, 1987-1993
Assistant Professor of Law, Associate Professor of Law, Professor of Law, 1973-1984
New York University School of Law
Visiting Professor of Law, Autumn 2002-2010
Jacob K. Javits Distinguished Scholar-in-Residence, 2004
Bernard Rudin Visiting Scholar, 2003
Hon. William J. Brennan, Jr., Supreme Court of the United States
Law Clerk, 1972-1973
Hon. J. Skelly Wright, U.S. Court of Appeals for the District of Columbia Circuit
Law Clerk, 1971-1972
Presentations
Recent Lectures and Presentations (2003-present)
Abrams Institute (Yale Law School)
Academic Engagement Network
Adam Smith Society Dinner (2017)
Adler Planetarium
American Academy of Appellate Lawyers
American Academy of Arts and Sciences
American Civil Liberties Union
American Bar Association American Bar Association Section on Individual Rights and Responsibilities (Thurgood Marshall Lecture)
Appellate Lawyers Association
American Bar Association Section on Litigation
American Bar Foundation
American Constitution Society
American Jewish Committee (Learned Hand Lecture)
American Law Institute
American Law Institute (Annual Dinner Address)
American Library Association
American Philosophical Society
American Society of Newspaper Editors
American University
Anti-Defamation League
Arizona Bar Association (John P. Frank Lecture)
Arizona State University School of Law
Aspen Ideas Festival (2016, 2017)
Aspen Institute
Boston University School of Law
Brennan Center
Brooklyn Law School (The Roberts Court and the First Amendment)
Brown University
Business and Professional People for the Public Interest
Cardozo Law School
Case Western University School of Law
Center for First Amendment Rights
Center for Women's History at the New York Historical Society
Chautauqua
Chicago Bar Association
Chicago Council of Lawyers
Chicago Council on Global Affairs
Chicago Humanities Festival (2006-2018)
Chicago Humanities Festival (National Security, Leaks and Freedom of the Press) (with John Brennan and Ellen Nakashima (2021)
Chicago Humanities Festival (Social Media and Democracy) (with Emily Bazelon and Monika Bickert) (2021)
Chicago Humanities Festival (Hate Speech) (with Mary Anne Franks and Nadine Strossen) (2021)
Chicago Humanities Festival Salon (The First Amendment) (2021)
Chicago Humanities Forum (2017)
Chicago Ideas Week (2018)
Chicago-Kent School of Law
Chicago Lawyers Committee for Civil Rights Under Law
Chicago Public Library
Chicago Tribune Book Fair
City Club of Chicago
Columbia Journalism School
Columbia Law School
Columbia University (Presidential Lecture)
Contemporary Club of Chicago
Council on Global Affairs
Creighton University (TePoel Lecture)
Dartmouth College
Dickinson College (Pflaum Lecture in History)
Drake University School of Law
Duke University School of Law
Duke University – National Security Conference
Ethical Humanist Society
Federal Bar Association (2020, 2021)
Federal Communications Bar Association
Federal Judicial Center
Federalist Society
First Amendment Center
First Amendment Forum
First Amendment Lawyers' Association
First Amendment Salon
Fordham University Law School
Fortnightly Club (Chicago) (2015)
Fortnightly Club (Chicago) (2017)
Fortnightly Club (Chicago) (2021)
Foundation for Individual Rights in Education National Conference (2018)
Freedom Forum
Freedom from Religion Foundation
Georgetown University Law Center
George Washington University
Georgia State University (Miller Lecture)
Gonzaga University (William O. Douglas Lecture)
Harvard Kennedy School of Public Policy
Harvard Law School
Higher Learning Commission (Keynote Address at Annual Meeting)
Human Rights Watch
Illinois Humanities Council
Illinois State University/League of Women Voters
Illinois Women's Institute for Leadership (2018)
Italian Constitution Society
Jewish Council on Urban Affairs
Jewish United Fund
John Marshall Law School
Lawyers Club of Chicago
League of Women Voters
Lewes History Book Festival
Library of Congress
Louisiana State University
Los Angeles Times Festival of Books (2004) (2017)
McCormick Tribune Foundation: The Military and the Press
McCormick Tribune Freedom Museum
Medill School of Journalism (National Press Club)
Modern Language Association (2019)
Montgomery Place (2013, 2014, 2015, 2016, 2017)
National Archives
National Constitution Center (2013, 2014, 2015, 2016, 2017, 2021)
National Constitution Center (Free Speech in the U.S. and France)
National Immigrant Justice Center
National Security Agency
New England School of Law
Newseum
New York Historical Association
New York Historical Society (Sex and the Constitution)
New York Historical Society (The Warren Court)
New York Public Library
New York University School of Law (Jacob K. Javits Lecture)
New York University School of Law (Lewis Rudin Lecture)
New York University School of Law (American Constitution Society)
Ninth Circuit Judicial Conference
Northwestern University Law School
Northwestern University Medill School of Journalism
Notre Dame University Human Rights Program (London)
Old Dominion University (Modern Era Distinguished Lecture)
Pepperdine University School of Law (Keynote Address)
Phoenix Society
Planned Parenthood of Illinois
Planned Parenthood of New York
Planned Parenthood of Virginia
Politics & Prose
Pomona College (Hart Lecture)
Princeton University (Woodrow Wilson School)
Princeton University (Keynote Address: Conference on Civil Liberties in ` Wartime)
Purdue University
Reporters Committee for Freedom of the Press (National Press Club)
Robert F. Kennedy Memorial Foundation
Robert Jackson Center
Roosevelt House
Russell Sage Foundation
Rutgers Law School (Camden)
Rutgers Law School (Newark) (Paul S. Miller Distinguished Lecture)
St. John's University School of Law
Scholars at Risk Annual International Conference (Keynote Address)
Seminary Coop
Seventh Circuit Bar Association (Social Media and Democracy) (2021)
Seventh Circuit Judicial Conference
Smithsonian Institution
Southern Methodist University Dedham School of Law
Stanford Business School
Stanford Law School
Stanford Law School (American Constitution Society)
Stevenson Center on Democracy (The Warren Court 2020)
Stony Brook University
Suffolk University School of Law (Masterman Lecture)
Supreme Court Historical Society
Texas A & M University (A.R. Sanchez Distinguished Lecture)
Tufts University
Tulane University School of Law
United States Department of Justice – National Security Division
Union League Club of Chicago
United States Senate Select Committee on Intelligence (testimony)
United States Senate Committee on the Judiciary (testimony)
University of Arizona Law School (Marks Lecture)
University of California School of Law (William J. Brennan Lecture)
University of California at Davis (James B. McClatchy Lecture)
University of California at Los Angeles (Melville B. Nimmer Lecture)
University of California at San Diego (DeWitt Higgs Memorial Lecture)
University of Chicago (Nora and Edward L. Ryerson Lecture 2015)
University of Chicago (William Rainey Harper Lecture) (multiple)
University of Chicago Divinity School (John Nuveen Lecture)
University of Chicago Law School
University of Chicago Law School (Dean's Circle)
University of Chicago (Aims of Education Address 2016)
University of Chicago (Aims of Education Address 1995)
University of Chicago (Convocation Address)
University of Chicago (Chicago's Best Ideas Lecture) (2005-2014)
University of Chicago (Coase Centennial Conference)
University of Chicago (Thirteenth Amendment Conference)
University of Chicago (Privacy, The First Amendment and the Internet)
University of Chicago (The British Novel and the Law)
University of Chicago (Scherer Lecture 2017)
University of Chicago (Stigler Center 2020)
University of Chicago (Harper Lecture 2016) (Washington D.C.)
University of Chicago (Harper Lecture 2017) (Chicago)
University of Chicago (Harper Lecture (2020) (Zoom)
University of Chicago Institute of Politics (NSA Surveillance)
University of Chicago Institute of Politics (Interview of Edward Snowden)
University of Chicago Phoenix Lecture (2017) (Free Speech on Campus)
University of Chicago (Scherer Lecture)
University of Chicago Women's Board (The Roberts Court) Constitution)
University of Chicago Women's Board (The Road to Roe)
University of Colorado (Alumni College Lecture)
University of Colorado (John R. Coen Lecture)
University of Colorado (LeRoy Keller Distinguished Lecture)
University of Illinois Law School
University of Illinois (David C. Baum Lecture in Civil Rights and Civil Liberties)
University of Indiana
University of Indiana Maurer School of Law (Constitution Day Address)
University of Miami School of Law (John Hart Ely Lecture)
University of Michigan Law School
University of Michigan Law School (American Constitution Society)
University of Minnesota (Silha Lecture)
University of Mississippi (Burnita Shelton Matthews Memorial Lecture)
University of Missouri Law School
University of Nevada (Philip Pro Lecture in Legal History)
University of North Carolina
University of North Carolina First Amendment Symposium
University of North Carolina Conference on Brown v. Board of Education
University of North Carolina (Greenboro)
University of Oregon
University of Paris
University of Pennsylvania Law School
University of Pennsylvania – Andrea Mitchell Center
University of Seattle Law School
University of Southern California School of Law (Allen Neiman & Alan Sieroty Lecture in Civil Liberties)
University of Texas School of Law
University of Virginia Law School (William J. Brennan Lecture)
University of Wisconsin Law School (American Constitution Society)
University of Wisconsin Law School (Thomas E. Fairchild Lecture)
University of Wisconsin (Milwaukee)
Villanova University School of Law (John F. Scarpa Center Symposium)
Virginia Booksellers Association
Wabash College (David W. Peck Lecture)
Washington University School of Law
Wayfarers Club
Wesleyan University (Hugo F. Black Lecture)
William and Mary
Williams College
Woodhall Freedom Foundation
Woodrow Wilson Center
Yale Law School Conference on Martha Minow's book Saving the News
Yale University Conference on Freedom of the Press
Memberships and Professional Affiliations
Member, Advisory Board, United States Free Speech Union (2021-present)
American Association of University Professors, Litigation Committee (2020-present)
Honorary Board, Freedom from Religion Foundation (2020-present)
Board of Directors, Debate It Forward (2018-present)
Member, Nation Board of Advisors, University of California Center on Free Speech and Civic Engagement (2017-present)
Member, National Board of Advisors, American Constitution Society (2016-present)
Advisor, American Law Institute Project on Principle of the Law: Police Investigations (2015-present)
Member, American Philosophical Society (2010-present)
Member, Advisory Board, The National Constitution Center (2008-present)
Governing Board, Straight for Equality (2006-present)
Member, American Law Institute (2003-present) (1987-1993, ex officio)
Member, The Constitution Project: Liberty and Security Initiative (2003-present)
Board of Directors, American Constitution Society Chicago Lawyers Chapter (2006-present) (Co-Chair of the Board, 2006-present)
National Advisory Council, The American Civil Liberties Union (1998-present)
Fellow, American Academy of Arts and Sciences (1990-present)
Member, National Advisory Council, Center for Democracy and Technology (2016-2018)
Member, Senior Advisory Group to the Director of National Intelligence (2015-2016)
President's Review Group on Intelligence and Communications Technologies (2013-2014)
Board of Directors, American Constitution Society (2004-2012) (Chair of the Board, 2010-2011)
Member, State of Illinois Death Penalty Reform Study Commission (2004-2010)
Board of Directors, Chicago Children's Choir (2003-2011) (Chair of the Board, 2004-2008)
Vice-President, American Academy of Arts and Sciences (2005-2007)
Chair, Midwest Center of the American Academy of Arts and Sciences (2005-2007)
Member, "Thinking Out-of-the Box" Committee, Section on Legal Education, The American Bar Association (2000-2007)
Board of Directors, The MacArthur Justice Center (2003-2006)
Board of Directors, The Smart Museum (2002-2006)
Board of Directors, First Oak Brook Bankshares and Oak Brook Bank (1992-2006)
Board of Governors, Chapin Hall Center for Children (2001-2003)
Board of Directors, The Renaissance Society (2001-2006)
Member, National Academy of Sciences Commission on Protecting Children from Pornography on the Internet (2000-2002).
Board of Governors, Argonne National Laboratory (1994-2001)
Board of Directors, National Opinion Research Center (1994-2001)
Awards and Honors
2021 University of Chicago John Mclean Award for Extraordinary Contributions to Teaching and to the Student Experience
2019 Thomas E. Fairchild Lecture, The University of Wisconsin Law School (The Warren Court: A Fifty Year Retrospective)
2018 Keynote Address, Case Western Reserve Law School Symposium (National Security, National Origin, and the Constitution 75 Years After E.O. 9066)
2018 Keynote Address, Foundation for Individual Rights in Education Annual Conference (Free Speech on Campus)
2018 Keynote Address, New York Historical Society Conference on Sex and the Constitution
2018 Keynote Address, University of North Carolina Law School, (Conference on Sex and Religion)
2017 Keynote Address, The Higher Learning Commission's Annual Convention (Free Speech on Campus)
2017 Keynote Address, The Academic Engagement Network's Annual Meeting (Free Speech on Campus)
2017 Keynote Address, Arizona State University, School of Civic and Economic Thought and Leadership (Free Speech on Campus)
2016 First Amendment News Award for "Best First Amendment Speech of the Year" for Free Speech on Campus: A Challenge of Our Times
2016 Aims of Education Address, The University of Chicago (September 22, 2016) (Free Speech on Campus: A Challenge of Our Times)
American Law Institute Annual Dinner Address (May 17, 2016) (Free Speech on Campus)
Named to Law Dragon's Ten-Year Lawyer Hall of Fame (the most influential 100 lawyers in America) (2016)
2015 First Amendment News Award for "Best First Amendment Op-Ed or the Year" for ISIS, Fear, and Free Speech
2015 Nora and Edward Ryerson Lecturer, The University of Chicago (April 22, 2015) (Sexing the Constitution: Getting to Same-Sex Marriage)
2014 American Library Association's James Madison Award (for the work of the President's Review Group and Liberty and Security in a Changing World)
2012 Honored as "Legal Legend" by the American Constitution Society
2011 Business and Professional People for the Public Interest "Champion of the Public Interest" Award
2010 Kathryn Matkov Award for "lifetime commitment to excellence in defining, illuminating and informing the public on issues critical to American society" (Chicago Chapter of the Federal Bar Association)
2007 Wabash College's David Warner Peck Medal for Eminence in the Law
2006 University of Chicago's Provost Award for Outstanding Teaching
2006 Goldsmith Book Prize of the John F. Kennedy School of Government, Harvard University, for the Best Book of the Year in Government or Politics (Perilous Times)
Honorary Degree, John Marshall School of Law (May 21, 2006)
2006 Hugh M. Hefner First Amendment Award for Best Book of the Year (Perilous Times)
2005 Los Angeles Times Book Prize for the Best Book of the Year in History (Perilous Times)
2005 Robert F. Kennedy Memorial Book Prize (Perilous Times)
2005 American Political Science Association's Kammerer Award for the Best Book of the Year in Political Science (Perilous Times)
2005 Scribes Book Award for the Best Book of the Year in Law (Perilous Times)
2005 American Civil Liberties Union's Harry Kalven Freedom of Expression Award
Finalist for the American Bar Association's 2005 Silver Gavel Award for the Best Book of the Year in Law (Perilous Times)
Perilous Times was listed as one of the Notable Books of 2004 by the New York Times, the Washington Post, the Los Angeles Times, the Chicago Tribune, the Christian Science Monitor and the Philadelphia Inquirer
Editorial Work
Co-Editor, The Supreme Court Review (1991-present)
Editorial advisory board, Political Science Quarterly (2005-present)
Recent Briefs
Fulton v. City of Philadelphia, Brief for First Amendment Experts, Supreme Court of the United States (Catholic organization's discrimination against gay couples) (2021)
Whole Woman's Health v. Cole, Brief for Constitutional Law Scholars, Supreme Court of the United States (abortion rights) (2016)
Obergefell v. Hodges, Brief for Constitutional Law Scholars, Supreme Court of the United States (same-sex marriage) (2015)
Hollingsworth v. Perry; United States v. Windsor, Brief for Constitutional Law Scholars, Supreme Court of the United States (same-sex marriage) (2012)
Latif v. Obama, Brief for Constitutional Scholars, Supreme Court of the United States (habeas corpus) (2012)
Scott v. Saint John's Church in the Wilderness, Brief for Constitutional Scholars, Supreme Court of the United States (first amendment) (2012)
United States v. Stevens, Brief for Constitutional Scholars, Supreme Court of the United States (first amendment) (2010)
Al-Marri v. Spagone, Brief for Constitutional Scholars, Supreme Court of the United States (military detention) (2009)
Hamdan v. Rumsfeld, Brief for Constitutional Scholars, Supreme Court of the United States (Guantanamo detainees) (2006)
Rasul v. Bush, Brief for Fred Korematsu, Supreme Court of the United States (Guantanamo detainees) (2004)
Odah v. United States, Brief for Fred Korematsu, Supreme Court of the United States (Guantanamo detainees) (2004)
Lawrence v. Texas, Brief for Constitutional Scholars, Supreme Court of the United States (rights of gays and lesbians) (2003)
William Jefferson Clinton v. Paula Corbin Jones, Brief for William Jefferson Clinton, (Supreme Court of the United States) (separation of powers) (1997)
Bishop v. Smith, Brief for Constitutional Scholars, (10th Circuit) (same-sex marriage) (2014)
Kitchen v. Herbert, Brief for Constitutional Scholars, (10th Circuit) (same-sex marriage) (2014)
DeBoer v. Snyder, Brief for Constitutional Scholars, (6th Circuit) (same-sex marriage) (2014)
Tanco v. Haslam, Brief for Constitutional Scholars (6th Circuit) (same-sex marriage) (2014)
Bourke v. Beshear, Brief for Constitutional Scholars (6th Circuit) (same-sex marriage) (2014)
Bostic v. Schaefer, Brief for Constitutional Scholars (4th Circuit) (same-sex marriage) (2014)
DeBoer v. Snyder, Brief for Constitutional Scholars, (E.D. Michigan) (same-sex marriage) (2013)