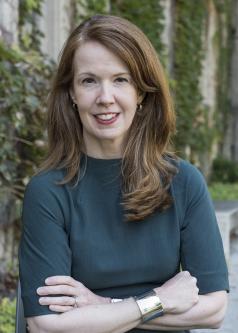 Academic Faculty
Full Time Teaching Faculty
Alison L. LaCroix
Robert Newton Reid Professor of Law, Associate Member of the Department of History
Biography
Alison LaCroix is the Robert Newton Reid Professor of Law at the University of Chicago Law School. She is also an Associate Member of the University of Chicago Department of History. She is a scholar of US legal history specializing in constitutional law, federalism, and eighteenth- and nineteenth-century legal thought.
Professor LaCroix is currently writing a book on US constitutional discourse between 1815 and 1861, for which she was awarded a National Endowment for the Humanities Fellowship. The book, titled The Interbellum Constitution: Union, Commerce, and Slavery in the Age of Federalisms, is forthcoming from Yale University Press. Professor LaCroix is also the author of The Ideological Origins of American Federalism (Harvard University Press, 2010). She has published articles in the Yale Law Journal, the Stanford Law Review, and Law and History Review, among others. She also recently served on the Presidential Commission on the Supreme Court of the United States.
She holds a PhD in history from Harvard University and earned her BA (summa cum laude) and JD from Yale University. She joined the University of Chicago faculty in 2006, having previously held the Samuel I. Golieb Fellowship in Legal History at New York University School of Law. Following law school, she practiced in the litigation department at Debevoise & Plimpton in New York. She received a three-year fellowship from the Neubauer Collegium for Culture and Society to support a ­project on law and linguistics. In addition, she has co-edited three volumes on law-and-literature topics with Martha C. Nussbaum, Saul Levmore, and Richard McAdams.
Professor LaCroix has served as a member of the board of directors of the American Society for Legal History, and is a member of the editorial advisory board of the American Journal of Legal History. She teaches constitutional law, legal history, civil procedure, law and linguistics, and federal courts.
Education
Harvard University
PhD in history, 2007
AM in history, 2003
Yale Law School
JD, 1999
Essays editor, Yale Law Journal
Managing editor, Yale Journal of Law & the Humanities
Yale University
BA, History, summa cum laude, 1996
Phi Beta Kappa and distinction in the major
Managing editor, Yale Daily News
Experience
The University of Chicago Law School
Robert Newton Reid Professor of Law, 2015-present
Ludwig and Hilde Wolf Teaching Scholar, 2013-2015
Professor of Law, 2011-2015
Assistant Professor of Law, 2006-2011
The University of Chicago
Associate Member, Department of History, 2013-present
New York University School of Law
Visiting Professor of Law, Fall 2020
Harvard University
Visiting Professor of Law, August-December 2016
Debevoise & Plimpton
Associate and Summer Associate, Litigation Department, New York, NY, summer 1998-2001
Presentations
Named Lectures
Judge Robert A. Ainsworth, Jr., Memorial Lecture, Loyola University New Orleans College of Law, March 2019
Philip Pro Lecture in Legal History, William S. Boyd School of Law, University of Nevada, Las Vegas, March 2014
Selected Lectures, Presentations, and Conferences
Participant, "The Rule of Law in a Democracy" Workshop, Pembroke College, University of Oxford (scheduled, July 2022)
Presenter, "Histories of Presidential Power," Stanford Law School, May 2022
Lecturer, "The Hidden History of the Interbellum Constitution," Graham School, University of Chicago, May 2022
Panelist, National Association of Attorneys General, State Solicitors General and Appellate Chiefs Conference, September 2021
Panelist, "American Literature and the Constitution," National Constitution Center, May 2021
Panelist, "Democracy in America: The Constitution in Historical Perspective," Cambridge (U.K.) Union, April 2021
"Cherokee Nation v. Georgia v. United States," Georgetown Legal History Colloquium, February 2020
"The South Carolinians," Chase Colloquium, Georgetown Center for the Constitution, December 2019
"The Hidden History of the Commerce Power," Stanford Constitutional Law Center, April 2019
"Rivers of Commerce: The Illinois Federal Courts as the Umpires of Antebellum Union," Bicentennial Presentation, U.S. District Court for the Northern District of Illinois, April 2019
Panelist, "Judicial Independence and the Federal Courts: A Historical Perspective," National Constitution Center, December 2018
Panelist, "Who Cares What 'The Federalist Papers' Say?," Wisconsin Judicial Conference Annual Meeting, October 2018
"From the Bank to the Harbors: Federalism's Middle Ground in the Early Nineteenth Century," American Society for Legal History Annual Meeting, November 2018
Panelist, "Separation of Powers: Audacious Vision, Uneven History, and Uncertain Future," U.S. Capitol Visitors Center, September 2018
"'Here Are Three States Almost on the Eve of War': Practicing Commerce and Concurrence in the Early Nineteenth Century," University of Notre Dame in London, February 2018
"Beyond Intuitions, Algorithms, and Dictionaries: Historical Semantics and Legal Interpretation," (with Jason Merchant); Neubauer Collegium Conference on Historical Semantics and Legal Interpretation, May 2017
"Commerce and Concurrent Power in Early-Nineteenth-Century Constitutional Debate," Harvard Law School Legal History Workshop, November 2016
"The Constitutional Construction of Commerce in the Early Nineteenth Century," American Society for Legal History Annual Meeting, October 2015
"On Historical Meaning in Law," Franke Institute for the Humanities, October 2015 (with Jason Merchant)
"The Use and Abuse of Linguistics at the U.S. Supreme Court," Humanities Day, University of Chicago, October 2014 (with Jason Merchant)
University of Michigan Legal Theory Workshop, October 2014
Harvard Law School Law and History Workshop, September 2014
Virginia Law Review Centennial Symposium, April 2014
Columbia Law School Public Law Workshop, April 2014
Constitutional Legal History Workshop, University of California, Berkeley School of Law, April 2014
Critical Analysis of Law Workshop, University of Toronto Faculty of Law, February 2014
University of Wisconsin Discussion Group on Constitutionalism, October 2013 and October 2018
Commenter, Panel on "Charles Beard and the Origins of American Constitutionalism," American Society for Legal History Annual Meeting, November 2013
Yale Law School Symposium, "Federalism as the New Nationalism," July 2013
Symposium on Akhil Amar, America's Unwritten Constitution, University of Illinois College of Law, October 2012
Speaker, "Federalism and the States" Session, National Conference of State Legislators Annual Legislative Summit, August 2012
Yale Law School Legal History Forum, April 2012
Stanford Law School Legal History Workshop, March 2012
Works in Progress
Beyond Intuitions, Algorithms, and Dictionaries: Historical Semantics and Legal Interpretations (with Jason Merchant)
Ideas of Privacy in the Early American Republic (working paper)
Memberships and Professional Affiliations
Advisory Board, John Dickinson Writings Project (2020-present)

Advisory Board, Democracy Curriculum, Chicago Center on Democracy (2020-present)

American Society for Legal History: Advisory Committee on the Surrency Prize (2017-2020), Board of Directors (2014-2017),  Advisory Committee on the Cromwell Prize (2014-2017)
Bar admissions, New York and United States District Court for the Southern District of New York
Awards and Honors
Samuel I. Golieb Fellowship in Legal History Fellow, 2005-2006
John Thornton Kirkland Fellowship, Harvard University (2005-2006)
Charles Warren Center Term-Time and Summer Fellowships (2004-2005)
Mark DeWolfe Howe Fund Grant, Harvard Law School (2004)
Andrew W. Mellon Fellowship in Humanistic Studies (2001-2002)
Fellowships
National Endowment for the Humanities Fellowship, US History, 2018-2019
Project Title: The Interbellum Constitution: Union, Commerce, and Slavery from the War of 1812 to the Civil War
Neubauer Collegium for Culture and Society Fellowship, 2015-2018
Project Title: Historical Semantics and Legal Interpretation (with Jason Merchant)
Service
Faculty Advisory Board, Neubauer Collegium, University of Chicago (2022 – present)
Faculty Advisory Board, Karla Scherer Center for the Study of American Culture, University of Chicago (2022 – present, 2014 – 2017)
Advisory Board, Democracy Curriculum, Chicago Center on Democracy (2020 – present)
Advisory Board, John Dickinson Writings Project (2020 – present)
Law School Faculty Appointments Committee Co-Chair (2018 – 19); Member (2007 – 08, 2015 – 16)
Board of Directors, American Society for Legal History (2014 – 2017)
Spokesperson of the Committee of the Council of the University Senate (elected) (2015 – 2016)
Committee of the Council of the University Senate (elected, one of seven) (2015 – 2016)
Council of the University Senate (elected, one of 52) (2014 – 2017)
American Society for Legal History Advisory Committee on the Surrency Prize (2017 – 2020);
Advisory Committee on the Cromwell Prize (2014 – 2017)
Chair, Law School Committee on Methodological Diversity (2014 – 2015)
Law School Committee on Joint Degree Programs (2014 – 2015)
University of Chicago Women's Leadership Council (2012 – 2015)
University Board of Student and Campus Life (2010 – 2013; chair, 2011 – 2013)
Panelist, National Endowment for the Humanities Fellowships Competition (2010)
Law School Committee on Lectures, Conferences, and Honors (2007–2008)
Public Service
Commissioner, Presidential Commission on the Supreme Court of the United States (2021)
Editorial Work
Referee, Law and History Review; William and Mary Quarterly; Modern Intellectual History
Editorial Advisory Board, American Journal of Legal History (2015 – present)
Events
Co-organizer, Maurice and Muriel Fulton Lecture in Legal History (2007-present)
Co-Organizer, "War in Law and Literature" Conference (February 2018)
Co-Organizer, "Money in Law and Literature" Conference (February 2016)
Co-Organizer, Public Law & Legal Theory Workshop (2009-2016)
Program Committee, Omohundro Institute of Early American History & Culture/Society of Early Americanists Joint Annual Meeting (2014 – 2015)
Co-Organizer, "Crime in American Law and Literature" Conference (February 2014)
American Society for Legal History Annual Meeting Program Committee (2012-2013)
Co-organizer, Manhood in American Law and Literature Conference (2012)
Featured Speaker, University of Chicago Constitution Day (2006, 2012)
Co-organizer, Gender, Law, and the British Novel Conference (2010)
Organizer, American Legal History Workshop (2008-2009)