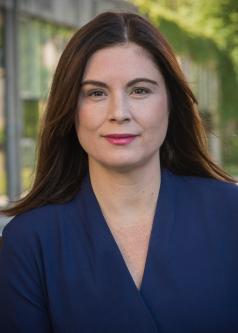 Clinical Faculty
Full Time Teaching Faculty
Nicole Hallett
Clinical Professor of Law, Director of the Immigrants' Rights Clinic
Biography
Nicole Hallett is a Clinical Professor of Law and directs the Immigrants' Rights Clinic, which provides legal representation to immigrant communities in Chicago including individual representation of immigrants in removal proceedings, immigration-related complex federal litigation, and policy and community education projects on behalf of community-based organizations. Her scholarship focuses on domestic and regional migration law and policy; the intersection of migration and labor rights; federalism and judicial review in the US immigration system; immigration and national security; and collective action and power-building in immigrant communities. In her practice, she specializes in creative lawyering through complex litigation and multi-pronged advocacy. Her work has appeared in the New York Times, NPR, The Nation, the Today Show, the Intercept, and the Associated Press, among other places.
For more background on Hallett's work and advocacy, please see Charlie Savage, Testing Novel Power, Trump Administration Detains Palestinian After Sentence Ends, N.Y. Times, Mar. 26, 2019; Liz, Robbins, Owner Was Target, but Restaurant Workers Are Swept Up in Immigration Raids, N.Y. Times, Nov. 11, 2016; and Sarah Maslin Nir, The Price of Nice Nails, N.Y. Times, May 7, 2015.
Professor Hallett was previously an Assistant Clinical Professor at the University at Buffalo School of Law where she founded and directed the Community Justice Clinic and the US-Mexico Border Clinic, and a Robert M. Cover Clinical Teaching Fellow at Yale Law School where she co-taught the Worker and Immigrant Rights Advocacy Clinic. Before beginning her teaching career, Hallett was a Skadden Fellow and staff attorney at the Community Development Project of Urban Justice Center in New York City where she represented victims of human trafficking and labor exploitation. After graduating from Yale Law School, she clerked for the Honorable Mark R. Kravitz on the United States District Court of the District of Connecticut and the Honorable Rosemary S. Pooler of the United States Court of Appeals for the Second Circuit. She also has a master's degree from the University of Oxford in Refugee Studies.
Education
Yale Law School
JD, 2008
University of Oxford, St. Cross College
Master of Science, Refugee Studies, Department of Development Studies, 2005
DePauw University
Bachelor of Arts, summa cum laude, Philosophy and English Literature, 2003
Experience
The University of Chicago Law School
Clinical Professor of Law (2022-present)
Associate Clinical Professor of Law (2020-2022)
University at Buffalo School of Law, State University of New York
Assistant Clinical Professor of Law (2019)
Associate Professor of Law (2016-2019)
Yale Law School
Clinical Lecturer in Law and Robert M. Cover Clinical Teaching Fellow, 2013-2016
New York University School of Law
Adjunct Clinical Professor of Law, 2012-2013
Urban Justice Center, Community Development Project
Staff Attorney, 2010-2013
Yale University
Adjunct Instructor, 2007, 2008, 2011
Judge Rosemary Pooler, U.S. Second Circuit Court of Appeals
Law Clerk, 2009-2010
Judge Mark Kravitz, U.S. District Court for the District of Connecticut
Law Clerk, 2008-2009
ACLU Immigrants' Rights Project
Legal Intern, 2007
US Department of Justice – Civil Rights Division
Legal Intern, 2006
National Human Rights Commission of Korea
Human rights researcher and United Nations liaison, 2003-2004
Publications
Becoming a Public Interest Lawyer - Academic and Career Success Series (1st ed.) (West Academic Publishing, 2022).
"How Do You Teach Immoral Laws?," 67 Saint Louis University Law Journal 543 (2023).

www

"Wage Theft and Worker Exploitation in Health Care," 24 AMA Journal of Ethics 890 (2022).

www

"The Use and Abuse of Domestic National Security Detention," 45 Seattle University Law Review 525 (2022).

"Rethinking Prosecutorial Discretion in Immigration Enforcement," 42 Cardozo Law Review 1765 (2021).

www

"Immigrant Women in the Shadow of #MeToo," 49 University of Baltimore Law Review 59 (2019).

www
"Rethinking Asylum Adjudication and Refugee Resettlement in the Context of Central American Migration," in Trump's Legacy in Migration Policy (Universidad Nacional Autónoma de México, forthcoming).

"Commentary on Zadvydas v. Davis," in Feminist Judgments: Rewritten Immigration Law Decisions (forthcoming).
"Opinion: 'Dysfunctional' doesn't begin to describe our immigration bureaucracy," The Hill, August 12, 2021.

www

Blog for the Public Good, 2021

www

The Digital Deportation Machine: How Surveillance Technology Undermines Chicago's Welcoming City Policy, (Immigrants' Rights Clinic, University of Chicago Law School). 2021).

"How to Reverse Trump's Immigration Disasters — Even without Congress," Los Angeles Times, December 2, 2020.

www

"When Job Is Still Hazardous, Why End Hazard Pay? Grocery Stores and Other Employers Are Counting on 'Risk Fatigue' and a Pool of People Looking for Work," HeraldNet, May 31, 2020.

www

"New York State needs to enact a paid sick leave law," Buffalo News, February 3, 2020 (with Michael Dolce).

www
Presentations
American Immigration Lawyers Association, Navigating the Pinball Game of Asylum, October 2021.
Universidad Nacional Autónoma de Mexico, Trump Legacy in Migration Policy and Covid-19, Challenges for Biden, May 2021.
AALS Clinical Conference Works in Progress, the Use and Abuse of National Security Detention, April 2021.
Northwestern University Law School American Constitution Society, October 2020 – presented on the future of DACA.
AALS Emerging Immigration Scholars Panel, January 2020 – presented paper, Rethinking Prosecutorial Discretion.
Applied Feminism and #MeToo, April 2019, Baltimore, MA – presented paper, Immigrant Women in the Shadow of #MeToo.
I-ARC Conference, October 2018, New York City, NY – presented on panel on issues facing immigrants in upstate New York.
Immigration Scholars Conference, May 2018, Philadelphia, PA – presented work-in-progress.
Class Crit, New Orleans, LA, November 2017 – presented my paper on wage theft at a panel on Labor and the New Economy.
Discussant at Cornell Prof Louis Hyman's on "The Gig Economy and the American Dream," June 2017, Buffalo, NY
AALS Clinical Conference, Denver, CO, May 2017 – organized and presented on a panel titled "Workplace Justice in Tumultuous Times: Advancing Student Learning and the Commitment to Social Justice Through Employment Law Casework."
Allison De Forge Human Rights Symposium, "Counterterrorism, Electoral Politics and Human Rights," Buffalo, NY, April 2017 – presented on a panel on "National Security and Recent Changes in U.S. Immigration Policy" at the Allison De Forge Human Rights Symposium.
CUNY Law Review Symposium, Transformative Immigration Defense: Law in Support of an Intersectional Movement, New York, NY, March 2017 – presented on a panel called "Reframing the Border," which explored how the line has blurred between border and interior enforcement.
Bar Admissions
Connecticut (2009)
New York (2010)
Southern District of New York (2011)
Eastern District of New York (2011)
District of Connecticut (2010)
Second Circuit Court of Appeals (2013)
First Circuit Court of Appeals (2014)
Western District of New York (2016)
Illinois (2020)
D.C. Circuit Court of Appeals (2020)
Central District of Illinois (2020)
Ninth Circuit Court of Appeals (2022)
Seventh Circuit Court of Appeals (2022)
Memberships and Professional Affiliations
Member, Board of Directors, Worker Justice Center of New York, 2018-present
Member, Board of Directors, Justice for Migrant Families, 2018-2019
Steering Committee, NYIC Collaborative, 2017-2019
Short-Term Legal Expert, ABA Rule of Law Initiative, 2017-2019