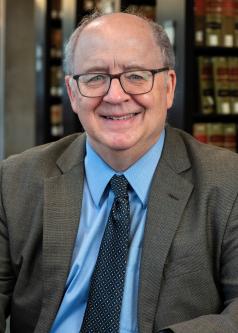 Academic Faculty
Full Time Teaching Faculty
Randal C. Picker
James Parker Hall Distinguished Service Professor of Law
Biography
Randy Picker graduated from the University of Chicago in 1980 cum laude with a BA in economics and was elected to Phi Beta Kappa. He then spent two years in the Department of Economics, where he was a Friedman Fellow, completing his doctoral course work and exams. He received a master's degree in 1982. Thereafter, he attended the Law School and graduated in 1985 cum laude. He is a member of the Order of the Coif. While at the Law School, Professor Picker was an Associate Editor of the Law Review. After graduation, he clerked for Judge Richard A. Posner of the US Court of Appeals for the Seventh Circuit. He then spent three years with Sidley & Austin LLP in Chicago, where he worked in the areas of debt restructuring and corporate reorganizations in bankruptcy.
Professor Picker is a member of the National Bankruptcy Conference and served as project reporter for the Conference's Bankruptcy Code Review Project. He is also a commissioner to the National Conference of Commissioners on Uniform State Laws and serves as a member of the drafting committee to revise Article 9 of the Uniform Commercial Code.
Professor Picker's primary areas of interest are the laws relating to intellectual property, competition policy and regulated industries, and applications of game theory and agent-based computer simulations to the law. He is the co-author of Game Theory and the Law. He currently teaches classes in antitrust, network industries, and secured transactions, while also regularly teaching bankruptcy and corporate reorganizations. He served as Associate Dean from 1994 to 1996.
Education
The University of Chicago
JD, with Honors, 1985
Order of the Coif

Associate editor, The University of Chicago Law Review
MA, June 1982
BA in economics with general honors, August 1980
Experience
The University of Chicago Law School
James Parker Hall Distinguished Service Professor of Law, 2013-present
Paul and Theo Leffmann Professor of Commercial Law, 1989-2012
Director, Olin Program in Law and Economics, 1999-2001
Professor, 1993-1997
Academic Associate Dean, 1994-1996
Assistant Professor, 1989-1993
The Computation Institute of the University of Chicago and Argonne National Laboratory
Senior Fellow, 2000-present
Sidley & Austin
Counsel, Chicago, IL, 1993-1999
Associate, Chicago, IL, 1986-1989
The Honorable Richard Posner, U.S. Court of Appeals for the Seventh Circuit
Law Clerk, Chicago, IL, 1985-1986
Presentations
"Why Facilities-Based Competition?," University of Pennsylvania Law School, March, 2003; S.J. Quinney College of Law at University of Utah, April 2003
Digital Rights Management Panel at University of Chicago Graduate School of Business, January 2003
"Understanding Statutory Bundles: Does the Sherman Act Come with the Telecommunications Act," Center for the Digital Economy at Manhattan Institute, December 2002
"Introduction to Electricity Regulation," Agent 2002 Conference on Social Agents: Ecology, Exchange and Evolution at University of Chicago/Argonne National Lab, October 2002
"The Lessons of Enron," The University of Chicago Law School, April 2002 (moderator and panel discussant)
"Copyright as Entry Policy: The Case of Digital Distribution," U.S. Federal Trade Commission Bureau of Competition Distinguished Lecturer Series, March 2002
"Exploring Concepts with ABMS," Capturing Business Complexity with Agent-Based Modeling and Simulation, March 2002
"Firm Valuations and Real Options: The Shutdown Decision in Chapter 11," National Conference of Bankruptcy Judges Annual Meeting, October 2001 (with Douglas Baird).
"Understanding Microsoft: The Decline of Centralized Coordination in a Peer-to-Peer World," Institutional Seminar on New Institutional Economics: Organizing and Designing Markets, June 2001
"SimLaw 2011," University of Illinois Conference on Empirical and Experimental Methods in Law, April 2001
"Intellectual Property: Looking at Napster," University of Michigan Conference on Law Policy and the Convergence of Telecommunications and Computing Technologies, March 2001
"Endogenous Neighborhoods and Norms," Max Planck Project Group Common Goods: Law, Politics and Economics, June 2001; Virginia, March 2000; Georgetown, April 1999; Chicago, April 1999
"Alternative Methodologies in Law and Economics," American Association of Law Schools, 1998
"Testing in Silico: Computer-Based Approaches in Law and Economics to Norms and Social Interactions," Wilbur Katz Lecture at University of Chicago Law School; Columbia Law School, 1997; American Association of Law Schools, 1998
"Designing Verifiability: Boyd's Implications for Modern Bankruptcy Law," University of Pennsylvania Law School Bankruptcy Conference, May 1997; Donner Bankruptcy Conference at George Mason University Law School, January 1997
"Simple Games in a Complex World: A Generative Approach to the Adoption of Norms," Stanford University; University of Chicago; California Institute of Technology; Georgetown University; American Law and Economics Annual Meeting, 1996-1997
"An Introduction to Game Theory and the Law," University of Illinois, March 1995; University of Kansas, February 1996
"Insolvency, Extended Liability and Industry-Based Solvency Structures," Stanford Law and Economics Workshop, November 1995
"Bankruptcy Rules, Managerial Entrenchment, and Firm-Specific Human Capital," Georgetown Law & Economics Workshop, October 1994
"Rotten Apples?: Industry Issues, Contagion, and Bankruptcy," Washington University Interdisciplinary Conference on Bankruptcy and Insolvency Theory, February 1994
"Law and Economics Perspectives on Bankruptcy," Seventh Circuit Bankruptcy Judges Conference, December 1993
"The Pros and Cons of Chapter 11: A Law and Economics Perspective," 4th Annual Meeting of the Insolvency Institute of Cananda, October 1993
"An Introduction to Game Theory and the Law," Third Coase Lecture at University of Chicago Law School, April 1993
"Current Developments in Bankruptcy and Real Estate," Chicago Bar Association, March 1993
"Game Theory and the Law: Chapters 4 and 5," Faculty Workshop at George Mason University Law School, December 1992; Faculty Workshop at University of Virginia Law School, November 1992
"Game Theory and the Law: Chapters 1 and 2," Faculty Workshop at New York University Law School, September 1992
"Bankruptcy and the Allocation of Control," Annual Meetings of American Law and Economics Association, May 1992; The Law and Economics Workshop at University of Chicago, February 1992; February 1992 (with Robert Gertner)
"

Bankruptcy Workouts and Debt Contracts

, by Alan Schwartz," John M. Olin Centennial Conference in Law and Economics at University of Chicago, April 1992
"Bankruptcy Rules, Entrenchment, and Human Capital," Work-in-Progress Workshop at University of Chicago, April 1992
"Voluntary Petitions and the Creditors' Bargain," The University of Cincinnati College of Law Fifth Annual Corporate Law Symposium, March 1992
"Security Interests, Misbehavior and Common Pools," Harvard Law School Law & Economics Workshop, September 1991; Work-in-Progress Workshop at University of Chicago, July 1991
"A Simple Noncooperative Bargaining Model of Corporate Reorganizations," The Law and Economics Workshop at University of Chicago, November 1990 (with Douglas G. Baird)
"Civil Justice Reform," Federal Judge's Seminar at University of Chicago Law School, June 1990
"Fundamentals of Corporate Bankruptcy Law," Harvard Business School Finance Seminar, May 1990
"Understanding Statutory Bundles: Does the Sherman Act Come with the Telecommunications Act," December 2002
"Endogenous Neighborhoods and Norms," April 1999
"Designing Verifiability: Boyd's Implications for Modern Bankruptcy Law," May 1997
"A Primer on Secured Transactions in Personal Property," November 1996
"Insolvency, Extended Liability and Industry-Based Solvency Structures," January 1996
Professional Affiliations
American Bar Association

American Law & Economics Association

National Bankruptcy Conference

American Bankruptcy Institute

American Association of Law Schools

National Bankruptcy Conference

Project Reporter, Bankruptcy Code Review Project (1993-present)

National Conference of Commissioners on Uniform State Laws (1991- present)

Bar admissions, Illinois, U.S. Court of Appeals for the Fifth Circuit, U.S. Court of Appeals for the Seventh Circuit
Service
The Council of the University Senate (2002-present)

The Board of the University of Chicago Laboratory School (2001-present)

Chair, The Board of Computing Activities and Services (1999-2001); member, (1998-2001)

Chair, The Board of the Library, The University of Chicago (1994-1996)

The Board of the Library, The University of Chicago (1993-1996)

Administrative Cost Reduction Steering Committee (1994)

Dean Search Committee at the Law School (1993-94)
Editorial Work
Editorial board, Journal of Business Law Education
Contracts and Commercial Law Advisory Board, Social Science Research Network
Editorial board, Bankruptcy, Reorganization and Creditors' Rights, Social Science Research Network
Referee, Journal of Legal Studies; Journal of Law and Economics; Journal of Law, Economics and Organization
Events
The Corporate Yardstick, Odyssey, WBEZ radio (May 9, 2002)
Antitrust in the Global Economy, Odyssey, WBEZ radio (October 4, 2001)
"A New Experience for Microsoft," The Financial Times (July 24, 2001)
The Trial of Microsoft, Odyssey, WBEZ radio (July 2, 2001)
Fat Pipes and Faulty Regulation, The Financial Times (December 19, 2000)

The Microsoft Break-Up, Odyssey, WBEZ radio (June 22, 2000)

The Microsoft Split, Chicago Tonight, WTTW TV (June 8, 2000)

"Modified Napster, Beam-It Could Be Happy Compromise," CNN Online (May 17, 2000)

"A Firm That Failed Well," The Wall Street Journal (October 12, 1998)

Credit Card and Bankruptcy Issues, The Talk of the Nation, National Public Radio (June 11, 1998)

"In Microsoft Case, Justice is on Dangerous Path to Stifling Innovation," www.thestreet.com(January 18, 1998)

Moderator, Current Bankruptcy Issues, Financial Lawyers Conference of Los Angeles (April 1998)

Organizer, Special Program for sixty Federal Bankruptcy Judges at the request of the Federal Judicial Center (September 1997)
Congressional Testimony
U.S. House, Committee on the Judiciary, Subcommittee on Commercial and Administrative Law, Hearing on H.R. 833, the Bankruptcy Reform Act of 1999 (March 18, 1999)

U.S. Senate, Committee on the Judiciary, Subcommittee on Administrative Oversight and the Courts, Hearing on S.1914, the Business Bankruptcy Reform Act (May 19, 1998)

U.S. Senate, Committee on the Judiciary, Subcommittee on Administrative Oversight and the Courts, Hearing on S.1301, the Consumer Bankruptcy Reform Act of 1997 (March 11, 1998)