Second Annual Law and Economics Summer School Imparts New Methods to Chinese Scholars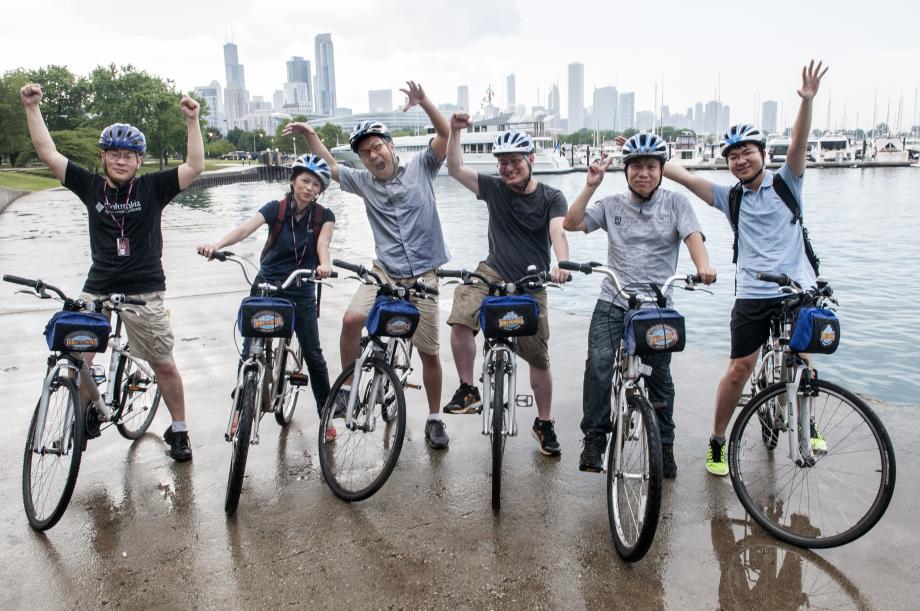 For the second consecutive summer, Chien Chung Lin traveled from Taiwan to Chicago to participate in the annual Summer School in Law and Economics at the Law School. Lin, an assistant professor at National Chiao Tung University's law school, wanted to repeat the experience after being part of the inaugural program in 2012.
This year, he was one of 83 scholars who visited the Law School for an intensive program from July 8 to 19. The vast majority were Chinese, with a handful from Taiwan, Hong Kong, Thailand, Vietnam, Korea, and even one scholar from France. For all but Lin and one other scholar, it was their first Summer School. The program now has about 150 alumni, when the two cohorts are combined. 
Lin said he'd even consider coming back for a third or fourth experience because the material has been so useful in his work studying and teaching corporate law.
"It's a very good opportunity," he said. "It's always important to know new developments, and empirical studies provide a very useful tool to explore what is really happening in society."  
That kind of long-term view is exactly what the Summer School is all about, said Professor Omri Ben-Shahar, Kearney Director of the Coase-Sandor Institute for Law and Economics, which hosts the program. Ben-Shahar isn't saying that scholars must return for repeat years, though the curriculum and offerings do change every summer. But he does believe that the two-week-long accelerated program in the tools and methods of law and economics is best viewed as a seed for future scholarship. These tools are especially useful in places such as China, where recent economic development has been rapid.
Most of the Summer School scholars are accomplished professors in their home countries who are seeking new knowledge to address legal and economic challenges, Ben-Shahar said. Others are PhD candidates or post-PhD fellows. They teach law, economics, political science, and other subjects.
"Because they are advanced and sophisticated, they recognize law and economics and the Chicago School as sources that could be really valuable for them," Ben-Shahar said. "Many of them hope to do for Chinese scholarship what Chicago did for American scholarship."
Learning about law and economics is very useful to Chinese academics, said Ruoying Chen, Assistant Professor at Peking University Law School. She assists the Coase-Sandor Institute in organizing and running the program. Chen is a Chicago graduate, earning an LLM in 2005 and a JSD in 2010. She also has served as a visiting assistant lecturer and an Olin Fellow in Law and Economics.
The material enhances the scholars' research and teaching, and it encourages interdisciplinary involvement, which is all too rare in the Chinese academy, Chen said. In a broader sense, she added, "law and economics provides more basis for rational analysis to help with decision-making on a national level, rather than relying on intuition, interest groups, public opinion, or doctrine…we are urged by this new tool to constantly reflect on and evaluate what we've done."
Last year's Summer School has had an impact already, Chen said. Three academic journals in China issued special editions for law and economics papers, largely authored by Summer School contributors. Law and economics scholars met for a few small conferences too. This month, Ben-Shahar will meet with the two classes in Beijing to further encourage their network and scholarship.
In July, the latest cohort packed a lot of learning and even a little Chicago sightseeing into their two weeks. They took five courses, which meant they spent four to five hours of each day in class. They took "Empirical Methods in Law and Economics" with Professor Thomas Miles, "New Tools in the Economic Analysis of Competition Law" with Randal Picker, and "Regulatory Techniques in Consumer Protection Law" with Ben-Shahar. Saul Levmore taught "Law and Public Choice," and Lior Strahilevitz taught "Social Networks, Social Norms, and Behavioral Analysis."
Even when they weren't in class, the scholars were absorbing ideas. Professor Martha Nussbaum delivered a lecture about the "central human capabilities," which are rights related to health, emotions, bodily integrity, politics, and employment. Professor Tom Ginsburg gathered with the scholars on a Sunday for a brunch discussion on the role of law in economic development. And Judge Richard A. Posner, a veritable celebrity among many of the scholars for his work in law and economics, gave a talk on the importance of an independent, efficient judiciary, finality in litigation, and consumer protection laws.  (He was so popular that one scholar asked him to sign the shoulder of her dress with permanent marker. He obliged.)
Later, Posner said that a Summer School on law and economics for Chinese scholars is right to touch on issues of judicial accountability. "Part of modernization is creating an honest, reasonably independent, reasonably competent judiciary with sensible procedures," he said. "China needs that, as do other countries, such as India and Brazil. These are countries that are growing rapidly economically, and they have lots of political problems and corruption and need help figuring out what to do. Certainly economics is one way to help improve a judicial system."
Posner's name came up several times in another Summer School event, a discussion between William Landes and Douglas Baird about the first few generations of law and economics scholarship at Chicago and in the U.S. more broadly. The professors shared stories and laughs, and Baird pointed out to the scholars in attendance that they had a great opportunity at hand.
"There were a group of pioneers here who showed how these tools can be applied to legal problems. I was able to apply those tools to other legal problems. And you're in the position to do the same." Baird said it must be exciting to do law and economics in China, because it is "an incredibly fertile area with areas of inquiry that are almost completely unexplored. That is exactly where you want to be."
The scholars also visited Wrigley Field for a Cubs game, where Assistant Dean for Graduate Programs Richard Badger explained the rules of baseball. (It isn't a popular sport in China.) On another day, Levmore and Professor Julie Roin led a large group of scholars on a bike ride up the lakeshore to Navy Pier, where they enjoyed deep-dish pizza.
All the scholars met for a banquet at the Quadrangle Club, where Richard Sandor talked about his passion for China and how his life's work has been inspired by Ronald Coase and law and economics. Sandor, Chairman and CEO of Environmental Financial Products LLC and founder of the Chicago Climate Exchange, gave a major gift in February to ensure that the law school remains the leading institution in the field of law and economics. In recognition of his generosity, the Institute for Law and Economics was named for him and his mentor, Coase. Sandor spoke at the banquet about seven weeks before Coase's death on Sept. 2.
"Markets can be used to achieve social objectives. I hope the Coase-Sandor Institute is going to give you the tools to advocate for those things that will help China's economic development and its health," Sandor said.  
Before the banquet, Xiangshun Ding, a professor at Renmin University of China Law School, explained that China is moving from "rule of man to rule of law."
"Rule of law means regulations, rules, norms. It also means market," he said. "China needs to regulate the economy with more scientific tools. Law and economics is an ideal combination of tools to reach the goal of (moving from) rule of man to rule of law."
The Chinese scholars aren't the only beneficiaries, Ben-Shahar said. It's incredibly helpful for him and other American law scholars to interact with their counterparts in other parts of the world. "We gain a lot from this interaction, sharing our ideas and experiences with them and hearing about their work. They have a very interesting set of issues they have to deal with, and they expose our scholarly community to the types of challenges their system poses."
It's a major opportunity for Chicago Law to be an influence on Chinese academics as the Chinese economy becomes an increasingly crucial player in the global economies of technology and innovation, Ben-Shahar added. "Part of what motivates this program is how much good to the world can come from China being a superpower in the world of ideas."