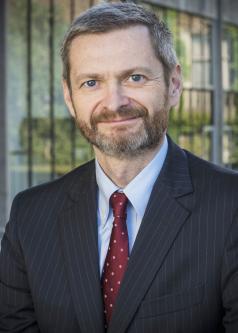 Academic Faculty
Full Time Teaching Faculty
Senior Administrators
Thomas J. Miles
Dean, Clifton R. Musser Professor of Law and Economics
Biography
Thomas J. Miles is the Dean and Clifton R. Musser Professor of Law and Economics at the University of Chicago Law School. 
Professor Miles is a leading scholar of criminal justice and judicial behavior, and an expert in a wide range of contemporary issues such as race and immigration enforcement. He has been widely published in economics and legal journals, with extensive expertise on such varied topics as judicial diversity, immigration, mail fraud, and wiretapping. His work makes creative use of the tools of law and economics—an approach that originated at the Law School, which maintains leadership in the field through such initiatives as the Coase-Sandor Institute for Law and Economics. Frequently, Miles' work uses the methods of law and economics to investigate social questions not conventionally thought to fall within that field, such as his recent work with Adam Cox at New York University School of Law that examined how African-American judges tended to decide voting rights cases differently than white judges and that the presence of an African-American judge on a judicial panel also tended to influence how white judges decided the case. Their research was the first to find robust statistical evidence that the racial identity of judges matters in how judicial panels decide cases, and highlighted the importance of diversity on the bench.
Miles has taught a wide variety of courses at the Law School including securities regulation, federal criminal law, economic analysis of law, and empirical law & economics, as well as first-year criminal law and tort law. In 2009, he received the Graduating Students Award for Teaching Excellence. Before joining the faculty, Miles was the Olin Fellow in Law and Economics at the Law School. He has served in several leadership roles during his time on the faculty, including chairing the appointments committee and the accreditation review committee.
Miles received his PhD in economics from the University of Chicago and his JD cum laude from Harvard Law School. Upon graduation, he served as a law clerk to the Hon. Jay S. Bybee of the US Court of Appeals for the Ninth Circuit. From 2005 to 2013, Miles was an editor of the Journal of Legal Studies. He graduated summa cum laude with a BA in political science and economics from Tufts University.
Education
Harvard Law School
JD, cum laude, 2003
John M. Olin Fellowship in Law and Economics
Irving Oberman Memorial Award for Written Work on Corporate Governance
John M. Olin Prize for Written Work in Law and Economics
The University of Chicago
PhD, Department of Economics, 2000
Dissertation: "Three Empirical Essays in the Economics of Crime"
Lynde and Harry Bradley Foundation Fellowship
University of Chicago Century Scholarship
Illinois Economics Association Prize for Outstanding Graduate Student Paper
Tufts University
BA, summa cum laude in political science and economics, 1990
Phi Beta Kappa
James Vance Elliott Political Science Prize
Marion Ricker Houston Prize Scholarship in Economics
Experience
The University of Chicago Law School
Dean, 2015-present
Clifton R. Musser Professor of Law and Economics, 2013-present
Walter Mander Research Scholar, 2012-2015
Professor of Law, 2010-2012
Assistant Professor of Law, 2005-2010
Olin Fellow in Law and Economics 2004-2005
Faculty Affiliate, University of Chicago Crime Lab, 2009-present
Columbia Law School
James S. Carpentier Visiting Professor of Law, Autumn 2009 
The Honorable Jay S. Bybee, U.S. Court of Appeals for the Ninth Circuit
Law Clerk, San Francisco, CA, 2003-2004
Ropes & Gray LLP
Summer Associate, Chicago, IL, 2002
American Bar Foundation
Doctoral Dissertation Fellow in residence, Chicago, IL, 1998-2000
Federal Reserve Bank of Boston, Research Department
Research Assistant and Associate to Director of Research, 1990-1993
Works in Progress
"Does Immigration Enforcement Reduce Crime? Evidence from 'Secure Communities'," working paper with Adam B. Cox, June 2014
"Substitutes in Criminal Procedure: Defendant Cooperation and Electronic Surveillance," working  paper, May 2014
"The Mechanisms of "Community Prosecutions": A Test from Chicago," working paper, March 2014
"Do Attorney Surveys Measure Judicial Performance? Evidence from Online Evaluations," working  paper, February 2014
"Which States Enter into Treaties and Why?," working paper with Eric A. Posner, January 2012
"Markets for Stolen Property: Pawnshops and Crime," unpublished dissertation chapter, November 2007
Service
Co-chair, Appointments Committee (2014-2015)
Chair, Accreditation Review Committee (2012-2013)
Editorial Work
Co-editor, Journal of Legal Studies (2005-2013)
Referee, Academia Sinica Law Journal, American Economic Review, American Journal of Political Science, American Law & Economics Review, American Political Science Review, Berkeley Electronic Journal of Economic Analysis & Policy, Canadian Journal of Criminology and Criminal Justice, Economic Inquiry, International Review of Law & Economics, Journal of European Economic Association, Journal of Labor Economics, Journal of Law & Economics, Journal of Legal Studies, Journal of Political Economy, Journal of Quantitative Criminology, Justice Quarterly, Labour Economics, Law & Social Inquiry, Political Science Quarterly, Quarterly Journal of Economics, Review of Economics & Statistics, Review of Financial Studies, Social Science Quarterly, Supreme Court Economic Review
Referee, National Science Foundation – Law and Social Science Research Press, Social Sciences and Humanities Research Council of Canada Press, University of Chicago Press, University of Chicago Arete Foundation for Advancing the Study of Wisdom, Yale University Press
Other Activities
Advisor, National Opinion Research Center on behalf of U.S. Department of Justice, Bureau of Justice Statistics