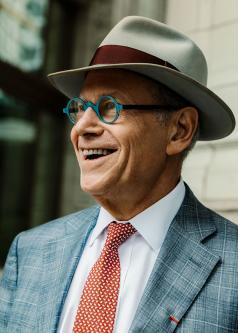 Lecturers in Law
Richard L. Sandor
Aaron Director Lecturer in Law and Economics
Biography
Richard L. Sandor (Ph.D., Dr. sc. h. c.) is Chairman and CEO of the American Financial Exchange (AFX) established in 2015. AFX is an electronic exchange for direct interbank/financial institution lending and borrowing. The AFX flagship product, the AMERIBOR benchmark index, reflects the actual borrowing costs of thousands of regional, mid-sized and community banks across the U.S.
He is also the CEO of Environmental Financial Products (EFP), which was the incubator to the Chicago Climate Exchange (CCX).
Known world-wide as the "Father of Financial Futures," in 2002 he was named by TIME Magazine a "Hero of the Planet." In 2007 as one of the magazine's "Heroes of the Environment" for his work as the "Father of Carbon Trading." And in October 2013, Dr. Sandor was awarded the title of awarded the title of Chevalier de la Legion d'Honneur (Knight of the Legion of Honor) in France, for his accomplishments in the field of environmental finance and carbon trading.
He served on the board of directors of leading commodities and futures exchanges such as the Chicago Mercantile Exchange, Intercontinental Exchange, Chicago Board of Trade, London International Financial Futures and Options Exchange and Tianjin Climate Exchange, as well as several philanthropic and non-for-profit organizations.
He authored and co-authored numerous academic and popular press publications and books on finance and environmental subjects. His most recent books include "As I Saw It," a compilation of 5 years of monthly articles from Environmental Finance, and "Electronic Trading and Blockchain: Yesterday, Today and Tomorrow," published by World Scientific in February 2017 and April 2018, respectively.
He earned Bachelor of Arts degree from the City University of New York, Brooklyn College, and a Ph.D. in Economics from the University of Minnesota. In addition, he holds an honorary degree of Doctor of Science, honoris causa, from the Swiss Federal Institute of Technology (ETH).