Summer Institute Highlights Growing Impact of Law and Economics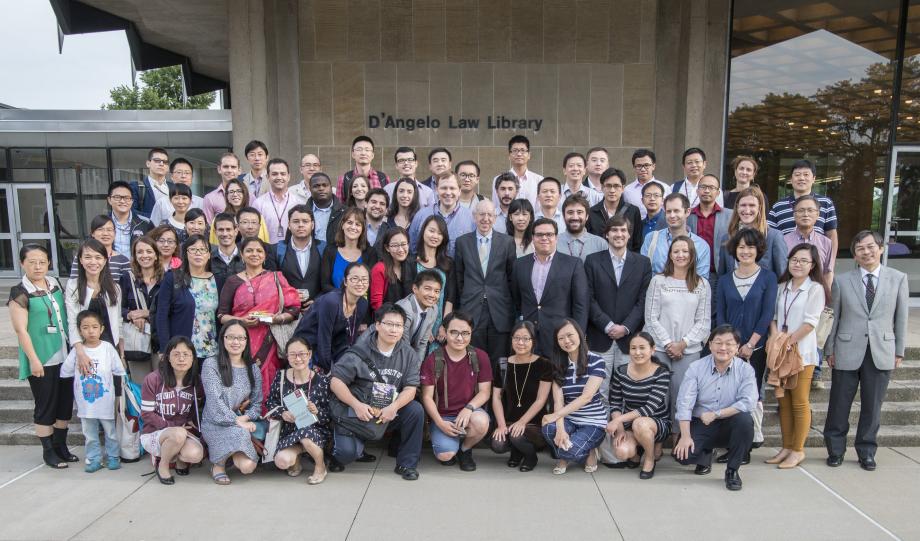 Since it began in 2012, the annual Summer Institute for Law and Economics has been working to transform legal systems around the world by sharing the Law School's signature interdisciplinary
analysis with international legal scholars. And this year the burgeoning success of that mission was evident as nearly seven dozen participants from five continents—the widest global representation in the program's short history—gathered at the Law School, their voices laden with the transformative possibility of law and economics.
The CEO of a government investment corporation in Reykjavik said economic theory could help officials maneuver the inherent tensions between Icelandic antitrust law and market efficiency, and a Brazilian judge pointed to the discipline's potential impact on judicial decision making and other aspects of litigation in her country. A Ukrainian environmental lawyer shared her hope that public officials in Kiev would embrace law and economics as they undertake ambitious economic and government reform, and an Indian economics professor described her dedication to sharing law and economics in her country, where it could provide valuable analyses of emerging policies.
"Law and economics gives you answers," said Ranita Nagar, Professor of Economics at Gujarat National Law University in India. "Economics takes you to a concluding point. It will tell you empirically that these are the outcomes, and this is what the law should be. It is about accuracy. It is insightful, and it makes you think."
This enthusiasm isn't new—participants often arrive with a reverence for UChicago law-and-economics giants like Richard Posner and the late Ronald Coase—but the remarkable leap in global representation speaks to the discipline's, and the Law School's, rising influence and impact. In three years, the Summer Institute has gone from serving only Chinese scholars to drawing participants from 26 countries, including Argentina, South Africa, France, Japan, Ghana, Spain, Thailand, Colombia, and South Korea. The program still draws a significant number from the People's Republic of China, Taiwan, and Hong Kong, but this year they accounted for less than half of the class.
Law and economics, a University of Chicago hallmark that was born here in the 1930s, is still in its infancy in much of the world, despite the impressive potential to improve policymaking, market efficiency, and even judicial decision making, especially in countries undergoing rapid economic growth. But the Law School's Coase-Sandor Institute for Law and Economics, which runs the summer school, is helping change that. Like many of the Summer Institute's more than 300 alumni, this year's 79 participants said they hoped to share what they had learned in ways that could help bring the rational analysis of economic theory to bear on national issues that might otherwise be driven by public opinion or interest groups.
"Our summer program gives scholars new tools in teaching law, and they depart Chicago energized and eager to implement the approach," said Omri Ben-Shahar, the Leo and Eileen Herzel Professor of Law and Kearney Director of the Coase-Sandor Institute for Law and Economics. "Many of the participants are key figures in law reform in their respective countries, and some of the program's alumni have alrea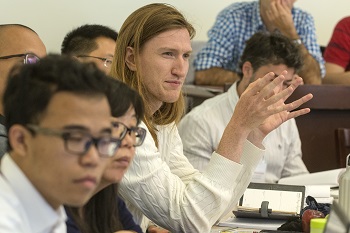 dy shared with us ideas and initiatives for legal change."
Ruoying Chen, '05 LLM '10 JSD, Associate Professor of Law from Peking University Law School who has worked with Ben-Shahar on the program since it began, said that "legal academia, together with political scientists and economists outside of the US, need to be—and can be—convinced of the positive and normative power of law and economics. What scholars have learned from and discussed about the Summer Institute is vivid proof."
The two-week program included four intensive courses and a variety of lectures, as well as opportunities to share ideas, socialize, and see Chicago. Participants studied the economics of property rights with Professor Lee Fennell and learned about the law and economics of media platforms from Professor Randal C. Picker, whose massive open online course, or MOOC, on this topic went live on July 13. They also dug into the economic analysis of contract law with Professor Eric Posner and the economic analysis of corporate law with Professor Todd Henderson, as well as attending lectures by several other professors, including Ben-Shahar, Martha Nussbaum, Saul Levmore, Tom Ginsburg, and Senior Lecturer Richard A. Posner, a judge of the Seventh Circuit Court of Appeals.
At a dinner at the Quadrangle Club, the program scholars also heard from Richard L. Sandor, the Aaron Director Lecturer in Law and Economics and the Chairman and CEO of Environmental Financial Products, who spoke about the important role markets can play in tackling environmental issues.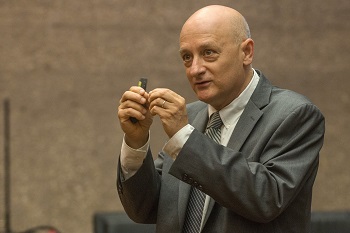 "Dr. Sandor's address was inspirational for many of the participants, and it was equally delightful to see that some of them have the experience in environmental policy that can enrich Dr. Sandor's own thinking on these issues," Ben-Shahar said.
In addition, the participants had the opportunity to submit papers for a UChicago-style critique; those selected were reviewed by panels of fellow participants, each led by a Law School faculty member.
"It is a dream for many participants to be able to present their work to a Chicago faculty, not to mention getting feedback from such top scholars," Chen said. "I believe participants also learned a lot about collegiality and healthy academic discourse from this exercise."
A GROWING GLOBAL IMPACT
Several of this year's participants have already been involved in helping expand the use of law and economics in their home countries, where interest is typically highest among students and younger scholars or lawyers. Many said they see huge potential in a variety of areas.
"It's a very important subject—it's got a force of its own, and an analysis of its own," said Nagar, who has begun teaching law and economics at her university and was involved in a March conference that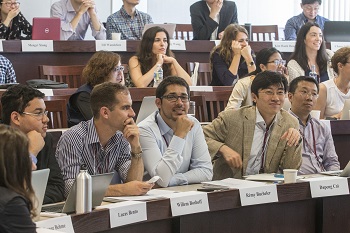 explored a variety of areas within law and economics. "In India, there are very important emerging laws—for example, land acquisition and environmental law—that could benefit from the expertise and empirical studies of law and economics."
Jón Gunnar Jónsson, the CEO of Icelandic State Financial Investments, is currently writing a paper for an Icelandic student law review explaining concepts like the Coase Theorem. He also co-developed a class on law and economics at the University of Iceland, which he began teaching last spring. It was the first law and economics course at a major university in Iceland, he said, and it was tremendously well received.
The potential applications in Iceland "are absolutely enormous," he said. A deeper economic analysis of tort rules, for instance, could help explain why there is strict liability in some cases and negligence rules in others. It could also help resolve a classic tension in antitrust law—the desire to protect consumers and enhance competition by discouraging concentration, even though concentration could potentially reduce costs.
"Iceland is a small country—and the markets are small, which means they need to concentrate and merge in order to produce efficiencies," Jónsson said. "But the Competition Authority [Iceland's chief antitrust agency] is always putting the brakes on and preventing companies from merging because they don't take into account these potential efficiencies. Law and economics could offer valuable insight."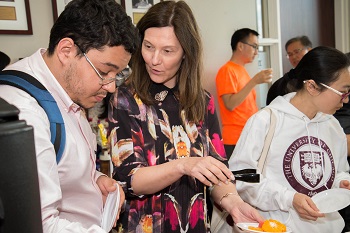 Claudia Cristina Cristofani, a federal appellate judge in Brazil who earned a master's degree in Law and Economics from the University of Lisbon and wrote her dissertation on the economic aspects of accuracy in judicial decision making, said law and economics is gaining wider attention in Brazil, including in the court system. The official national school of judges, Escola Nacional de Formação e Aperfeiçoamento, organizes seminars involving the economic impacts of decisions, and in June Cristofani helped organize a five-day course for judges in the school of the Fourth Federal Court of Appeal, which has been promoting such conferences for judges for about six years.
"I find the economic analysis of litigation particularly important," she said. "Judges have to overcome informational asymmetries they have with the parties in order to decide—and economists are well trained to deal with all the key facts involving the resolution of disputes. Many insights from economics—like the decision-making process, institutional design, incentives to the parties and agents, information and disclosure in the due process, administrative and cognitive constraints, coordination, deterrence, social costs and benefits—are crucial to reflect on the litigation, especially in Brazil."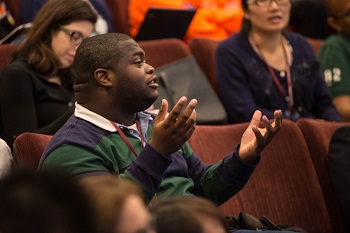 In China, law and economics can help interpret what the country has done right and what might need to be fixed, Chen said.
"Economic growth and improvement in social and individual welfare have been the core goals in law making and policy making in China for the past four decades or so and will remain so for the next generation," she said. "In the economic transition from a planned economy toward a more market-oriented market, the drive and actions of various players in the transition are best understood through the lens of the rational-choice model. Meanwhile, as a developing country with the world's largest population, China needs to substantially improve the efficiency and efficacy of laws and public policy, for which law and economics provides so far the most powerful measures and suggestions in the United States."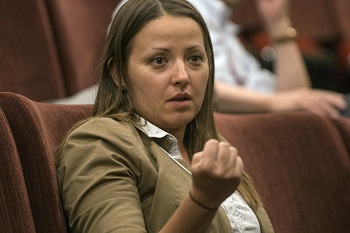 Tetyana Rabczak, LLM '16, an environmental lawyer from Ukraine who will start in the Law School's LLM program in the fall, is particularly interested in how law and economics can be applied to the reform efforts taking place in the wake of Ukraine's recent economic upheaval, civil unrest, and conflict with Russia.
"The time is especially ripe to introduce a law and economics focus," said Rabczak, whose interest in the discipline began when she was interning at the Chicago Climate Exchange, which was a greenhouse gas reduction and emissions trading system founded by Sandor. "In Ukraine right now we have a lot of new public officials. They are actually interested in learning, and many have strong professional backgrounds—though often it is in either in law or economics. Not many have both. There are a lot of lawyers who are trying to reform the economic system in Ukraine who have no background in economics."
This was an idea echoed by a number of the participants: the time has simply come in their countries to bring law and economics together.
"You put the pieces of a puzzle together, and you see the whole picture more than you would if you looked at an issue from just a legal side or just an economic side," Rabczak said. "Lawyers take one side; their starting point is, 'Who are we trying to benefit?' But for economists, the question is, 'How can we benefit the most people? This is what's missing."