Chicago Law Foundation Auction Supports Students Working in the Public Interest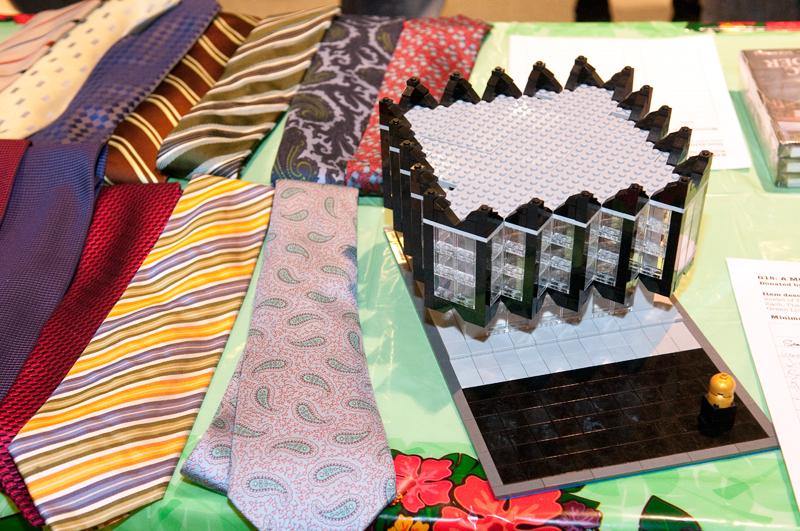 Outside the Law School, it was your typical winter evening in Chicago: snow on the ground, icy patches on the sidewalks, a nasty chill in the air.
But inside the Law School, at least for the night of January 24, it was a tropical paradise. Students wore sundresses, Hawaiian shirts, and flip-flops, sipped on cold drinks, and relaxed next to towering palm trees (an inflatable species). The reason for all this seasonal delusion was a good one: the annual Chicago Law Foundation (CLF) Auction, which supports students who want to work in public interest law. The money raised goes toward summer grants for students working in the public interest and bar grants for graduating students going into public interest careers.
This year's auction raised $59,034, of which $31,050 came from the live auction, featuring auctioneer/Professor Douglas Baird. A silent auction before the live event raised $13,564 and CLF raised an additional $14,420 in firm and private donations.
The auction is definitely a highlight of the Law School year. Its reputation as a night of fun draws more students than any other event. Faculty and staff make it a point to attend, too. All parts of the Law School community, including alumni, business partners, and law firms, find ways to pitch in by offering great auction items or donations. A handful of examples of the hundreds of experiences and things auctioned this year:   
Rick Bisenius, '13, will take three people to a baseball game (White Sox, Cubs, or Brewers). He will cover their transportation, tickets, hot dogs, and "a few rounds of beverages"
Four VIP tickets to any 2013 recording of NPR's "Wait Wait Don't Tell Me" news quiz
A feast in Chinatown and a discussion of health care law for four students with Lecturer in Law Jack Bierig, Partner at Sidley Austin
An 800-piece custom-designed and built Lego model of the Law School, created by Zach Mayo, '14
Twelve Italian ties from the collection of Professor William Landes
Three bookcases owned by Nobel Laureate and Professor Emeritus Ronald Coase
Passes to cut to the front of the line for Federalist Society and Public Interest Law Society lunch talks
A designated driver (Julia Napier, '14) for Bar Review
Dinner and live music for four with Professor Aziz Huq at the Empty Bottle, a music venue
Dinner for four students with Dean Michael Schill in Chinatown
Board games with Professor Omri Ben-Shahar and his family at their home, plus food and drink, for six students
Lunch with Judge Douglas Ginsburg, '73, in the judge's dining room at the Prettyman Federal Courthouse, the site of the D.C. Circuit Court of Appeals, for up to seven students  
Shooting clay pigeons at a hunting club with Professor Todd Henderson, for four students
Four nights at a Dominican Republic resort for two
"There are no words to describe how awesome this event is," said Soo Park, '14, who is on the CLF board that has been working since summer to plan the auction. The auction chairs were Christine Ricardo, '14, and Dayne Poshusta, '14.
Law school is challenging and stressful, and the auction is a great antidote, Park said.
"You take all these high-stress people and put them in the same room, and you've got 400 happy law students."