Law School Art & Architecture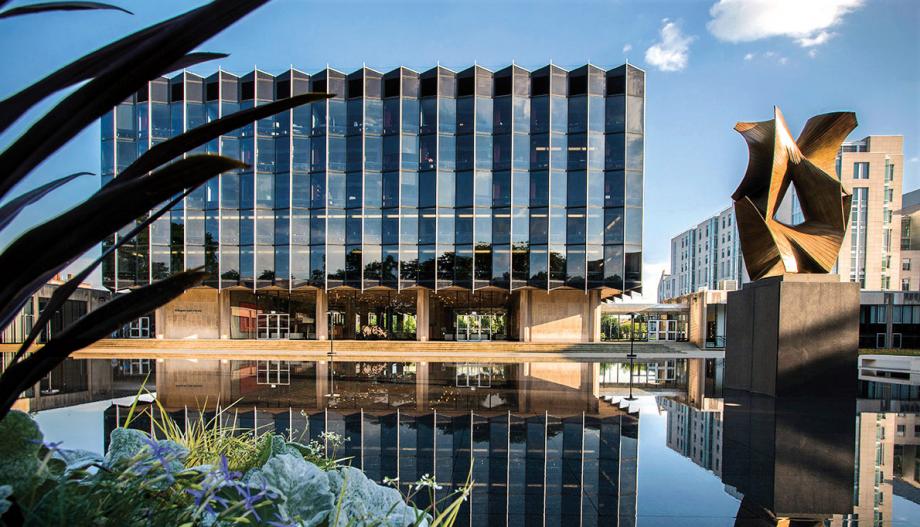 Our Building
The modernist look of the Law School, designed by architect Eero Saarinen, complements and contrasts with the nineteenth-century Gothic buildings that populate much of the rest of campus. The Law School was originally located inside one of these Gothic buildings, Stuart Hall, until it became clear in the 1950s that more space was needed.
The new building, at 1111 E. 60th Street, was like Saarinen's other works in that it was intended to be a mix of old and new. Saarinen, a Finnish-American, was known best for designing St. Louis' Gateway Arch and New York's Idlewild Airport (now John F. Kennedy International Airport). The original buildings in Saarinen's design include the administration wing, the D'Angelo Law Library and Green Lounge, and Rooms I through IV in the classroom wing. Supreme Court Chief Justice Earl Warren laid the cornerstone in 1958, and Vice President Richard Nixon dedicated the buildings at their completion in October 1959.
In the 1990s, the building expanded with the Arthur Kane Center for Clinical Legal Education and the addition of classroom and seminar room space underneath the original row of classrooms. Other renovations and relocations took place over the years, including extensive work on the library and replacement of the original spray fountain in front of the Law School with a zero-depth reflecting pool.
"The Pevsner"
The sculpture in the reflecting pool — formally titled "Construction in Space in the Third and Fourth Dimension" and informally known as "The Pevsner" — was designed by Russian expatriate Antoine Pevsner and installed in 1964. It was hailed by critics as an expert use of the compositional space created by Saarinen's design. "The sculpture," writes Katherine Kuh in the Saturday Review, July 25, 1964, "specifically planned to be seen from all sides, changes as the observer varies his position, an act requiring deliberation. To view it from a window in the Law Library is a radically different experience from approaching it at street level. Rarely has a sculpture been more fully oriented to the multilateral possibilities of its structure."
Art in the Law School
"A-COW-Demia": What's with the big fiberglass cow in the Green Lounge? It was part of Chicago's "Cows on Parade" public art installation in 1999, when dozens of the cows were decorated and displayed throughout the city. At the end of the installation, 142 of the cows were auctioned for charity. Several faculty members purchased A-COW-demia, which was designed by students of the American Academy of Art, for the Law School.
"The Law School Series": The four landscape-like paintings in the Green Lounge by Chicago artist Judy Ledgerwood were installed in 1994. The Law School commissioned the works with the generous help of Mrs. Marion F. Green.