Prof. Martha C. Nussbaum Wins Kyoto Prize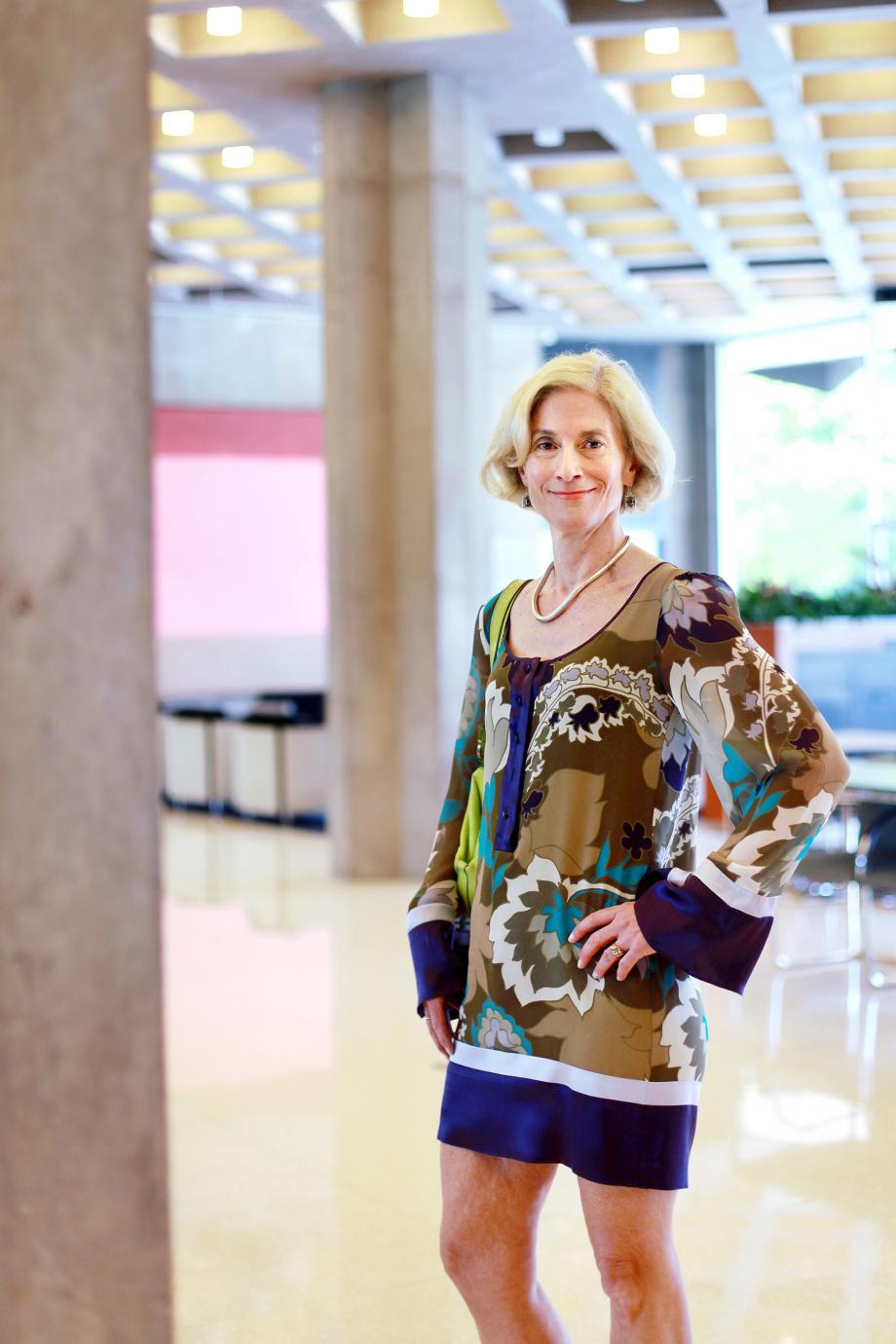 Martha C. Nussbaum, the University of Chicago's Ernst Freund Distinguished Service Professor of Law and Ethics and a world-renowned philosopher whose wide-ranging work often centers on questions of human vulnerability, has been awarded the Kyoto Prize in Arts and Philosophy for achievements that include introducing "the notion of incorporating human capabilities ... into the criteria for social justice."
The honor, bestowed annually by Japan's Inamori Foundation but given only once every four years in the Thought and Ethics sub-category, is among the most significant international accolades for scholarly work and is widely regarded as the most prestigious award in fields that are traditionally not recognized with a Nobel Prize.
Nussbaum "has led global discourse on philosophical topics that influence the human condition in profound ways, including contemporary theories of justice, law, education, feminism and international development assistance," the Foundation said in an announcement early Friday. "She established a new theory of justice that ensures the inclusion of the weak and marginalized, who are deprived of opportunities to develop their capabilities in society, and has proposed ways to apply this theory in the real world."
Nussbaum is one of three recipients of the Kyoto Prize this year; the others are Tasuku Honjo, a Japanese medical scientist who teaches at Kyoto University and who won the Basic Sciences award, and Takeo Kanade, a Japanese roboticist who teaches at Carnegie Mellon University and who won the Advanced Technology award.
Nussbaum—who has earned international acclaim for her work on moral and political theory, emotions, human rights, social equality, education, feminism, and ancient Greek and Roman philosophy—said she felt "deeply honored and humbled" by the award, which she will formally receive during a 10-day event in Kyoto in November. Nussbaum, who joined the University of Chicago in 1995, is appointed in the Law School and Philosophy Department. She also is an associate in the Classics Department, the Divinity School, and the Political Science Department, as well as a member of the Committee on Southern Asian Studies, and a board member of the Human Rights Program.
"Martha Nussbaum has made extraordinary contributions to scholarship in philosophy, and she is an engaged intellectual who has made an impact on issues of equality, diversity and human dignity, among others," said University of Chicago President Robert J. Zimmer. "I am delighted that her work has earned this important recognition."
Added Law School Dean Thomas J. Miles, the Clifton R. Musser Professor of Law and Economics: "Martha is an extraordinary scholar whose insights and interdisciplinary approach seek to make the world a better place. We are tremendously proud."
Often cited as one of the world's leading public thinkers, Nussbaum worked with Nobel Prize-winning economist Amartya Sen to develop the Capabilities Approach, a measure of global welfare that examines what a nation's individuals are actually able to be and do rather than relying on the country's Gross Domestic Product as a proxy. GDP, she argues, fails to account for inequality or the specific facets of a fulfilled life, such as health, education, and religious liberty. Nussbaum has also written extensively on emotions—including love, fear, disgust, shame, and anger—and their role in politics, law, justice, and society. In her most recent book, Anger and Forgiveness: Resentment, Generosity, Justice, she argues that retributive desires can impede social progress. Currently, she and Saul Levmore, the William B. Graham Distinguished Service Professor of Law, are co-authoring a book on aging that joins philosophical, legal, and economic insights.
"Martha Nussbaum embodies the Greek ideal of philosophy as an art of citizenship," said Professor Gabriel Richardson Lear, Chair of the University's Philosophy Department. "People around the world listen to her because she is able to make original contributions at the level of abstract thought and then show how they make a difference to the most important issues of our political and personal lives. The range of her influence is extraordinary—distributive justice, opera, political emotions, Plato's theory of love, the Aristotelian manuscript tradition ... to name just a few. She has also been an inspiration to women philosophers around the world and to all who care about justice. It is a privilege to be her colleague."
The Kyoto Prize, which is awarded annually in each of three categories, was created in 1985 by Inamori Foundation founder Kazuo Inamori to honor those who have "worked humbly and devotedly, sparing no effort to seek perfection in their chosen professions" and have "sincerely aspired through the fruits of their labors to bring true happiness to humanity."
Nussbaum, an outspoken advocate of humanities education, called the prize "particularly honorable and meaningful" because it celebrates humanistic contributions alongside scientific advancement.
"Mr. Inamori is a great scientist—and when a great scientist decides to dedicate a lot of attention and financial support to the humanities, that really means a lot to me," Nussbaum said. "The best scientists understand the profound kinship between scientific creativity and humanistic and artistic creativity. I think we're in an era where both profound science and humanistic creativity are being threatened by a short-term, profit-oriented mentality. We really need to make common cause, the scientists and humanists, because it's the deep, searching thought, the power of imagination, and the power of rigorous critical thinking that we really share."
The prize, she said, is an opportunity to underscore these ideals. And David Weisbach, the Walter J. Blum Professor of Law, who co-teaches an interdisciplinary global inequality class with Nussbaum, said it's a message she is well-equipped to share.
"The humanities are under siege globally, and Martha is one of the leading voices fighting against that," he said.
Previous winners in the Thought and Ethics field include Willard Van Orman Quine, an American philosopher known for contributions to epistemology, logic, and metaphysics; Paul Ricœur, a French philosopher who taught at the University of Chicago's Divinity School between 1970 and 1985; and Jürgen Habermas, a German philosopher known for his achievements in social philosophy.
As part of the prize, Nussbaum will receive a diploma, a gold Kyoto Prize medal, and a cash gift of 50 million yen (about $472,000), a good portion of which she plans to donate to the Law School and the University's Philosophy Department. "I love and respect these two exemplary academic communities and the values they stand for, and am so grateful for the generosity of my colleagues," she said.
As a Kyoto laureate, Nussbaum will deliver lectures in Kyoto, Oxford, and San Diego over the next year. At the November event in Kyoto, she will also lead workshops aimed at university, high school, and elementary-school students—an opportunity that Nussbaum said she is happily anticipating.
Nussbaum, who has written and edited dozens of books, received her MA and PhD from Harvard University. Prior to joining the faculty of the University of Chicago, she was a University Professor at Brown University. From 1986 to 1993, while teaching at Brown, Nussbaum was also a research advisor at the World Institute for Development Economics Research, Helsinki, a branch of the United Nations University. She is a founding president of the Human Development and Capability Association, and she has received 56 honorary degrees from universities in North America, South America, Europe, Asia and Africa. Nussbaum also has garnered many prizes, including the Prince of Asturias Prize in 2012, the Nonino Prize in 2015, and the Inamori Ethics Prize, also in 2015.
"Martha's extraordinary body of work combines brilliance, humanity, and generosity of spirit," said Alison LaCroix, the Robert Newton Reid Professor of Law. "The breadth of her scholarly influence, from the Capabilities Approach, to the role of emotion in politics and law, to religion, disgust, and literature, is matched by her leading role in public and academic debate. She exemplifies the Kyoto Prize's mission of honoring 'those who have contributed significantly to the scientific, cultural, and spiritual betterment' of humanity." 
Levmore said the award speaks to the optimism in Nussbaum's work.
"She writes, as we know, about philosophy and constitutional law and feminism and the emotions, and in all these things there is always the sense that we can be better than what we have been," he said. "She speaks to the individual, as in her latest book on Anger and Forgiveness, and then also to the society—in the form of its political and legal institutions. This makes philosophy a very practical field of study. Indeed, there may be some political and legal topics regarding which Martha does not have much to say, but I have not seen any of those topics yet, and I have been around her for more than fifteen years now. I like to think the prize has been awarded for genius and for contributions to humanity, to be sure, but also for outspokenness and strongly held opinions. In those things, as in others, she is a role model for our discipline."
Faculty awards