Obama Returns to the Law School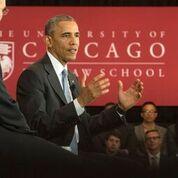 President Barack Obama returned to his academic roots at the University of Chicago Law School Thursday to make the case for US Supreme Court nominee Merrick Garland, calling on Republican senators to give the federal appellate judge and Chicago native a fair hearing in a wide-ranging, emphatic, and at times professorial conversation with law students, faculty, and other attendees.
Describing Garland as "an eminently qualified jurist," Obama told the crowd in the Law School's Harold J. Green Lounge that if the Senate does not give such nominees a hearing it would mean that partisan polarization is "seeping entirely into the judicial system" and threatening the integrity of the judicial branch. "At that point, people lose confidence in the courts … and our democracy cannot afford that," Obama said.
The town-hall-style discussion included a Q&A with law students and noted Supreme Court scholar David Strauss, the Gerald Ratner Distinguished Service Professor of Law. The talk placed Obama's message against  a powerful backdrop: the law school where he  once taught constitutional law and a university with a long tradition of open discourse.
"We pride ourselves on being a place of substantive debate where diverse and conflicting ideas can be thought through and reasoned through, and we're enormously grateful that the President recognized that and chose the University of Chicago Law School as the place to have that conversation," Law School Dean Thomas J. Miles, the Clifton R. Musser Professor of Law and Economics said.
Added Strauss: "At Chicago–but really at any great university–what matters is the quality of people's ideas, not their partisan affiliation. So I thought it was especially great, and especially appropriate, that the President came back here to explain how important it is to him that justices be appointed to the Supreme Court because of their excellence and that the Court not be the victim of partisanship." 
The event was the first devoted to addressing the controversy that escalated after Obama nominated Garland on March 16 to fill the vacancy created by the death of Supreme Court Justice Antonin Scalia a month earlier. Senate Majority Leader Mitch McConnell had vowed to block the nomination even before Obama put forth a name.
"It's not just that the Republican majority in the Senate intend to vote against a highly qualified man … they are saying, 'We simply will not consider it,'" Obama said.
Obama—who taught Law School classes devoted to constitutional law, voting rights, and racism and the law between 1992 and 2004, when he was elected to the US Senate—was undoubtedly shaped by the Law School's culture, said Geoffrey R. Stone, the Edward H. Levi Distinguished Service Professor of Law.
"One of the fundamental characteristics of the Law School culture is the ability of individuals to engage in energetic, serious debate and argument without anyone taking it personally and doing it in a way that is civil and productive even when people disagree sharply," Stone said. "That was something that Obama clearly experienced during his years here."
In addition to his comments about the Supreme Court, Obama addressed a variety of themes–from mass incarceration to voting rights to drone strikes—many of them in response to student questions.
"We're incredibly grateful to President Obama for taking the time to field real and hard questions from our students and taking those questions seriously and giving them real and deeply thoughtful answers," said Aziz Huq, the Frank and Bernice J. Greenberg Professor of Law.
Amelia Garza-Mattia, '18, who asked Obama about efforts to address mass incarceration, told the President that it was the second time she'd asked him a question. The last time, at a small rally in New Hampshire, Obama was a senator and Garza-Mattia was 15.
This time, she admitted after the event, she was a bit more nervous—but she was thrilled that Obama offered a thoughtful answer describing the forces contributing to what he called sincere, bipartisan progress in reforming the criminal justice system.
"He went so in depth and addressed exactly the things I wanted to hear about," she said. "I'm feeling pretty good right now."
Obama's visit reminded some students why they love the Law School.
"It was incredible—not only because I was sitting a few feet away from the President of the United States, but also because of the palpable sense of community in the room," said Alison Frost, '18. "I witnessed the mutual respect and fondness President Obama shares with his old faculty friends, and I felt the audience around me bursting with pride at the opportunity to welcome him home. The President's message was exactly what drew me to this school in the first place: the importance of listening to people who disagree with you. The Law School is so small and so politically diverse that I'm constantly confronted with views that challenge my own. I'm not in an echo chamber, and I love that."
Obama joked with the students, telling them that he was impressed to see them dressed up.
"Was there a memo sent out?" he said. "Because you all aren't going to class like that. I know. I remember."
But he also took a more serious tone in addressing the students, praising the quality of their questions and telling them that as future lawyers they had an "enormous amount to contribute."
"I hope that [you are] are excited about the incredible changes and good that you are going to be able to do," he said. "I know that sometimes the news feeds cynicism, and democracy at this moment seems particularly frustrating, but … you can make a really meaningful difference. So one of the reasons I wanted to come back is to recruit you–to stay engaged, get involved, make a difference. I do hope one of the things you will take away from our discussion today and the extraordinary education at the University of Chicago is the incredible high you can get from serving this country."