The Making of an Entrepreneur
A Law School course helped create the world's first centralized collision avoidance platform for space. It also helped shift one student's career path.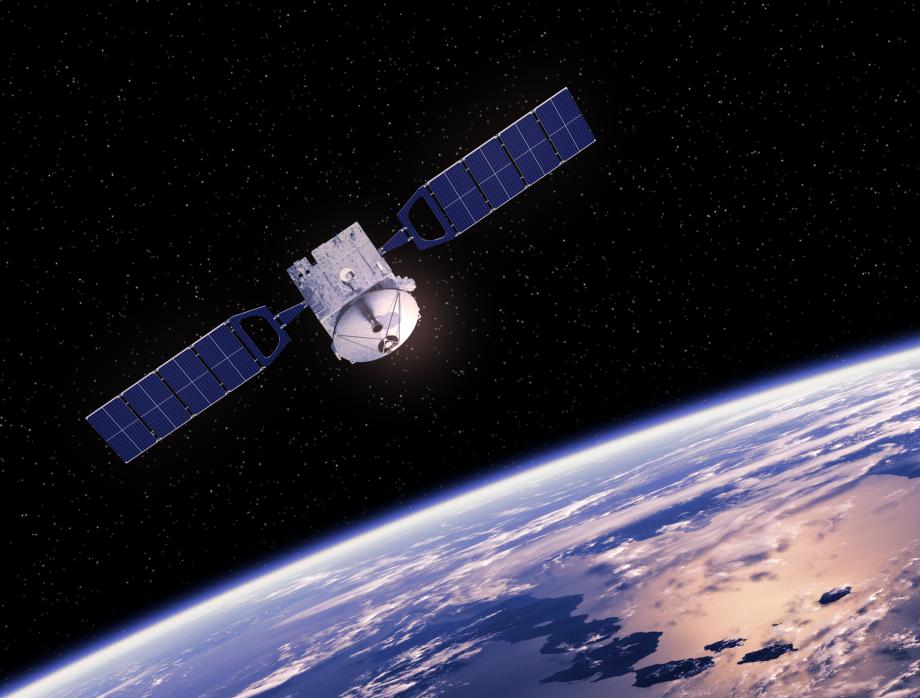 Heading into her third year of Law School, Holly Highfill, '21, was on track to become a transactional attorney. She was not planning to launch a startup company aimed at preventing satellite collisions in space and then selling it to a space simulation and analytics company, Slingshot Aerospace. She certainly did not think that an idea she helped develop in a Law School class would, less than a year later, become a platform used by companies operating more than half of the world's satellites, or that she would begin her career in the aerospace industry.
But in late 2021, there she was: speaking at NASA, traveling to Dubai for a high-profile gathering of the global space community, and meeting regularly with satellite operators. By then, she was the director of customer engagement and strategy for Slingshot Aerospace, the company that acquired her startup.
"Sometimes I'll be talking to these operators—people I knew from doing customer research at the very beginning when I was still a student, people who knew me when I knew nothing—and think about how I've come to speak their language and understand their pain points and want to make a difference for all space operators," Highfill said. "I am working so much right now building this product but I am having the best time of my life."
Highfill's trajectory might not have been her initial plan, but, looking back, she says her journey unfolded naturally, her interest and knowledge building as she progressed from one University of Chicago opportunity to the next. Everything she needed was right on campus: courses on entrepreneurship, the Law School's Innovation Clinic, programs through the University of Chicago's Polsky Center for Entrepreneurship and Innovation, and mentors at the Law School and across campus who helped her see the possibilities and then chart a path toward them.
"It was a holistic experience," she said. "Even though [the UChicago opportunities] were not a formal package—I sought each one out—they allowed me to see the startup world from every important perspective that I needed."
At first, her goal was to learn about the entrepreneurial experience so she could better serve her future clients. She took Applied Entrepreneurship as a second-year law student in the winter of 2020. She participated in two cycles of Polsky's George Shultz Innovation Fund Associates Program, a venture capital apprenticeship in which an interdisciplinary group of students and post-docs perform due diligence on innovative ventures. In autumn 2020, she enrolled in the Innovation Clinic, which offers students a chance to counsel startups and venture capital firms.
Then, also in the autumn of 2020, she took Hacking for Defense, a cross-disciplinary class taught by Todd Henderson, the Michael J. Marks Professor of Law, and Will Gossin, an adjunct assistant professor of entrepreneurship at the Booth School of Business and a lecturer at the Harris School of Public Policy.
Henderson, whose expertise includes business law and entrepreneurship, sees great value in teaching law students like Highfill to think like entrepreneurs. That exercise, he argues, triggers innovation—potentially unleashing new ideas about the world, the law, or even themselves.
"I wanted the law students to be mentally disrupted, to [shift] their mode of thinking," Henderson said.
Gossin, a former therapist who founded two startups before teaching at UChicago, says there's great power in entrepreneurs' ability to withstand uncertainty and to engage deeply and empathetically with other people and their challenges. His mission is to cultivate that mindset among interested students and look for chances to bring the University's signature intellect to bear on difficult real-world problems.
Hacking for Defense, a US Department of Defense-sponsored course in which students team up to develop innovative solutions to DoD challenges, seemed to both Henderson and Gossin like a perfect fit. They brought the course, now taught at 55 universities across the country, to UChicago in September 2020 and opened it up to graduate students across campus.
That quarter, they assigned Highfill to work on a team devoted to preventing satellite collisions in space. In the 10 weeks that followed, Highfill learned to grapple with complicated new concepts and to pitch hypotheses knowing they likely would be proven wrong. She collaborated with teammates, listened to feedback that punctured her assumptions, and rebounded when early ideas flopped.
Somewhere along the way, she started seeing herself not just as someone who could work with entrepreneurs but as someone who could be an entrepreneur—and maybe already was.
Hacking for Defense had disrupted her thinking, and her plans.
***
Before the autumn of 2020, "entrepreneur" was a label Highfill largely had reserved for other people.
"My parents are actually small business owners—they own a small septic system company in Santa Barbara," Highfill said one afternoon in late 2021. "I didn't think that I had the 'entrepreneurial spirit' that my mom has. I'd always liked having a framework and rules. That's what the law was for me: you've got a set framework, but you can be creative around it."
Early in law school, she thought litigation was her preferred path and spent her first summer as a judicial intern. But as her interest in business began to build, she shifted toward transactional work. She spent the summer of 2020 working for a law firm in Los Angeles and looking for experiences that would help her better represent innovators and business owners.
The chance to collaborate and innovate drew her to Hacking for Defense that fall, and so did the instructors: she had Henderson and Gossin for Applied Entrepreneurship, a class she'd loved. She was eager to study with them again. 
There was something else, too: the space project, which she'd seen among the list of potential assignments, fit an interest she'd nurtured for years. She had pictured herself eventually working in the aerospace industry, perhaps in government affairs at SpaceX, and she'd sought out opportunities to think about space law. During her second year in law school, she wrote a piece for the student-run Chicago Journal of International Law on the international legal issues connected to asteroid mining and international trade law. That assignment confirmed her fascination.
The Hacking for Defense project sounded captivating. Students on the space team were tasked with figuring out how to efficiently connect the operators of the world's roughly 4,000 active satellites so they could share information about potential collisions—a safety and security concern that didn't yet have a workable solution even though the number of satellites is expected to skyrocket to about 100,000 in the next decade. Operators, she would later learn, generally relied on Google searches and email to find one another when serious concerns arose.
"I saw this class and the problem and thought, 'OK, I have to do this,'" Highfill said.
Hacking for Defense, which is run by the DoD's National Security Innovation Network (NSIN), provides a menu of challenges faced by the military and intelligence communities and invites its instructors to choose the projects best suited to their schools and students. In addition to the satellite project, UChicago students have focused on challenges related to cybersecurity, gender equity in the military, the use of microbes in manufacturing, and more.
"We've tried to select [projects] that were well-fitted to UChicago … and the NSIN people told us after this quarter that within the network we now have a reputation for picking the most ambiguous, complex challenges," Gossin said in late 2021. It's no accident, he added: the strong culture of interdisciplinary collaboration and rigorous inquiry makes UChicago students particularly well suited to complex innovation.
In class, Henderson and Gossin communicate a clear ethos that drives their approach.
They believe that difficult issues that are typically the domain of governments can often be addressed more efficiently through entrepreneurial innovation. They also believe that most solutions require a deep understanding of future users' real-world needs and that success is often preceded by failure. Their students use a lean entrepreneurial method that involves jumping to an initial conclusion, forming a hypothesis, testing it with experts, and then iterating based on that feedback. Having one's hypothesis questioned—or torn to shreds—is an efficient way of surfacing hidden assumptions, eliminating faulty conclusions, and zeroing in on effective solutions, Henderson said.
That autumn, Highfill and her teammates spent much of their time interviewing satellite operators as part of the customer discovery process that Henderson and Gossin emphasized. Her team included five other students, among them Kishen Raghunath, MBA '20, an aerospace engineer who was finishing up his studies at Booth. He would become her partner in launching Stellatus Solutions, and, later, her colleague at Slingshot Aerospace. They and their teammates were guided by an agency sponsor—Audrey Schaffer, who was then the director of space strategy and plans in the Office of the Secretary for Defense. Schaffer is now the director for space policy for the White House National Security Council.
Highfill, Raghunath, and their classmates aimed for 10 interviews per week, learning to ask the right questions and listening carefully to the answers, particularly ones that dismantled their existing hypotheses.
Law students, Henderson said, generally struggle with that part.
"They don't like jumping to conclusions—they say, 'OK, give me six months and Westlaw and I will write up a brief and tell you what the answer is,'" Henderson said. "But that's not the way entrepreneurship works. You have to be really comfortable with uncertainty and with being proven wrong."
Highfill was no exception. She was uncomfortable not having the answers.
"I had to learn to marinate in the uncertainty," she said. "That was a major part of my growth."
Her professors pushed her to become "comfortably uncomfortable," poking holes in her hypotheses and pointing out areas that seemed to lack answers.
"I appreciated every ounce of honesty," she said. "It can be hard to hear, though, when you've never done this before."
At the end of the quarter, Highfill, Raghunath, and the rest of the team presented their prototype in class: a centralized communication channel for satellite operators that could be hosted by a trusted, nongovernmental third party—an idea that reflected the concerns potential customers shared about government interference in an international issue.
When they finished, members of the team considered individually whether to further pursue the idea. Highfill was pretty sure they had something of value—a deep trove of customer discovery, rich contacts among satellite owner-operators, and a prototype for a communications platform—but building out the project would take a lot more work.
Highfill was invested by this point, and the uncertainty and risk didn't bother her as much as it once had. Her vision for her future was changing, too. She and Raghunath decided to move forward, participating first in Polsky's seven-week, National Science Foundation-sponsored Innovation Corps program and then applying to the highly selective Edward L. Kaplan, '71, New Venture Challenge that spring.
"Her mindset had shifted—I think it was through that customer discovery and the entrepreneurial problem-solving," Henderson said in 2021, thinking back on Highfill's growth. "I tell all my students: 'You think you're [just] here studying law … but you're really studying yourself.' During [Applied Entrepreneurship], Holly learned what it means to be an entrepreneur, and she learned that it was something she liked and something that she might be good at. It turned out [in Hacking for Defense] Holly was good at it in a way that she hadn't expected. In part, that's because there was a way of thinking that she didn't know about before."
Once she and Raghunath decided to take the next steps, things began to move fast.
***
This was the benefit of undertaking a project like this at the University of Chicago Law School: Highfill had mentors who pushed her in new directions and the right combination of resources to support her along the way.
"We have an interesting combination of intimacy and vastness here," Henderson said. "The Law School is small enough that faculty can be highly collaborative and accessible to students, but we're part of this ecosystem that has this vast reach and lots of different parts and services and opportunities."
The Law School's commitment to business and innovation has grown in the past decade, giving students a wide variety of opportunities to develop key skills and plug in to the growing array of resources around campus. Students can participate in the Kirkland & Ellis Corporate Lab Clinic, the Innovation Clinic, and the Institute for Justice Clinic on Entrepreneurship. They can pursue the certificate-granting Doctoroff Business Leadership Program, which brings top Booth professors into the Law School to teach business courses that are specifically designed for law students, as well as cross-campus opportunities with Polsky and Booth's Rustandy Center for Social Sector Innovation. They can take a variety of classes focused on innovation, entrepreneurship, and business law, join the student-led Chicago Business Law Journal, and earn a dual degree from the Law School and Booth through either a four-year JD/MBA program or an accelerated three-year program.
Highfill chose the opportunities she needed, at each stage that she needed them.
In the winter of 2021, after completing Hacking for Defense, Highfill and Raghunath teamed up to form Stellatus Solutions with four UChicago students who were interested in the next steps: Alex Hernandez, BA '21; Guy Karim Caland Puymartin, MBA '21; Raheel Syed, MBA '21; and Jerry McIntyre, MBA '21. Highfill became the CEO. The group spent seven weeks as a part of I-Corps, engaging in additional customer discovery, identifying needs, and building the beginnings of a business model before applying to the New Venture Challenge, a leading accelerator program that has helped launch companies like GrubHub. As a part of the NVC, they developed their financial strategy and practiced pitching their idea to investors. (Gossin notes that Hacking is taught in the fall so that programs like I-Corps and the NVC are available for those interested in further developing their proposals).
Throughout the process, Highfill sought the guidance of UChicago mentors, including Henderson and Gossin; Melissa Byrn and Ellen Zatkowski at I-Corps; the NVC's faculty director Steve Kaplan; and Waverly Deutsch, an adjunct professor of entrepreneurship.
Highfill also turned to Clinical Professor Emily Underwood, the director of the Law School's Innovation Clinic. The clinic, Highfill said, was integral in helping her learn what documents she needed to form a company—and Underwood was, and continues to be, an important advisor.
"At one point I was about to have a call with all of my co-founders where we needed to discuss what our ownership percentages should be, and that's a tough conversation," Highfill said. "I talked to her personally about navigating that conversation. It was all about how you explain your worth to other people on your team."
Stellatus Solutions became one of 30 teams selected for the NVC, though they were cut before the final round of the competition.
By that point, though, they were on the verge of a new opportunity. One of the satellite operators the Stellatus team had interviewed knew the CEO at Slingshot Aerospace, Melanie Stricklan.
"He said, 'I think you guys are doing similar work, and I think you guys should have a chat,'" Highfill said. "Mel reached out to me that same day, and then we talked on a Saturday afternoon. It was right after the NVC, we hadn't made the finals, and we were like, 'Okay, what are we going to do now?' We had jobs lined up, so we were kind of at a crossroads. Do we go for VC dollars right now? Do we try to get funding to start building the software? And then this relationship with Slingshot came into place—and everything aligned. They had the software engineers that we needed and they were more established. But we had months of customer discovery and a business plan. We knew exactly how to build it."
Henderson still remembers the call from Highfill. It was just a few days after she'd let him know that they hadn't made the final round of the NVC.  
"She called me up and said, 'Yeah, Slingshot wants to buy our company," he said. "I was surprised—to go from zero to a hundred miles an hour in that short period of time is really just phenomenal."
But it also made sense, Henderson and Gossin both said: Highfill brings a special combination of attributes to the table.
"The first is that she makes strong assertions, but there's a second magical one—something that's always required but that we don't often get—and it's that she's open to and curious about what she's missing," Gossin said.
Highfill, in other words, is willing to be wrong.
"In addition to those two things, she also is a hyper-organized manager," Gossin added.
In June, Slingshot Aerospace acquired Stellatus for an undisclosed sum, and offered Highfill and Raghunath positions on their team. In August, the company launched Slingshot Beacon, the world's first centralized collision avoidance communications platform for space. Some of the world's largest satellite owner-operators signed on as early adopters.
Highfill says none of this could have happened had she not pursued UChicago's entrepreneurship offerings.
"This is all because I took those courses where I had to go out of my comfort zone and pitch an idea and have it torn apart—and in a safe environment with a bunch of extremely intelligent people," she said. "That changed [my path] forever. Now I can't imagine being in any other role. I am living my dream."