Sean Cooksey, '14: Protecting Free Expression and Serving the Public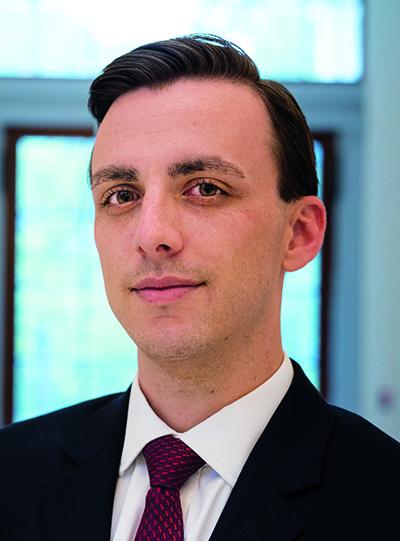 In the later months of 2020, Sean Cooksey, '14, was nominated by President Trump, confirmed by the Senate, and sworn in as a commissioner of the Federal Election Commission, the youngest commissioner in the agency's 47-year history.
"The FEC is the only agency solely charged with regulating the exercise of a constitutionally protected right, our First Amendment freedom of speech," he said. "It's a very sobering responsibility."
He said that his first days at the Law School were intimidating. His college years had been at Truman State University in his home state of Missouri. "I applied to only three in-state colleges, and I chose the least costly one," he said. "Then at the Law School I found myself among all these brilliant students from backgrounds so different from mine, who had gone to the kinds of prestigious colleges I had never even considered."
His transition was eased by a lunch that Douglas Baird hosted at the Quadrangle Club for a small group of first-year students. "We got to know each other and talked about normal conversational things like our families and the architecture of the main campus," he said. "I felt more like I belonged after that."
He served as a managing editor of the Law Review, graduated Order of the Coif, and then clerked at the Fifth Circuit Court of Appeals, after which he joined the Washington office of Gibson, Dunn & Crutcher. "I liked Gibson Dunn and enjoyed my time there, but I had decided that I wanted to work in government or some other form of public service, so on the day that I paid off the last of my student debt, I started looking for a new job," he said.
His friend Prerak Shah, '10, told Cooksey of an opening in the office of Senator Ted Cruz, and Cooksey landed the position of deputy chief counsel there. Toward the end of Cooksey's first year with Cruz, Josh Hawley won election to the Senate from Missouri. Cooksey sought a position with him and was named general counsel, serving for two years until his FEC appointment. "My home state senator—what more could I ask for? It was two exciting and fulfilling years, working on a very broad range of policy issues, and the Senator was a great mentor," he said. Because both Cruz and Hawley served on the Senate Judiciary Committee, Cooksey had a substantial role in shepherding the Supreme Court confirmations of Justices Kavanaugh and Barrett.
Before he joined the FEC along with two other new commissioners, the agency had been lacking the quorum necessary to even hold meetings for most of the 2020 election cycle. It had a backlog of more than 400 cases. Meetings were held remotely, making it difficult to build the collegiality required to make decisions in the six-member body where no party is allowed to hold more than three positions. Adding a personal note to the tumult, he and his wife Ellyn welcomed their first child, George, just 10 days after Cooksey was sworn in. "There were a lot of hectic days and months in the beginning, but the Commission has mostly dug out from the backlog now, and my colleagues have done a great job of creating a collaborative culture," he said.
He sees an important connection between his UChicago experience and his FEC responsibilities. "The Law School's strong commitment to open inquiry and the free expression of ideas, no matter how unusual or unpopular they might be, dramatically increases the quality of students' growth and learning and ultimately helps lead to better decision-making. That same commitment is foundational for our democracy, for the same reasons. Politics is not patty-cake; it's rough and tumble—a contact sport—and at the FEC, I'm a referee. Like the best referees, my role is to enforce the rules so the game is played fairly while interfering as little as possible with the flow of the action. However well I am able to meet that standard, I credit the Law School for helping me do that."