Debra Cafaro, '82, Chairman, CEO of Ventas, Inc., Creates Full-Tuition Scholarships for Students with Significant Need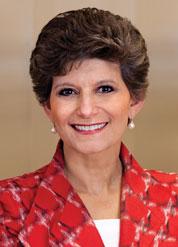 The University of Chicago Law School announced today that Debra A. Cafaro, Chairman and Chief Executive Officer of Ventas, Inc., has made a $4 million gift to provide full-tuition, three-year scholarships to 22 students over the course of nine years.  The Cafaro Scholarships will enable at least three students with financial need each year to obtain a legal education with no debt.
"I am so grateful to Debbie for her support of our students," said Dean Michael Schill. "I have heard many stories from current students and alumni about how life-changing their Chicago Law education and experience has been and how financial support allowed them to follow their passions. The Cafaro Scholarship program will ensure that the doors of opportunity are open for high-achieving students who might not otherwise have the means to attend our school." The first four Cafaro Scholars will be selected this spring and enroll in the fall.
Cafaro, a 1982 graduate of the University of Chicago Law School, is the first member of her family to attend college, and she credits the opportunity to obtain a Chicago Law degree as a critical foundation in building a stellar business career. After practicing law for 13 years and moving into the business world as President of Ambassador Apartments, Cafaro was named CEO to turn around a deeply troubled healthcare real estate investment trust in 1999. Under her leadership, the performance of that REIT, Ventas, Inc., has been spectacular. Now the largest seniors housing and healthcare REIT in the country, Chicago-based Ventas, a S&P 500 company, has produced compound annual total shareholder return of 25.1% from 2002-2012, far outpacing the S&P 500, while its market capitalization increased from $200 million to over $20 billion. Cafaro was named Chairman of Ventas in 2003.
"As the daughter of first generation Americans, I remember the hard work and sacrifices my parents made to send me to college and law school," said Cafaro. "It was a real stretch for them to give me opportunities they never had. My exposure to the Law School's exceptional student body and brilliant faculty changed my life.  They gave me an education and the confidence and tools to succeed in law and business.  I am eternally grateful. Now, my husband, Terry Livingston, and I are thrilled to make it possible for more middle and working class students to attend this first-class law school. They will add immeasurably to the educational and social dynamics at the Law School and surely will thrive."
"Debbie embodies all that is great about the University of Chicago Law School," said Schill.  "She has an extraordinary mind, is a visionary leader and is committed to making the world a better place.  What is especially exciting about the Cafaro Scholarship program is that it will make possible the creation of a new generation of Debbie Cafaros. We will all be better for that."
Over the course of her career, Cafaro has earned widespread recognition. She was voted to Institutional Investor's "2011 and 2012 All-American Executive Team," and, in 2012, was selected as one of the 100 Most Influential People in Healthcare by Modern Healthcare. She has been on the Financial Times' list of the world's top 50 businesswomen, and was named one of "50 Women to Watch" by the Wall Street Journal in 2004. She is a past Chair of the National Association of Real Estate Investment Trusts (NAREIT), the worldwide representative voice for REITs. She is a member of the Board of Directors of Weyerhaeuser Company, where she chairs its Finance Committee and is a member of its Compensation Committee; World Business Chicago, Chicago's not-for-profit economic development corporation chaired by Mayor Rahm Emanuel; and the Real Estate Roundtable. She also serves on the Board of Trustees of the Ravinia Festival Association.
Cafaro's leadership support of the Law School has been deep and longstanding. She has chaired the Annual Fund, been a member of the Visiting Committee, and participated in the Dean's Business Advisory Council.  She currently serves as co-chair of the Law School's Campaign Planning Group.