New Gift from David and Susan Kreisman Will Support Expansion of Kreisman Initiative for Housing Law and Policy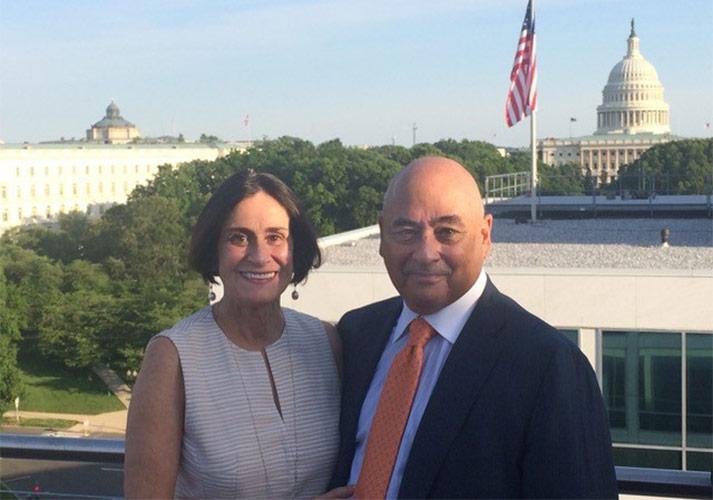 Thanks to a $5 million gift from David Kreisman, AB '60, JD '63, and his wife, Susan, the University of Chicago's Kreisman Initiative for Housing Law and Policy will expand to include new programs aimed at advancing housing scholarship, building a community of scholars who will grow the program's scope and impact, and creating research opportunities for graduate students, faculty, and practitioners.
The gift will establish a partnership between the University's Mansueto Institute for Urban Innovation and the Law School, which hosted the Kreisman Initiative when it began in the fall of 2013. The two institutions will collaborate to expand the Initiative, bringing together the fields of urban science and law to develop new ideas about cities and housing. The expansion will include three new fellowship programs that will accommodate as many as six research positions each year.
"Cities are changing in America and across the world, and it is more important than ever to deepen our understanding of the economic and social implications of housing law and policy by bringing together top scholars and the best housing research and practice," said Law School Dean Thomas J. Miles, the Clifton R. Musser Professor of Law and Economics. "We are deeply grateful for David and Susan's generosity, and we look forward to working with the Mansueto Institute to create a permanent intellectual legacy rooted in rigorous inquiry, cutting-edge research, and interdisciplinary collaboration."
Added Luis Bettencourt, the Pritzker Director of the Mansueto Institute for Urban Innovation: "There are great opportunities in this new field of urban science, especially as cities take on difficult problems of sustainable development. We are thrilled by the chance to work with our Law School partners to build a model of collaborative, interdisciplinary thinking about housing that will create transformative change, here in Chicago and globally."
The Mansueto Institute, endowed by a founding gift from Joe and Rika Mansueto, launched earlier this year to bring programs and scholars together to study cities and urban society.
The new Kreisman Initiative programming will include:
The Kreisman Graduate Fellows Program, which will provide support for up to four fellowships per year for law and public policy graduate students, who will become part of a cohort of Mansueto Institute researchers from a variety of disciplines. It will expand the existing Law School Kreisman Fellows program to offer workshops, lectures, internships, and professional development opportunities to all fellows.

A Kreisman Law Research Fellow, a legal academic who will conduct a research project on law, housing, and urban society. The fellow, who would be appointed by the Law School dean in consultation with the director of the Mansueto Institute, would participate in the intellectual life of the Mansueto Institute, furthering its connection to the Law School.

A Kreisman Career Research Fellow, who will be a leading researcher or practitioner in housing at the Mansueto Institute. Kreisman Career Fellows will engage in research, present and organize workshops, advise and mentor students, and give lectures. Fellows will be recruited from around the world, helping to create a network of housing experts with whom students can interact.
"I am incredibly delighted to see the Kreisman Initiative expanding as it finds new ways to leverage the University of Chicago's extraordinary intellectual resources, bringing multiple disciplines to bear on challenging issues in housing law and policy," said University of Oregon President Michael Schill, who is the University of Chicago's Harry N. Wyatt Professor Emeritus of Law and was the dean of the Law School when the Kreisman Initiative launched in 2013. "David and Susan's generosity is having an enormous impact on the field of urban housing, and their gift will help shape research and policy to address one of the most critical problems facing cities in the United States and beyond."
David Kreisman is a co-founder of LOGS Legal Network, a multistate law firm that began in Illinois in 1971 as Shapiro & Kreisman. In 1996, Kreisman and his cofounder established the LOGS Group, the largest practice management services provider in the default legal services space. Kreisman has also been involved in funding and managing a number of commercial ventures.
"We are proud of what the Kreisman Initiative has accomplished since its founding and believe the results warrant substantial support as it continues to play an integral part in the law and policy environment at the University," Kreisman said. "We look forward to seeing what will undoubtedly be important contributions from the new Kreisman Initiative fellows."
Since its founding, the Kreisman Initiative has furthered its mission to bring Chicago ideas to bear on policy debates, policy making, and legal and business decision making through scholarly research, external engagement, and educational programming. In 2016, the Initiative—which is currently directed by Lee Fennell, the Max Pam Professor of Law, and Jeff Leslie, the Director of Clinical and Experiential Learning, Clinical Professor of Law, and Paul J. Tierney Director of the Housing Initiative—hosted a conference that explored complicated questions about lending, homeownership, affordability, and fair housing. The resulting scholarship became the foundation of an open-source book, Evidence and Innovation in Housing Law and Policy (Cambridge University Press, 2017).
Housing