A Commitment to Environmental Protection
The March Pro Bono Honoree, Leah Garner, '19, Helped Make the Green Lounge a Little Greener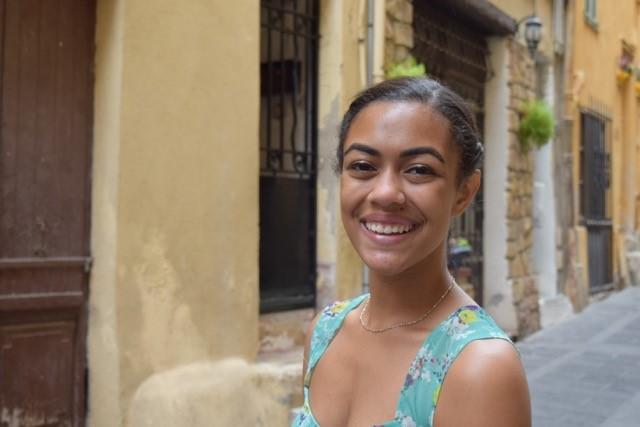 Editor's note: The Pro Bono Board, a student group committed to expanding pro bono knowledge and opportunities to students, names a Pro Bono Volunteer of the Month. The March honoree is Leah Garner, '19. Surur Yonce, '19, a member of the board, wrote this story on her work. For more information on pro bono work, visit the Pro Bono Service Initiative website or contact Nura Maznavi in the Office of Career Services.
Leah Garner, '19, is—and always has been—passionate about the environment.  
"Being from Florida, I was raised to be environmentally conscious," she said. "However, this was entirely in the abstract until I took an Intro to Law class in the seventh grade. There was one chapter on environmental law, and ever since then I've known that this is what I want to do with my life. Since then, I've taken every opportunity to develop my knowledge about environmental issues and the law surrounding them."
Garner is involved in environmental activism across the law school. This year, she worked to convince the Dean of Student's office that composting at the law school is sustainable and easy, an effort that resulted in green compost bins in the Green Lounge. She also helps organize the quarterly Greenbooks sale. Her latest project is working with facilities to get another filtered water dispenser on the lower level of the Law School.
Garner chose the Law School in part because of the Abrams Environmental Law Clinic.
"I had a summer internship with the clinic as an undergraduate research assistant and, after my first taste, couldn't wait to dive into the substantive legal work as a law student," she said. "I'm inspired by all of the work that [Clinical Professor] Mark Templeton [the clinic's director] and Rob Weinstock [a Lecturer in Law and the Abrams Environmental Law Clinic Fellow] do. They give really thoughtful feedback to students, despite the enormous client and case load they manage. Working alongside of them has given me an idea of the breadth of opportunities in the environmental law field. I also love the fact that I have the opportunity to take on additional work beyond my credit load for pro bono hours. One of my goals is to hit 250 pro bono hours before I graduate."
Her recent clinical work focuses on energy democracy in Michigan. Her team's client, Soulardarity, is a non-profit organization focused on building energy democracy through education, organizing, and community-owned clean energy. Its mission is to expand access to clean energy in order to improve the economic condition of low-income communities, especially low-income communities of color, in southeast Michigan.
Following a sweeping state energy law package passed in 2016, the Michigan Public Service Commission [MPSC] chose to update the state's distributed generation program, under which consumers with small-scale generators, such as solar panels, were able to sell back excess power they generated to the utilities. The MPSC Staff proposed a tariff on the Distributed Generation Program under which solar customers would be paid less than the residential retail rate for electricity for the solar energy they put back onto the grid. This proposal was a shift from the state's previous program that paid solar customers at the retail rate for excess power they generated.
Garner and her teammate, Jamie Lee,'19, drafted and submitted three comments to the MPSC on behalf of Soulardarity in opposition to the proposed structure of the tariff.
"Our comment highlights concerns that should inform the Commission's design of the tariff," Garner said. "We identified several specific pieces of language that limit access to solar by potential customers in low-income and minority communities, then made specific suggestions on how to improve several provisions."
Among the proposed changes, they suggested that the MPSC improve transparency with respect to costs and fees, clarify language to ensure that community solar programs remain a viable option for customers, and encourage participation for all customers by reducing barriers to participation for low-income customers. 
Garner will continue to pursue environmental law during her internship this summer at Jenner and Block and hopes to have the opportunity to do similar work after graduation.