February's Pro Bono Volunteer of the Month was Inspired by his Grandma
Barry Frett, '19, on his Work with the Center for Disability and Elder Law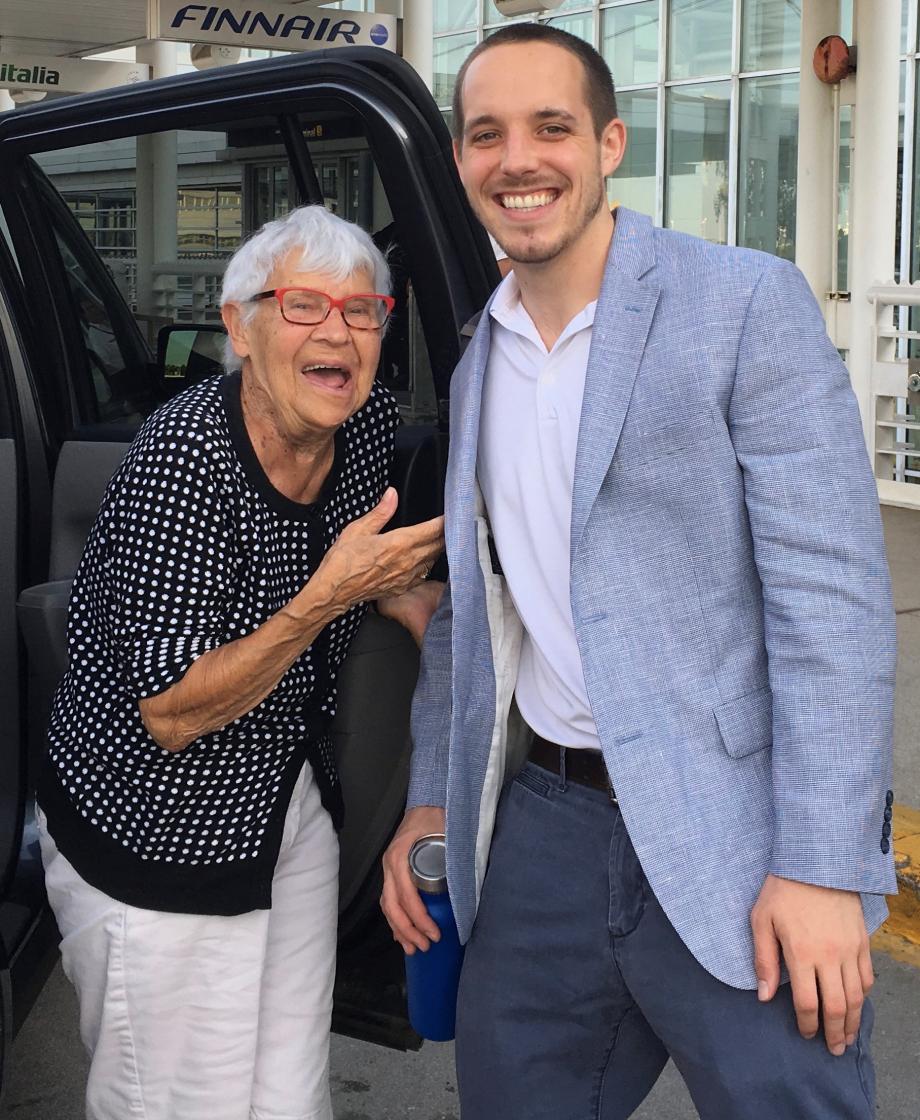 Editor's note: The Pro Bono Board, a student group committed to expanding pro bono knowledge and opportunities to students, names a Pro Bono Volunteer of the Month. February's honoree is Barry Frett, '19. Stephen Spector, '19, a member of the board, wrote this story on Barry's work. For more information on pro bono work, visit the Pro Bono Service Initiative website or contact Nura Maznavi in the Office of Career Services.
Barry Frett's interest in pro bono work can be traced directly to his grandmother.
At 96 years old, Gertrude Petersen has played a large role in Frett's life. She's been his mentor, friend, and even his landlord. Through this close relationship, Frett, '19, has learned to appreciate senior citizens. That's why he finds his volunteer work at the Center for Disability and Elder Law (CDEL) so rewarding.
"When I saw there was a pro bono opportunity to work with elderly people, I was naturally interested because of my relationship with my grandmother," Frett said. "Over the years, I've developed a natural rapport dealing with people who are older than me. A lot of it is being a good listener and showing interest."
CDEL provides legal services to low-income residents of Cook County who are either elderly or who have permanent disabilities. Through his volunteer work, Frett helps execute power of attorney forms for property and healthcare. He has also helped clients with their wills and disputes with their landlords.
Frett's favorite case was also the first one that he led. He assisted an elderly woman who wanted to file for divorce. It was the first intake interview Frett conducted himself, and he helped the woman move her case forward.
"My favorite part of volunteering at CDEL is interacting with the clients," Frett said. "I find myself smiling and laughing while I'm there. There's a certain degree of honesty, charm, and genuineness that I perceive in older people compared to others. Older clients are more direct, which is refreshing."
Frett first learned about CDEL while working at a law firm during the summer after his second year in law school. He jumped on an opportunity to join a pro bono project for the organization. Frett loved the experience, and even though he returned to school last fall, he continues to volunteer for CDEL during the school year. Frett plans to continue his work with CDEL through the spring and summer as a Public Interest Law Initiative (PILI) Fellow.
Over time, Frett's responsibilities at CDEL have grown. His initial work consisted of clerical projects, but Frett has proven himself to staff and clients, and now he executes documents, interviews clients, and coordinates workshops.
"It's great doing substantive work. I gain more responsibility the more time I spend there," Frett said.
While Frett plans to graduate this year, he hopes to spend his remaining time at the Law School encouraging first- and second-year students to do pro bono projects.
"You're never going to regret doing pro bono work," Frett said. "Think about how much time you spend on social media. If you took that time and did a pro bono project instead, there will be a lot more meaning coming out of that interaction than time spent on social media. When you think about how you spend your time, it's definitely possible to incorporate pro bono work into your schedule. And you'll be very happy that you did."