There is Always More to Learn
Richard Zhang is January's Pro Bono Student of the Month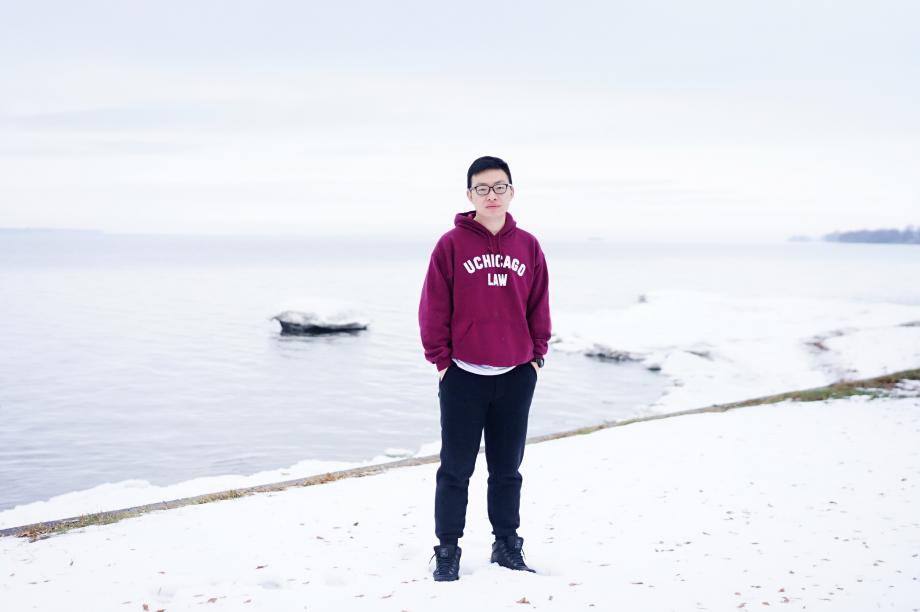 Editor's note: The Pro Bono Board, a student group committed to expanding pro bono knowledge and opportunities to students, names a Pro Bono Volunteer of the Month. January's honoree is Richard Zhang, '19. Melanie Yeames, '21, a member of the board, wrote this story on Richard's work. For more information on pro bono work, visit the Pro Bono Service Initiative website or contact Nura Maznavi in the Office of Career Services.
Richard Zhang jokingly refers to himself as a collector of law degrees. He received an LLB in China followed by a dual JM/JD before obtaining an LLM degree at the University of Chicago and topping it off with his JD, anticipated this spring.
Since arriving in Chicago, he has faithfully volunteered at the Chinatown Pro Bono Legal Clinic on the second Saturday of every month.
"I've got a lot of law degrees," he said, "but I am continuously learning more each weekend that I volunteer at the clinic."
While Zhang has a background in capital markets and plans to pursue a career in corporate transactional law, his volunteer work at the clinic has given him the opportunity to discuss a variety of legal questions. He has assisted clients with matters involving family law, immigration, contracts, and housing issues, among other things.
"Many of them don't speak English, so they don't know where to go or who else to ask for help," he explained. "If we can find them a solution or easily fill in forms or draw up documents, it means the world to them."
Zhang said that his ability to speak Mandarin is of great value to the clinic's clients. Student volunteers with Chinese language proficiencies are important—many clients do not speak English, and many of the attorneys do not speak Chinese. He works in client intake primarily, but often helps with translating between clients and lawyers.
A lot of the legal issues Zhang sees brought by members of the Chinatown community stem from misunderstandings due to this language barrier. One of the first cases he worked on involved twin sisters whose identities were mistakenly merged when applying for social security. Due to a miscommunication, they were issued the same social security card one after the other, which then caused complications with their employment and tax filings.
Zhang was struck by these unexpected legal consequences that can arise from language differences and feels compelled to help however he can.
Not only is he providing legal help, but this work helps Zhang feel more connected with the members of his community.
He tells the story of one older gentleman who came to the United States as a political refugee and brings his mail with him to the clinic every month.
"He asks us to review his letters to see if there is anything important, and anything he should pay attention to," Zhang said. "This isn't a legal matter, but he trusts us. He knows that I am patient with him, so he trusts me."
Zhang goes back every month because he feels that the work is meaningful.
"Many of the clients remind me of my grandparents," he said. "When I think about my own family and friends, I would hope they would have somewhere like this to go if they needed help. Don't think about it in terms of legal assistance. If you need something, someone should help you."
The Chinatown Pro Bono Legal Clinic takes place on the second Saturday of every month from 11:00 AM to 2:00 PM. They are located on the third floor of the Chinese American Service League, 2141 South Tan Court, Chicago, IL 60616. They can be reached at 312-791-0418.