National Security, Technology, and the Separation of Powers: Law Review Conference Drills Down on Tough Questions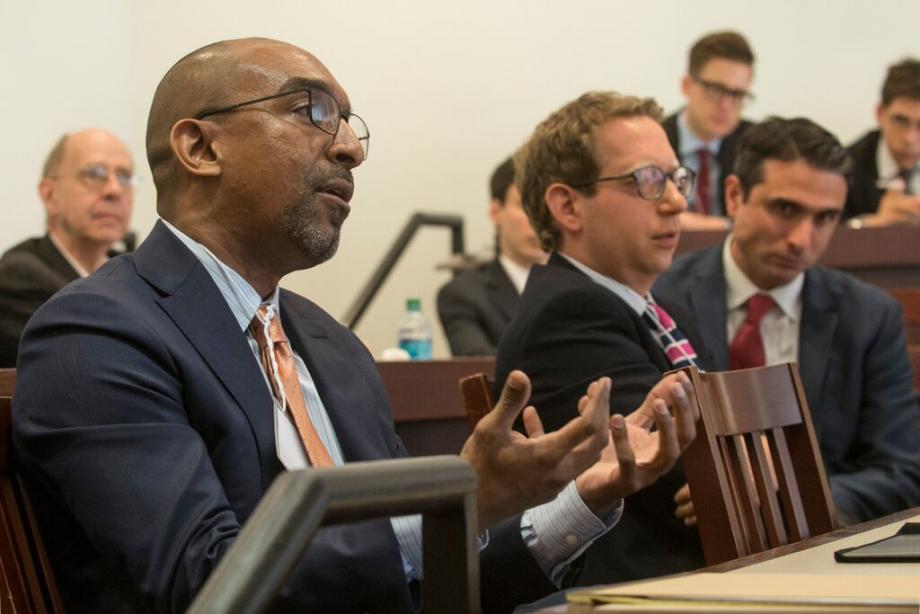 Just weeks after President Obama signed the USA Freedom Act into law, and amid growing national debate over the role technology plays in the balance between national security and privacy, scholars gathered at the Law School to examine issues ranging from cyber warfare and data surveillance to the separation of powers and the extraterritorial reach of US law.
The annual University of Chicago Law Review symposium, "National Security: The Impact of Technology on the Separation of Powers," was co-sponsored by the journal, the Law School, and the Coase-Sandor Institute for Law and Economics. For two days, scholars — including organizers Daniel Abebe, Professor of Law and Walter Mander Teaching Scholar; Richard Epstein, James Parker Hall Distinguished Service Professor Emeritus of Law and Senior Lecturer; and Aziz Huq, Professor of Law and Herbert and Marjorie Fried Teaching Scholar — presented papers exploring the complex legal issues that have emerged alongside technological growth. Some of those advances — such as the government's ability to collect phone metadata, which was curbed by the USA Freedom Act, or to conduct drone strikes — have led to significant public controversy and raised fundamental questions about individual privacy and government power.
"National security is a fractious topic, with multiple dimensions — individual rights versus public safety, domestic politics versus international commitments," said Epstein, who spoke on the separation of powers in American foreign policy. "It was a genuine pleasure to see so many experts from different fields grapple with these issues, express their disagreements, and cooperate in a common intellectual inquiry. The participants kept to a high standard of intellectual rigor, curiosity, and openness."
The conference sought to highlight the potentially troubling aspects of the balance of constitutional authority in the twenty-first century, said Casen Ross, '15, an Articles Editor for the previous Law Review board.
"The various branches of the government must calibrate their respective authority in novel ways," he said. "In particular, the executive branch's control of information — for instance, intelligence surveillance — has re-calibrated its position relative to the other branches, and this control of information has been enabled by incredible innovations in technology."
Abebe, who opened the conference by exploring how constraints created by other countries' policies should be balanced against internal limitations on the U.S. President's cyber war-making authority, called the event "a great success."
 "We brought together a wonderful group of rigorous, serious, and engaging scholars with thoughtful insights on questions related to technology, how we regulate it, and how it ties with separation of powers," he said. "When the final drafts are in, we'll have 12 papers that represent a wide range of perspectives on how to think about the relationship between cyberspace, national security, and constitutional authority. It's my hope that this symposium serves as a resource for those thinking about these timely and important questions."
Added Huq, who discussed the interaction between the Fourth Amendment and the separation of powers: "We were really lucky to have the best legal scholars in the field drilling down on the hard questions of how technological change has shifted both the demands on and the dangers of executive power in recent years."
Michael P. Kenstowicz, '16, the journal's Book Review and Symposium Editor, said he's looking forward to the publication of the papers discussed at the symposium.
"I think one of the most important takeaways from the conference was that debates about national security are often framed as presenting tradeoffs between national security and privacy, but this debate should be framed to recognize 'privacy-privacy' tradeoffs," Kenstowicz said. He also walked away thinking about the importance of weighing external constraints when determining internal limitations on executive power, as well as the difficulty of applying cost-benefit analysis to national security questions due to measurement and valuation problems. He also enjoyed a session that examined in-depth the norm against economic espionage within the American intelligence community.
"The conference significantly advanced the literature on a number of key national security questions," he said. "I am looking forward to the Law Review's publication of these essays."
Big data
Internet
Surveillance