Named Professorship Will Honor Memory of Hyatt Chief Donald Pritzker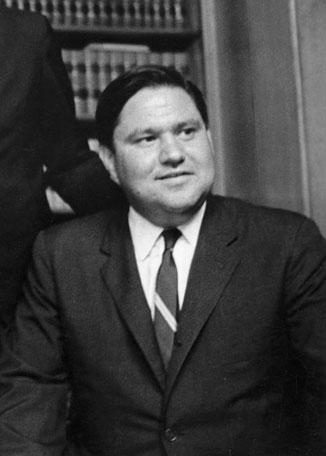 Penny, Tony, and J. B. Pritzker have made a $3.5 million gift to endow the Donald N. Pritzker Professorship in Law in honor of their late father, a distinguished 1959 Law School alumnus and a founder and former president of the Hyatt Corp. The professorship will recognize faculty eminence in the area of business law, with a particular focus on entrepreneurialism, intellectual property, and technology.
"Donald Pritzker was the ultimate entrepreneur, and his professional and personal life was a testament to innovation, leadership, and passion—values the Law School holds dear," said Michael H. Schill, Dean of the Law School and Harry N. Wyatt Professor of Law. "I am delighted and thrilled by the Pritzkers' generosity and their commitment to these shared ideals."
Pritzker presided over the Hyatt hotel chain during a time of tremendous growth, from a single motel in California to the fifth-largest hotel chain in the world. He was known for his integrity, loyalty, honesty, and warmth toward others—and he infused these values in the Hyatt culture. He was a devoted mentor who had a deep impact on his employees' careers, a "magnet" in any crowd, and a loving father who relished time with his family. Pritzker died in 1972 at age 39.
"Our father was the most jovial person that I know," said Tony Pritzker, MBA '87, the co-founder and managing partner, with his brother J. B., of Pritzker Group, a private investment firm. "He would walk into a room and light up the room."
Added Penny Pritzker, the US Secretary of Commerce: "Dad was a great entertainer, entrepreneur, and innovator, with a larger-than-life personality and a drive that made him the consummate host and a pioneer in the hotel industry. Most importantly, however, he taught us the value of hard work, giving back, and treating every person with respect, whether they were a bellman, corporate titan, or the President. He was taken from us at too young an age, but I am proud that the strong values he taught us live on in our family and will for generations to come."
In 1967, Donald Pritzker took a newly built Atlanta hotel that the family had bought out of bankruptcy and renamed it the Hyatt Regency Atlanta. The unusual hotel—which had a 21-story atrium lobby with external glass elevators, fountains, and caged tropical birds—was an instant success and became a Hyatt signature, replicated in cities across the globe.
He also revolutionized the hotel industry. He created the first "frequent stayer" program—the Hyatt Executive Reservations Secretary program, which rewarded executive secretaries for booking their bosses at Hyatt—and looked for opportunities to add "a touch of Hyatt," such as turndown service and pillow mints. These little extras eventually became standard practice in the industry.
The professorship is an ideal match for the Law School, which is a national leader in integrating business and legal education.
"This gift will allow us to expand our already preeminent position as a producer of leaders in business and business law," Schill said. "Professorships are reserved for scholars of national, or even international, stature, with highly distinguished records of teaching, research, and publication. This exceptional gift befits a man of Donald's accomplishment."
Pritzker's children, the donors of the chair, are accomplished entrepreneurs, civic leaders, business executives, and philanthropists.
Prior to becoming Secretary of Commerce in 2013, Penny Pritzker founded PSP Capital Partners and Pritzker Realty Group, and cofounded Artemis Real Estate Partners. She is a former member of the Chicago Board of Education and helped create Skills for America's Future and, later, Skills for Chicagoland's Future, which matches businesses that have current, unmet hiring needs with qualified, unemployed, or underemployed job seekers.
J. B. Pritzker is the leader of Chicago's growth as a national innovation hub. He was instrumental in creating 1871, Chicago's digital startup center, and was appointed founding chairman of ChicagoNEXT, the city's council on innovation and technology. He also helped create Illinois Venture Capital Association, the seed fund Chicago Ventures, the accelerator Techstars Chicago, and the online community BuiltInChicago.org.
In addition to his role leading the Pritzker Group with his brother J. B., Tony Pritzker is among the most important civic and philanthropic leaders in Los Angeles. He serves as Chair of UCLA's Institute of the Environment and Sustainability and cochairs the University's $4.2 billion campaign. He is also on the boards of California Institute for the Arts, Heal the Bay, and the Emmett Center on Climate Change and the Environment, as well as the Board of Overseers of Dartmouth College.   
Philanthropy was instilled in them by their parents.
"Our parents taught us that we were entitled to nothing but that we were the luckiest people alive," J. B. Pritzker said. "So, as a result, we owed something back to this world that had given us so much. That meant we needed to be charitably involved, we needed to be politically involved. … They showed us that in everything they did."
The University of Chicago Campaign: Inquiry and Impact, the most ambitious and comprehensive campaign in the University's history, will raise $4.5 billion to support faculty and researchers, practitioners and patients, and students and programs across the University. Launched in October 2014, the campaign supports priorities in every division, school, department, and institute, and aims to engage 125,000 alumni and friends over its five-year duration.