American Constitution Society Honors Craig Futterman with Abner J. Mikva Award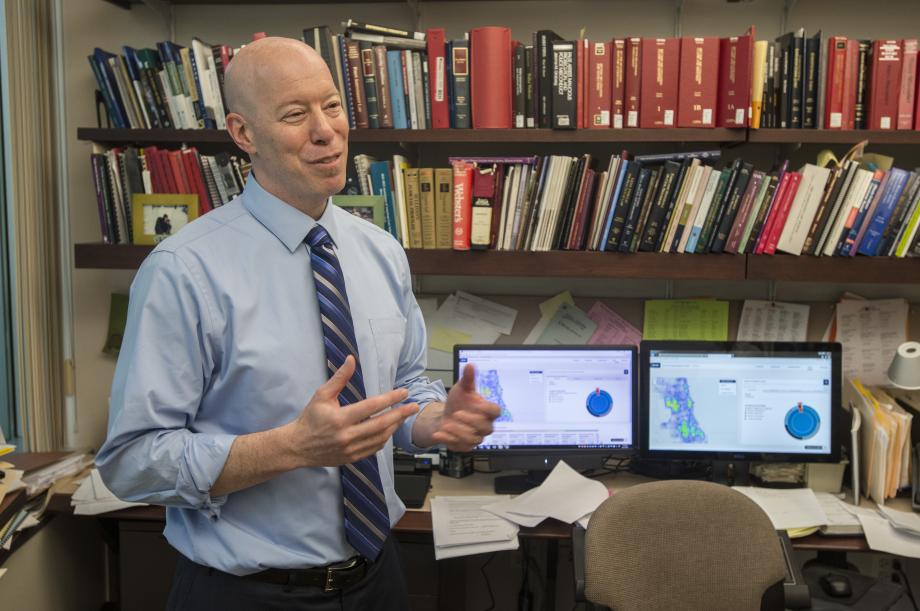 The American Constitution Society's Chicago Lawyer Chapter will honor Clinical Professor Craig Futterman, the founder and director of the Law School's Civil Rights and Police Accountability Project and one of the nation's leading advocates for police reform, with an Abner J. Mikva Award at their annual Legal Legends Luncheon on July 21.
The award recognizes Chicago-area lawyers and judges who have made extraordinary contributions to progressive legal causes. It is named for the late Hon. Abner J. Mikva, '51, a former congressman, federal judge, White House legal counsel, and University of Chicago Law School professor who was instrumental in ACS's creation. Mikva taught courses in legislative process at the Law School for many years and served as senior director and director of the Appellate Advocacy Project at the Mandel Legal Aid Clinic.
"It is beyond humbling to be given this honor in the name of Abner Mikva. I will always remember Ab as a trusted mentor and dear friend. He is one of the kindest and most generous souls I have ever known," said Futterman, who founded the Civil Rights and Police Accountability Project in the Law School's Mandel Legal Aid Clinic in 2000. "Just as Ab first came to Congress with a campaign built from the ground up, the thing that makes me the most proud is remaining true to a vision that I shared with Randolph Stone [former director of the Mandel Clinic] of building a grassroots, community-driven clinic—everything that we have accomplished together has been informed by and conducted in partnership with (rather than on the behalf of) people in Chicago who have been most impacted by police abuse.  If there is one thing that I have learned under Ab's and Randolph's wings, it's that things don't change unless we make them change."
Futterman has built a decades-long career around exposing police injustice, elevating the voices of those harmed by law enforcement, and advocating for institutional change that acknowledges the role of systemic racism in fueling patterns of abuse. In 2020, his clinic won an Illinois Supreme Court case that saved thousands of police misconduct records from being destroyed. In 2019, they won an historic federal consent decree over the Chicago Police Department to address patterns of civil rights violations, which gave survivors of police abuse power to enforce the decree. The victory followed years of advocacy by Futterman and his students, including the yearlong effort to force the City of Chicago to release footage of a White Chicago police officer killing Laquan McDonald in 2014 and the clinic's successful petition to the US Department of Justice that brought the largest civil rights investigation of a police department in its history.
Setting the stage for those victories, Futterman worked to open the Chicago Police Department to the public; he has long argued that dismantling the department's "machinery of institutional denial" is essential to systemic reform. His clinic in 2014 established the legal precedent that government records that relate to complaints of police abuse belong to the public and, in 2015, worked with the Invisible Institute to launch the nation's largest database of police misconduct records to make that precedent a reality on the ground. People continue to use the database to free people from jail and prison, prosecute civil rights violations, and inform local, national, and international police reform efforts, advocacy, and research.
Futterman and his clinic also won dramatic changes to the Chicago Police Department's use-of-force policies; advocated for direct community control and oversight of the police; procured federal court injunctions to end incommunicado detention of people vulnerable to abuse in the bowels of Chicago Police stations; fought for legislation recently signed by Illinois Governor JB Pritzker that guarantees every person in custody prompt access to a lawyer and phone to the outside world; won the appointment of a special prosecutor to investigate a decades-long pattern of police torture in Chicago; exposed a group of officers within the most elite unit of the Police Department for targeting immigrants for false arrest and robbery; and, following litigation before the United States Supreme Court, won a consent decree that upended civil forfeiture procedures in Cook County. In partnership with the Mandel Legal Aid Clinic's Criminal and Juvenile Justice Project, Futterman and his clinic also won justice with a young homeless man falsely accused of killing his mother, demonstrating that he was coerced by police into giving a false videotaped confession (the first demonstrably false videotaped confession in the US), and brought public attention to the phenomenon of false confessions, spawning nationwide reform.
True to Futterman's grassroots vision, his work in the clinic all began working alongside people on the ground at Stateway Gardens, a public housing community that made up eight square blocks of Chicago's South Side, to address racism and human rights abuses in the Law School's own backyard.  This partnership led to six successful major civil rights lawsuits, including a class action challenging a police raid of a community basketball tournament, and another against a group of police officers and the City of Chicago for the officers' repeated sexual assaults of a middle-aged public school janitor and the city practices that enabled the officers to believe that they could do so with impunity.   
"The selection committee and ACS Chicago Lawyer Chapter are very impressed with the vital work that Professor Futterman is doing with respect to police accountability and the consent decree," said Daniel Cotter, co-chair of the ACS Chicago Lawyer Chapter. "Professor Futterman 'cracked the code of silence' in connection with the footage of the Laquan McDonald shooting and has been a strong advocate for the Chicago Police Department to get on track and take seriously the requirements of the consent decree.  His work is crucially important to ensuring safe policing."
Clinical Professor Jeff Leslie, the Law School's director of clinical and experiential learning, called the award  "a tremendous and well-deserved recognition of Craig's accomplishments in the clinic."
"He is inspiring not only as an advocate, but as a teacher," Leslie said. "There is no one better than Craig at incorporating law students into high-level, sophisticated litigation in incredibly substantive ways, and getting the most out of them.  We are proud of Craig and grateful to have him as our colleague."
Futterman earned his JD from Stanford Law School in 1991 and graduated with the highest distinction from Northwestern University with a bachelor's degree in sociology and economics. Before joining the Law School, Futterman was a lecturer in law and director of public interest programs at Stanford Law School; an attorney with Futterman & Howard, Chtd. who focused on cases involving racial discrimination, school desegregation, and police brutality; and a trial attorney in the Juvenile Division of the Cook County Public Defender's Office.  He was also recently awarded a Simon Visiting Professorship of Law at the University of Manchester to share lessons from Chicago about police accountability and clinical legal education to scholars, lawyers, and activists in the United Kingdom.
The ACS chapter will also honor Larry R. Rogers, Sr., founding partner of Power Rogers, and Zaldwaynaka ("Z") Scott, the president of Chicago State University, with Mikva Awards at the ACS Chicago Lawyer Chapter's 16th Annual Legal Legends Luncheon on Wednesday, July 21 at 12 p.m. The event is virtual, and will feature US Senator Sheldon Whitehouse of Rhode Island as the keynote speaker.
"We are thrilled to be honoring this diverse and dynamic slate of legal powerhouses who have made a significant impact in Chicago and beyond," said Julia Waterhous, Director of the Chicago Legal Legends Luncheon. "This year's awardees now join a class of Legal Legend honorees spanning over a decade, who have advanced—and continue to advance—a progressive legal vision."
Faculty awards