Big Wins and Big Lessons: How Craig Futterman's Civil Rights and Police Accountability Clinic Is Shaping Whole Lawyers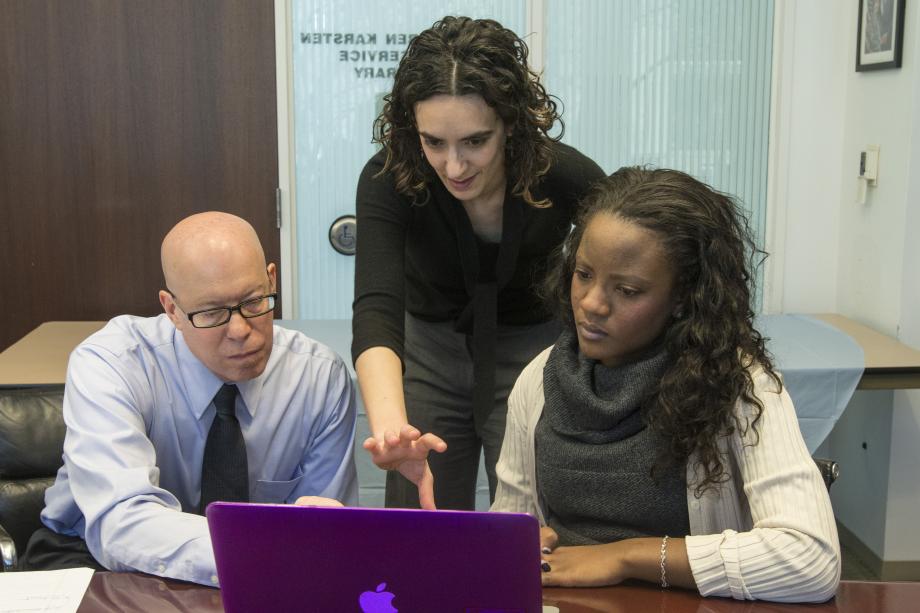 Long before America knew the names Eric Garner and Michael Brown, and long before their deaths sparked nationwide concern about police abuse, the Law School had its Civil Rights and Police Accountability Clinic—a project so successful that it would be easy to focus entirely on its headline grabbers and history makers.
After all, the clinic's high-profile victories bear witness to the life-changing potential of the project founded 15 years ago by Clinical Professor Craig Futterman, and they're the moments that garner the most attention. There was the landmark Illinois appellate ruling last spring that opened up police misconduct records to the public, and the breathtaking jury verdict that led to a nearly $2 million payout in federal court last summer for Noel Padilla, a young father who spent 278 days in jail after being kidnapped and falsely charged by corrupt Chicago police officers. There was a $1 million settlement in 2006 for a homeless man falsely accused of murder, and oral arguments on the constitutionality of the Illinois Drug Asset Forfeiture Procedure Act before the US Supreme Court in 2009.
But these are merely some of the most visible arcs in a story that is really about the shaping of whole lawyers—and about a clinic that advocates a deeply human approach to lawyering and teaches students to see beyond assumptions, embrace contradictions, value empathy, process losses, navigate controversy, and prepare rigorously.
"It is not hyperbole to say I owe my entire career to working with Craig—everything I know about pursuing a social justice mission came through him," said Tara Thompson, '03, now a staff attorney on the Law School's Exoneration Project and a partner at civil rights law firm Loevy & Loevy. "As lawyers, it's really hard to have a client-focused practice. We all get so busy and, especially in public interest law, it's easy to think you know what's best. The main thing I took from Craig's clinic, and the thing I've tried to do in my own career and teach to my students, is to treat clients as partners in the litigation, thinking about what they want to get out of it, making sure their thoughts and ideas are heard and that they understand what's going on. It's not just about winning the case in court—although obviously Craig has an excellent track record—it's about honoring the values we're trying to achieve through litigation, like giving clients back a sense of justice."
This is the deeper narrative that plays out even in the clinic's quieter moments: when students are working with local teens to make a documentary about youth/police interactions, for instance, or mooting an upcoming interview, or simply recounting a clinic experience, an exercise that sometimes involves them describing Futterman as "intimidating" and "easygoing" in the same breath. One alumna remembers a win not by the celebration, but by the humbling experience of looking into her client's eyes and realizing how profoundly shocked and grateful he was to have been believed. Another describes the clear focus she's able to bring to her cases because Futterman taught her to litigate aggressively and proactively, considering the big-picture goal and deciding, step by step, how to accomplish it. And it is a theme that is particularly evident when Futterman talks about his students, his voice thick with pride, or reflects on his work with such quiet forcefulness that the room takes on a different energy and it seems like he might tear up at any moment.
"Lawyering is a human endeavor, and it's a service endeavor," he said. "I want students to leave here with a pro bono ethos. One of our ethical duties as attorneys is to serve those who are in need and otherwise wouldn't be served. That doesn't mean all our students need to go on to be public interest lawyers. It's just that wherever they go, they should use their skills to help people in a way that's consistent with their own values and ideals. You have people's lives, people's businesses, people's dreams, people's freedom in your hands; they are trusting you with the things that are most dear to them. This is about learning the ethics of all that's at stake in being a lawyer and in serving another human being."
"You Both Have to Be All In"
This focus on service and humanity is what makes the big wins about so much more than simply defeating an opponent.
Joshua Burday, '15, was in the courtroom the day of the Padilla verdict, and he remembers the awed look on Padilla's face.
"A predominantly white jury had said, 'What these officers did is unacceptable. You can't plant drugs on a person and put him in jail because you want to loot his home,'" Burday said. "Being a part of that victory felt so great. This is why I went to law school. This is what it's all about."
It had been a long road for Padilla, whose son, Julian, was only 6 months old when Padilla was attacked and robbed by police and thrown into jail for nine months on false charges. Futterman and his students spent seven years working with a local law firm to get Padilla a trial and working to show that a group of Special Operations Section officers had engaged in a pattern of abuse that was ignored by the Chicago Police Department. Some 25 students participated in the case over the years, and five, including Burday and Ian Todd, '15, were instrumental in the final outcome.
"Looking back now, it's almost unbelievable to me," Todd said. "The momentousness of the occasion didn't really strike home until afterward. We had won a substantial verdict but, more important, it had meant so much to Noel to have those 12 people acknowledge what he went through. That, to me, meant more than anything."
Catherine Itaya, '10, remembers a similar reaction from clinic client Solomon Bey when they won his case against the Chicago police officers who had harassed and assaulted him in an abandoned yard on Chicago's South Side.
"I remember him saying, 'They believed me over the police officers,'" Itaya said.
Bey was nearly 60 when he was attacked by the officers while he was on his way home one evening. Itaya and other students were involved in nearly every aspect of his trial, from tracking down witnesses to planning strategy. Itaya got to know Bey, learning under Futterman's guidance to accept the many layers of her client's personality.
Itaya, who specializes in white-collar criminal defense and securities litigation at a boutique law firm in New York, still thinks a lot about Bey and the lessons she learned from Futterman.
"He definitely taught me a lot, and some things I'm still working to understand," Itaya said. "He helped me to embrace contradictions in the client. Sometimes it gets frustrating—you can't put a story together exactly the way you want. He taught me that, despite those contradictions, you can't ever give up on a client, and you always have to be present with a client. And the client has to be present with you. You both have to be all in."
Bey, who died not long after the verdict, was all in. Futterman still has a thank-you note from him: "As a result of this verdict, innocent lives may be saved," Bey wrote. "May this work continue."
It was a "small" case—all that was at stake was a few thousand dollars, and it was tried before a jury in Small Claims Court—but Bey "had never imagined in his life that people would listen, much less believe him," Futterman said. "That, to me, is what it means to take lawyering seriously. There is no such thing as a small case."
On the Forefront of Civil Rights
The police accountability project, which has taught about 200 students, was the first of its kind when Futterman launched it in 2000 under the leadership of Clinical Professor Randolph Stone, who was the Director of the Law School's Mandel Legal Aid Clinic at the time.
"It was groundbreaking," Futterman said. "Here was this clinic at the forefront of civil rights, trying to meet a deep and unfulfilled need, and engaging in politically controversial litigation and challenging powerful institutions—and the Law School put everything behind it."
In the years since, other law schools have launched their own civil rights projects, but Chicago's is seen as the leader, earning recognition for both its success and its willingness to take on difficult issues.
In addition to the Padilla case, last year the clinic also won an historic Illinois Appeals Court case that opened up two kinds of police records under the Freedom of Information Act: complaints against five Chicago officers with reputations for abusive behavior, and a list of officers with the most misconduct complaints. It was a victory for police accountability and transparency, as well as for two clinic students, Saul Cohen and Italia Patti, both '14, who delivered oral arguments.
"Craig has been a pioneer in showing that you can do large-scale, socially impactful civil rights litigation with students playing a major role, and that the model can succeed both for clients and for students," Thompson said. "When he started the project, nobody else was doing that. And he's still taking on bigger pieces of litigation than other projects, and with students taking on a greater role in the outcome. Of course, part of the reason it's possible is that the Law School has really smart, amazing students who are capable of doing that kind of work."
The experience the students gain is invaluable, said Thompson, who particularly benefited from and appreciated the chance to take depositions as a clinic student.
"Craig was in those depositions, and we obviously talked about strategy, and he helped make sure I was doing a good job. But he also let me ask the questions I had, and he let me go through my plan," she said.
In one deposition, a police officer made a startling admission: searches that others had said never happened had, in fact, taken place. Thompson was stunned, but she was prepared enough to leverage the unexpected revelation.
"Craig had really pushed me to do what I needed to do to be ready for the deposition, and when this big moment happened, I was able to make use of what we'd gotten, and I was able to talk to Craig about how to deal with it," Thompson said.  "It turned out to be a really important admission, and we ultimately survived summary judgment in that case."
The Advantages of the "Most Inefficient Law Practice Imaginable"
Of course, the clinic has offered students like Burday and Todd a potentially career-boosting advantage: the ability to add a large jury verdict to their resumes.
"I'm sure it will help when a potential employer sees that I already have federal jury trial experience," Burday said. "I'm one of the only people who will have something like this."
The clinic also offers the Law School a practical benefit when it comes to recruiting, serving as a focal point for students like Ruby Garrett, '16, who have an interest in civil rights. Garrett, who studied race and bias as a psychology major at Stanford University, knew when she was applying to law school that she wanted a strong clinical experience. She started researching programs, and after she was admitted the Law School, Futterman emailed her—an exchange that ultimately convinced her to attend UChicago.
"He's really big on making sure that this is a teaching experience," Garrett said. "It's not because he wants to see his name in bright lights. If you do the work, you're going to get the credit for it. The other thing he's big on is making sure the clients get the best representation possible."
That two-pronged dedication makes the clinic "the most inefficient law practice imaginable," Futterman said, laughing. "It takes 10 times as long to prepare for a deposition when I'm teaching someone else to do it for the first time. But my role is not just to say, 'Hey Ian, hey Ruby, hey Josh: do X and do Y and do Z.' The law students take ownership and responsibility for putting together the plan and figuring out how to do it. My role is guiding that process and teaching them along the way. I am quite demanding, but that's different than 'Just do what I say.'"
Burday remembers a time when he disagreed with Futterman on a trial strategy but declined to speak up because he figured Futterman was the expert. Later, when Futterman changed course and Burday confessed that the new strategy was one he'd favored all along, Futterman said, "Next time speak up. I care what you think."
Clinic students put hours into preparing for everything, and they learn to accept feedback. "He demands excellence in the final product," Burday said, "but he's forgiving with the first draft."
Futterman looks for learning opportunities in everything—in the students' written work, in strategy discussions, even in losses.
"I love to celebrate our victories, and I'm so proud of our many victories," he said. "But I think it's equally important to process our losses. The reality is we're not going to win every battle. Even when we're right, we might not be successful. But students learn that working to do what's right, committing to excellence, and providing the highest-quality legal representation to whomever they represent means they can hold their heads high. Those are the marks of true success."
Career development
Policing