Fighting for Voting Rights
February's Pro Bono Honoree, Derek Tisler, '19, works with the Chicago Lawyers' Committee for Civil Rights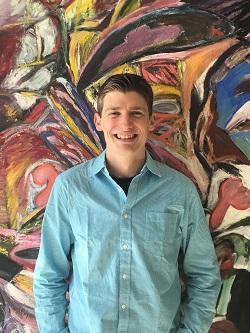 Editor's note: The Pro Bono Board, a student group committed to expanding pro bono knowledge and opportunities to students, names a Pro Bono Volunteer of the Month. February's honoree is Derek Tisler '19. Carly Owens,'20, a member of the board, wrote this story on his work. For more information on pro bono work, visit the Pro Bono Service Initiative website or contact Nura Maznavi in the Office of Career Services.
Derek Tisler '19 has always been interested in voting rights, but he became involved following the 2016 election, when the new White House administration began using accusations of voter fraud to advocate policies that many worried would threaten voter access. Tisler was concerned that these efforts would deter people from going to the polls or act as an obstacle for underrepresented and minority citizens.
Tisler decided to volunteer for the Chicago Lawyers' Committee for Civil Rights, a collection of lawyers and advocates striving to ensure racial equity and economic opportunity for everyone. Founded in 1968 at the Democratic National Convention, this organization has been on the forefront of addressing issues such as fair housing, hate crimes, and educational inequities. Today, they provide legal representation and work with local organizations on community-based solutions on issues such as voting access.
"They are one of the most involved organizations, combining legal expertise with community engagement and activism, and this advocacy-based approach drew me to work for their organization," Tisler said. "This organization is focused not only on voting laws, but also on working with community organizations to learn what is preventing some citizens from participating in their government and having their voices heard altogether."
Tisler worked on voting rights issues in Chicago during a unique time. In August 2017, Illinois Governor Bruce Rauner signed into law a bill that will automatically register Illinois residents to vote when they get a driver's license or interact with state agencies in other ways. While optimistic that this would encourage more citizens to vote, Tisler understood that the success of the law would depend on getting information to all citizens of Illinois, especially those who have been disengaged from the political process. With the Chicago Lawyers Committee, Tisler had the opportunity to work with a diverse group of community organizations and to learn more about the obstacles that people face in voting, and how to best bring them into the election process.
"We need to understand why people aren't participating," he said. "Is the information not reaching them or are there policies in place that deter them from voting? Some people are discouraged from voting because of the ability to get to the polls, the administrative process, their view of the government, or the cost that various voting requirements place on them. Our priority should be increasing engagement, removing unnecessary obstacles, and encouraging people to vote."
Tisler has continued this work at the law school by organizing a project for law students to volunteer as election monitors during the Illinois primary election over spring break. This program is co-sponsored by the Electoral Reform Society and the Pro Bono Board, partnering with the Chicago Lawyers' Committee for Civil Rights. The project's goal is to help monitor for violations of law in order to promote an authentic voting process.
In addition to advocating for election reform through the political and legal efforts, Tisler said that one of the most useful ways to change our political process is by listening. "We need to have conversations with others about the issues they care about and why they do or don't choose to engage with the government—this is something that anyone can do, you just have to go your neighbor."