Experts Debate Effectiveness of International Human Rights Law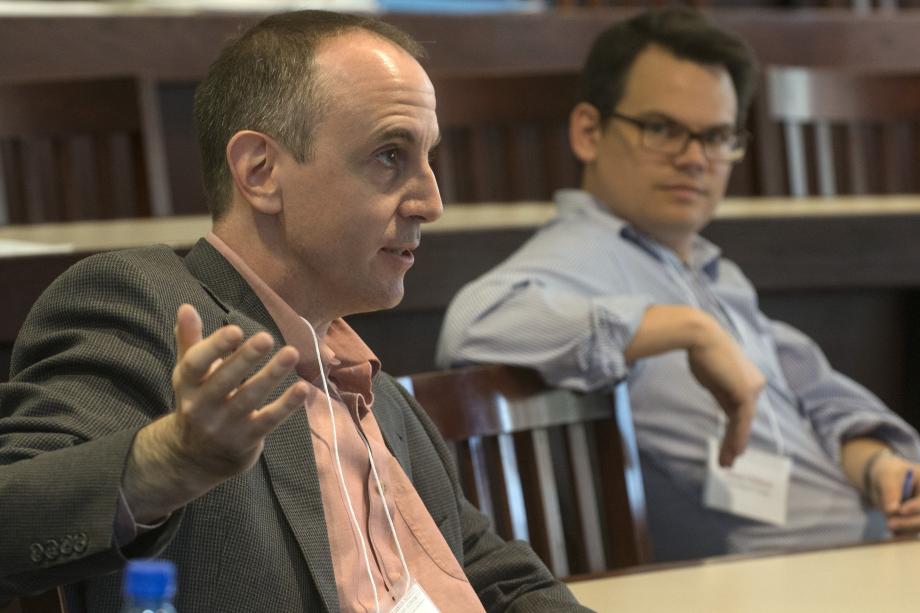 Spurred by Professor Eric A. Posner's assertions that international human rights laws have failed, philosophers, lawyers, historians, and political scientists gathered at the Law School for a two-day conference that brought rich discussion and new scholarship to an increasingly controversial issue.
"Human rights law plays a major role in international debate, but it is being challenged with increasing effectiveness by critics," said Posner, the Kirkland & Ellis Distinguished Service Professor of Law, who organized the October conference with Assistant Professor Adam Chilton. "The purpose was to bring a higher level of empirical sophistication to debates about international human rights law."
Although countries publicly pledge their commitment to human rights, laws are often vague and purposely unenforceable, and compliance metrics are easily manipulated, Posner argues in his forthcoming book, The Twilight of Human Rights Law (Oxford University Press, November 2014).
"There is little evidence that human rights treaties, on the whole, have improved the well-being of people, or even resulted in respect for the rights in those treaties," Posner writes in the book's introduction. "Human rights law reflects a kind of rule naiveté — the view that the good in every country can be reduced to a set of rules that can then be impartially enforced. Rule naiveté is responsible in part for the proliferation of human rights, which has made meaningful enforcement impossible."
About 60 scholars and students attended the conference. "We had to close registration because more people were interested in attending than the room could hold," Chilton said.
Presenters applied a variety of perspectives — from a look at the progress of women's rights by Professor Martha Nussbaum to an examination of the hidden successes of human rights laws by scholars from Tulane and Penn State universities — and took on tough issues.
"One question that is seldom asked in human rights scholarship is how we measure success," Chilton said. "Political scientists, for example, have considered any evidence showing that human rights treaties have a statistically significant impact on human rights practices to be proof that the treaties 'work.' What this approach does not consider, however, is whether other efforts could have produced better returns than the treaties have. This conference forced all of those in attendance to ask whether the current international legal regime on human rights has been successful compared to other possible approaches." 
Many of the participants were more optimistic than Posner about human rights.
"The international women's movement has been tremendously important and very successful, and human rights instruments have actually played some role in building and sustaining it," argued Nussbaum, the Ernst Freund Distinguished Service Professor of Law and Ethics.
She said it can be hard to tell how much a law has helped, but noted that the Convention on the Elimination of All Forms of Discrimination against Women, adopted in 1979 by the United Nations General Assembly, united women, mobilized activists, and signaled in a formal way that problems existed.
"It played a dramatic role in building the movement and giving them a common language so they could network and communicate across national boundaries," she said.
These victories existed despite the document's weaknesses and failures, including silence on issues such as sexual violence and contraception, she said.
Nathalie Smuha, LLM '15, of Brussels, attended several of the sessions and relished the opportunity to hear leading scholars discuss an international issue that she's followed and heard debated at home.
"The people who were giving talks are the kind of people that you read about in newspapers and law reviews, and it was a great opportunity to hear them talk in person," she said.
She left with a general sense of optimism.
"I would conclude that human rights laws are not failing, but neither are they sufficient to fulfill their purpose," she said. "They need support from other non-legal mechanisms, which I believe — after hearing the talks — are being developed slowly but surely."
International human rights