Educating Prisoners About Their Rights
December's Pro Bono Honoree, Nabihah Maqbool, '18, Heads Effort to Help LGBTQ Prisoners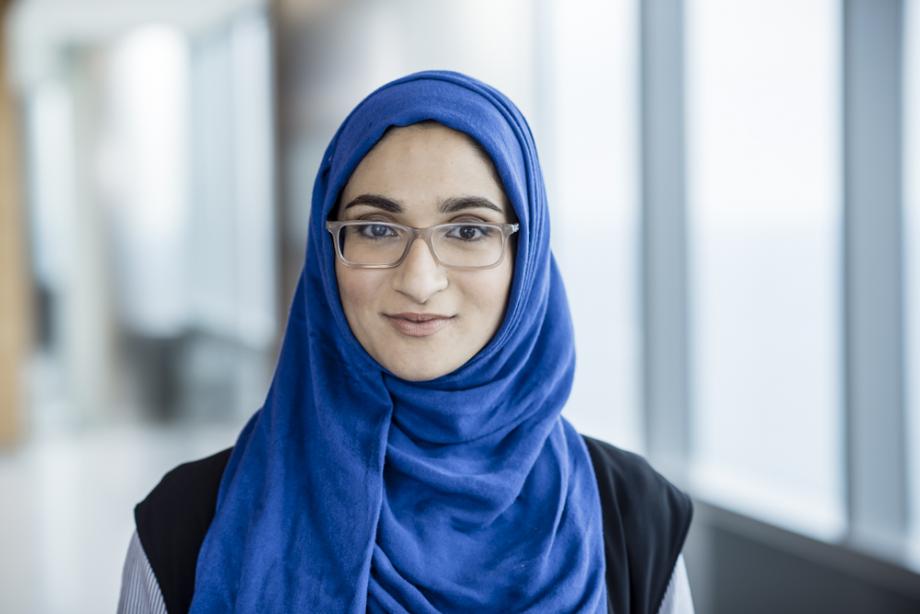 Editor's note: The Pro Bono Board, a student group committed to expanding pro bono knowledge and opportunities to students, names a Pro Bono Volunteer of the Month. December's honoree is Nabihah Maqbool, '18. Faith Laken, '20, a member of the board, wrote this story on her work. For more information on pro bono work, visit the Pro Bono Service Initiative website or contact Nura Maznavi in the Office of Career Services.
When Nabihah Maqbool, '18, launched a new pro bono project dedicated to helping LGBTQ prisoners find answers to legal questions, she'd expected to draw only a handful of other students.
The new project, a partnership between the National Center for Lesbian Rights (NCLR) and the Law School's chapter of the National Lawyers Guild, was a niche interest and only one of many pro bono opportunities at the Law School, she figured. But, in October, when she organized the project's first online training with the San Francisco-based NCLR, 30 students—many of them 1Ls—showed up.
"The size of the crowd really left me in awe," Maqbool said. "The room was packed."
Maqbool, who has a master's degree in public health and has worked in nonprofit health research and advocacy, came to the University of Chicago Law School eager to gain the legal skills needed to address systematic and institutionalized injustices. The NCLR project, which trains law students to respond to legal queries from prisoners, was a good opportunity to hone those skills and make a difference.
NCLR receives letters from hundreds of LGBT prisoners a year, many of whom are transgender women with pressing legal queries related to being held in facilities according to their gender identity, receiving hormone treatment in prison, and facing assault or improper discipline.
"It's not just that prisoners are vulnerable," Maqbool noted, "but prisoners with other conditions are even more compromised." LGBT prisoners are among the most vulnerable in the prison population, often facing abuse and solitary confinement at disproportionate rates.
Maqbool is passionate about this project because of the role these letters can play in helping prisoners. Law students conduct research on complex issues, often prison- or state-specific, on a pro bono basis and provide actionable information for prisoners concerning their rights and what resources are available to them.
But beyond that value, the responses themselves can mean a world of difference to prisoners. It shows them someone is out there, ready to help, and simultaneously warns the prison that legal entities are paying attention, which might be enough on its own to influence behavior for the better.
Since the initial training in October, 10 students, including Maqbool, have already begun responding to letters, with more expected to do so over the next few weeks. Maqbool sees this as extremely encouraging and a reflection of the growing interest students have in making a difference with the skills and resources they are gaining from the school.
"I'm excited at the types of lawyers we're going to produce," she said.
Maqbool has participated in prisoner-letter-writing projects outside of the legal setting as well, writing letters of encouragement to political prisoners to demonstrate solidarity, an act that can provide a prisoner with the much-needed support to carry on.
At the law school, Maqbool has also served as the Muslim Law Students Association Co-President, on the University of Chicago ACLU executive board, as the Law Women's Caucus Community Outreach Chair, and the Human Rights Law Society Programming Co-Director.
She has also worked as a legal intern with the ACLU of Washington and the Center for Health Law Policy and Innovation at Harvard Law School. After graduation, Maqbool plans to continue to build on her work in public interest law.