American Constitution Society to Honor Professor Aziz Huq with Abner J. Mikva Award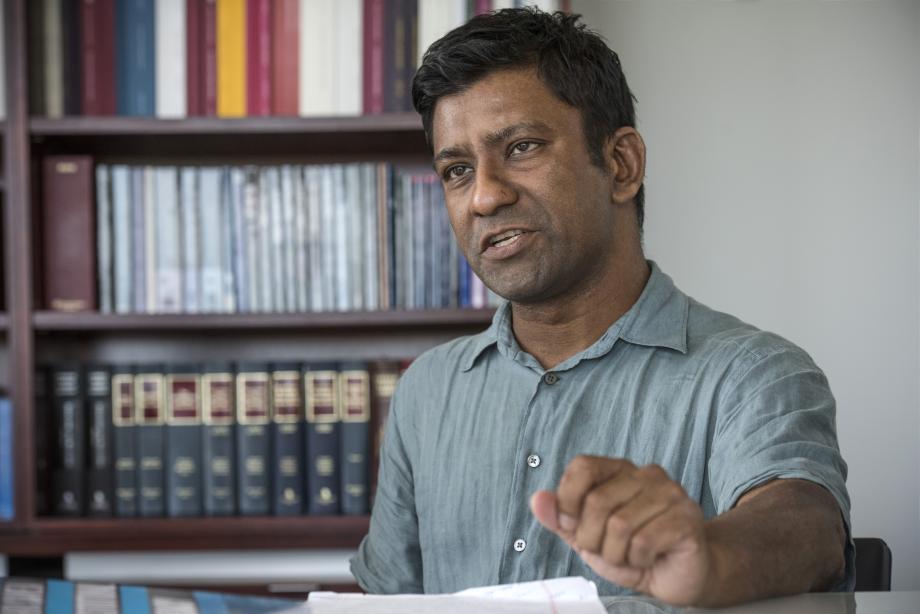 The American Constitution Society's Chicago Lawyer Chapter will honor Aziz Huq, the Frank and Bernice J. Greenberg Professor of Law and an expert on US and comparative constitutional law, with an Abner J. Mikva Award at their annual Legal Legends Luncheon on August 18.
The award recognizes Chicago-area lawyers and judges who have made extraordinary contributions to progressive legal causes. It is named for the late Hon. Abner J. Mikva, '51, a former congressman, federal judge, White House legal counsel, and University of Chicago Law School professor who was instrumental in ACS's creation. Last year, Clinical Professor Craig Futterman, the founder and director of the Law School's Civil Rights and Police Accountability Project, was among the recipients. 
Huq was nominated and selected "for not only his powerful thought leadership, but also his mentorship of law students and new lawyers," according to the ACS.
"His scholarship has helped put in focus our current place in constitutional history and inspires our legal community to use the law as a force to make a more inclusive and truly democratic country," according to materials shared by the chapter. "A long-time supporter of ACS, Aziz is incredibly accessible to law students across the country, and especially in Chicago."
Huq, who serves on the board of the ACS, the New Press, and the ACLU of Illinois and was recently elected to the American Law Institute, has an active pro bono practice in addition to being a prolific scholar and engaged teacher. In 2015, the Law School's graduating class honored him with the Graduating Students Award for Teaching Excellence.
Huq's scholarship often focuses on democratic backsliding, equality and constitutional rights, including issues related to the Supreme Court, policing, and the regulation of artificial intelligence. He is the author of The Collapse of Constitutional Remedies (Oxford University Press, 2021), which argued that the federal courts have failed to protect the powerless from government misconduct while making it easier for the powerful to push back against government regulation. 
He is also the coauthor, with Professor Tom Ginsburg, of How to Save a Constitutional Democracy (University of Chicago Press, 2018), which explored the structure, decline, and preservation of democracy in the US and around the world, and the coauthor, with Frederick A. Schwarz, of Unchecked and Unbalanced: Presidential Power in a Time of Terror (New Press, 2007).
"It's very humbling to be touched by Judge Mikva's legacy in this way ," Huq said. "His tremendous work as a scholar and a teacher touches and motivates so many students and citizens, including me.  And I am really honored to be recognized by ACS. I've been fortunate enough to work with many dedicated, passionate, and incredibly smart UChicago students who've taken leadership roles in that organization, and I feel I'm the one who's gained more by working alongside them.
Huq frequently contributes pieces to publications such as The Washington Post, the New York Times, and Politico, often working to put political and legal developments into context for the public. For instance, in early June, Huq co-authored a Washington Post piece examining whether Big Tech would help or hinder abortion access if the US Supreme Court were to overturn Roe v. Wade (as it did several weeks later). In late June, he wrote about Justice Stephen Breyer's retirement in TIME magazine.
Huq graduated summa cum laude from the University of North Carolina at Chapel Hill in 1996. He earned his JD in 2001 from Columbia Law School, where he was awarded the John Ordronaux Prize for graduating first in his class. He was a law clerk for Judge Robert D. Sack of the US Court of Appeals for the Second Circuit and then for Justice Ruth Bader Ginsburg of the Supreme Court of the United States.
Before joining the Law School faculty, Huq worked as counsel and then director of the Brennan Center's Liberty and National Security Project, litigating cases in both the US Courts of Appeals and the Supreme Court. As a senior consultant analyst for the International Crisis Group, he researched and wrote on constitutional design and implementation in Pakistan, Nepal, Afghanistan, and Sri Lanka.
"We are so thrilled to be recognizing Aziz Huq this week," said Daniel Cotter, the luncheon co-chair, and Juan Thomas, co-chair of the board of directors of the Chicago chapter of ACS. "The selection committee had an easy decision in recognizing Aziz for his significant work in the areas that are the ACS's mission, including the rule of law and our democratic principles."
The other 2022 Abner J. Mikva awardees are Margaret Benson, the executive director of Chicago Volunteer Legal Services, and Mary L. Smith '91, the president-elect nominee of the ABA. Each year, the Chicago Lawyer Chapter solicits nominations for awardees from the entire ACS Chicago network. Chapter leadership then votes on the final slate of honorees.
Information about this year's event can be found on the ACS website.