Tierney and Ryder Gift Will Augment Student Scholarships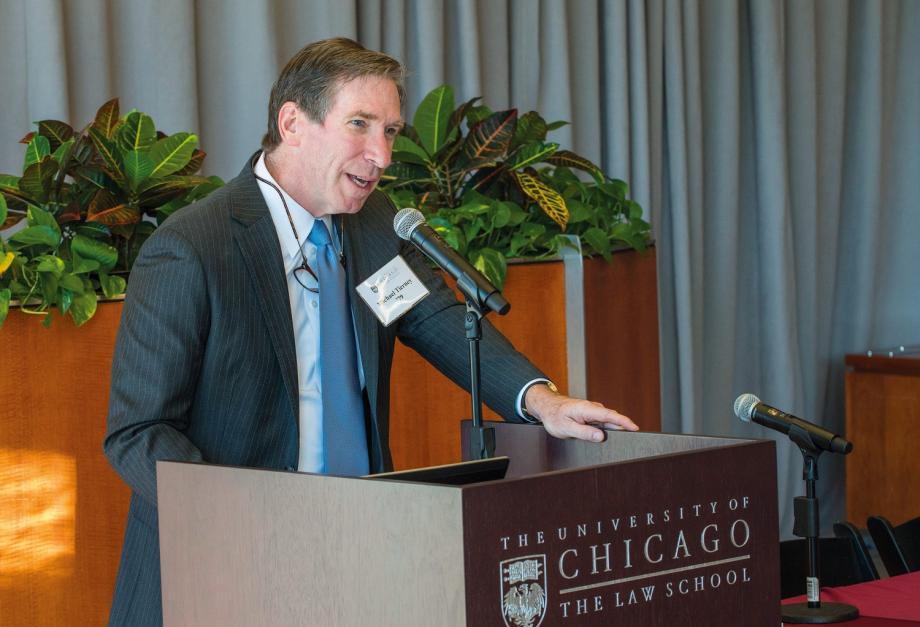 A substantial gift from Michael P. Tierney, '79, and his wife, Beth Ryder, has expanded the Law School's ability to provide scholarships to outstanding students.
"Dean Miles can apply these funds where he feels they will do the most good," Tierney said. "The dean and I discussed, for example, accelerating the recent and impressive momentum in assisting our graduates with securing judicial clerkships. Especially in our current political environment—whatever one's leanings—we see regularly the societal importance of the judicial branch. Supporting our nation's judges with clerks from the Law School represents real and long-term impact of which all graduates can be proud."
Similarly, recognizing the multifaceted effect on the Law School of the Rubenstein Scholars, Tierney expects that Dean Miles will use part of his gift to augment merit-based scholarships.
In a career marked by entrepreneurial vigor, Mr. Tierney has founded and/or led companies in fields as diverse as investment banking, software, and marketing. Those businesses have been active in many parts of the world. In one business, for example, Tierney partnered with a graduate of the Booth School, Dmitri Dorofeev, to establish a Moscow-based company that designs, manufactures, and distributes advanced biometric devices.
During the past four years, however, Tierney's professional focus has been on Regen Med, which he cofounded and where he serves as CEO. Regen Med supports large hospitals and smaller clinics in the delivery of evidence-based cell and tissue therapies. Many experts feel that translational regenerative medicine—utilizing the body's innate reparative, immunomodulatory, and regenerative capabilities—will eventually rival pharmaceuticals and surgery in therapeutic importance. It is already playing important roles in cancer, orthopedic, renal, rehabilitation, and other treatments.
"Healthcare represents a full one-sixth of US GDP," Tierney said. "It encompasses complex yet fascinating issues in clinical medicine, science, business, regulation, and policy. Working with leading physicians, department chairs, regulators, and industry leaders is as stimulating a set of professional experiences as I have been privileged to enjoy."
Tierney credits the Law School—and more broadly the University of Chicago ethos that it represents—for providing him with the outlook and skills allowing him to successfully pursue such diverse interests. He has consequently been unstinting in support of the Law School. He has served on the Public Interest Advisory Board, and he is now in his 10th year of service on the Law School Council, which he has chaired since 2014. (The Law School Council was previously known as the Visiting Committee.) A gift he made in 2009, in honor of his late father Paul J. Tierney, has substantially strengthened the Housing Initiative Clinic.
"The realization that we should 'give back'—to use the overused cliché—is prompted by different things at different times for each of us," Tierney noted. "As we all know, for over a century the University of Chicago has proved itself one of world's most influential institutions in so many fields. The Law School, I am convinced, can and will play an increasingly greater role in extending UChicago's international impact. It is an honor to support programs that have such far-reaching consequences."