Nussbaum to Receive 2015 Inamori Ethics Prize for 'Exemplary Ethical Leadership'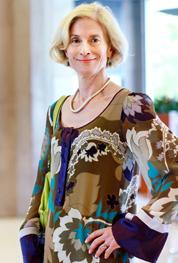 Martha Nussbaum, the Ernst Freund Distinguished Service Professor of Law and Ethics, will be awarded the 2015 Inamori Ethics Prize by the Inamori International Center for Ethics and Excellence at Case Western Reserve University. The award, which will be given in October, honors "outstanding international ethical leaders whose actions and influence have greatly improved the condition of humankind."
Nussbaum is an American philosopher and one of the world's leading intellectuals, particularly on issues of moral and political theory, education, social equality, emotions, feminism, and ancient Greek and Roman philosophy.
Along with economist Amartya Sen, Nussbaum reoriented conversations of international welfare efforts away from exclusive focus on GDP and toward the capabilities of a nation's individuals.
"Martha's brilliant 'capabilities approach' has transformed the global conversation about human rights and what it means to treat other humans ethically," said Inamori Center Director and Inamori Professor in Ethics Shannon E. French. "This approach looks at what each individual is actually capable of being and doing and gives practical direction for seeking justice and positive change for those who cannot access opportunities or enjoy the basic freedoms they need to flourish and unlock their potential."
In addition to the Law School, Nussbaum is also appointed in the University's Philosophy Department. She is an Associate in the Classics Department, the Divinity School, and the Political Science Department, a Member of the Committee on Southern Asian Studies, and a Board Member of the Human Rights Program. Nussbaum is also a member of the faculty steering committee of the University of Chicago Center in Delhi. Her longstanding connection with India includes a consultancy with the UNDP-Delhi on gender and governance, and she works on gender equality and law with The Lawyer's Collective (Delhi). Nussbaum has also been a Visiting Professor of Political Science at Jawaharlal Nehru University, and is an honorary Professor of the Institute for Development Studies Kolkata (IDSK).
Nussbaum received her M.A. and Ph.D. from Harvard University. Prior to the University of Chicago, she was a University Professor at Brown University. From 1986 to 1993, she was a research advisor at the World Institute for Development Economics Research, Helsinki, a branch of the United Nations University; it was here that Nussbaum and Sen started working together to establish the Human Development/Capabilities approach to the measurement of global welfare.
In addition to her academic affiliations, Nussbaum is frequently cited as one of the world's top public thinkers, and her work has been at the forefront of the principal contemporary ethical issues. She is a Founding President of the Human Development and Capability Association, and has received 51 honorary degrees from universities in North America, South America, Europe, Asia, and Africa, and many prizes, including the Prince of Asturias Prize in 2012, and the Nonino Prize in 2015. In 2014, Nussbaum presented the John Locke lectures at Oxford University on the theme of Anger and Forgiveness; a book of the same title will be published in 2016.
Among many other works, Nussbaum is the author of Sex and Social Justice (1999), Women and Human Development (2000), Hiding from Humanity: Disgust, Shame, and the Law (2004), Frontiers of Justice (2006), Creating Capabilities (2011), and Political Emotions (2013).
The Inamori International Center for Ethics and Excellence has presented the Inamori Ethics Prize annually since 2008. Previous winners include physician and activist Dr. Denis Mukwege, Patagonia founder Yvon Chouinard, and former president of Ireland and UN High Commissioner for Human Rights Mary Robinson. Nussbaum will accept the award, present a lecture, and participate in a panel discussion on her work at free public events on Case Western Reserve University's campus in Cleveland, Ohio, on October 15 and 16, 2015.
The Inamori Center at Case Western Reserve University was founded in 2006 as the result of a generous gift from Dr. Kazuo Inamori and the Inamori Foundation of Kyoto, Japan. The Inamori Foundation also presents the annual Kyoto Prize, Japan's highest private award for "those who have contributed significantly to the scientific, cultural, and spiritual betterment of humankind." Both the Inamori Ethics Prize and the Kyoto Prize honor those who exemplify Dr. Inamori's philosophy: "people have no higher calling than to serve the greater good of humankind and society."
Faculty awards