My Chicago Law Moment: How Moot Court Changed Laura Edidin, '96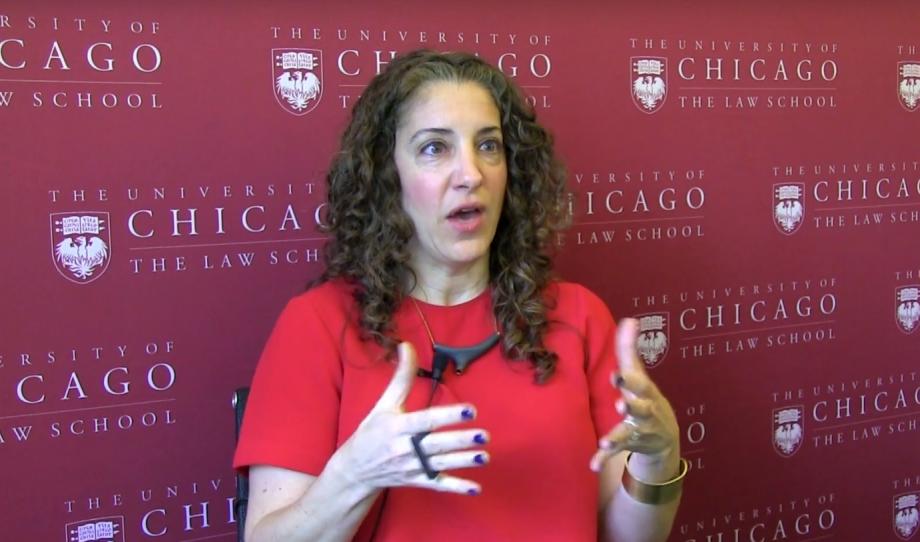 Something sparked as Laura Edidin, '96, was preparing for her oral argument in the moot court finals more than twenty years ago. She had always wanted to do well, but as she slid into her research, she began to really feel what it meant to speak on behalf of others—to represent them in court and to be a voice for change. Suddenly, every word mattered.
"That feeling of being … so completely absorbed in your work … just lit me up inside—it made me understand that litigation was what I wanted to do," said Edidin, who is now the chief of the Human Trafficking Unit in the Brooklyn District Attorney's Office in New York. "I remember laboring over our briefs and trying approach them with a really spare elegance for the prose, trying to find just the right words, and only the words we needed to get our argument across."
She and her partner, Kim Ziev [Niehaus], were arguing that the Virginia Military Academy should be forced to admit women—the plaintiff's side in in US v. Virginia, the landmark 1996 US Supreme Court case that ultimately struck down VMI's male-only admission policy.
"I just remember feeling as if the weight of the plaintiff's expectations, and the weight of their right to be in the world, depended on that moment," Edidin said. "And of course it wasn't a real argument—and that's how deep it was in us, and how seriously we took it, that it felt like the case actually depended on what happened there. And I loved that feeling, and I realized that whatever community I was serving when I left the Law School, it was that feeling I wanted to hold on to as a lawyer."
For weeks, Edidin studied the case until she knew every detail and nuance. When that final round finally arrived, she walked to the front of the courtroom and delivered her oral argument to the panel of three federal judges who had agreed to hear the case: Richard Posner of the Seventh Circuit, Laurence Silberman of the DC Circuit, and Alex Kozinski of the Ninth Circuit. When she finished, her first thought wasn't to wonder whether she'd won. It was of the real people in the real version of her case.
"I remember … turning around and looking at Kim and seeing Professor [David] Strauss in the audience and saying to him, 'Did we do them justice?'" Edidin said. "That was really my only concern walking out of the oral argument: did we give voice to the experiences of these plaintiffs?"
That day, Edidin and Ziev won. But what Edidin would most remember years later was the way it felt when the light went on inside her.
"That was the first time … I felt so deeply in my bones the connection with the cause and the community on whose behalf I was advocating," she said. "I think it's very challenging work—especially when you're working on change that is going to come incrementally—to not get discouraged, to keep the long view and to keep your eye on the prize. And I think that experience in moot court helped me feel that connection with a community in a deep way that would allow me to sustain my advocacy over a number of years, even in the face of setbacks, even in the face of defeat. It's that really deep connection that I felt as a lawyer for the first time doing the moot court."
My Chicago Law Moment is a series highlighting the Law School ideas, experiences, and approaches that have impacted our students and alumni. Video produced by Will Anderson.