My Chicago Law Moment: David Chizewer, '91, Learned to Persuade by Occasionally Conceding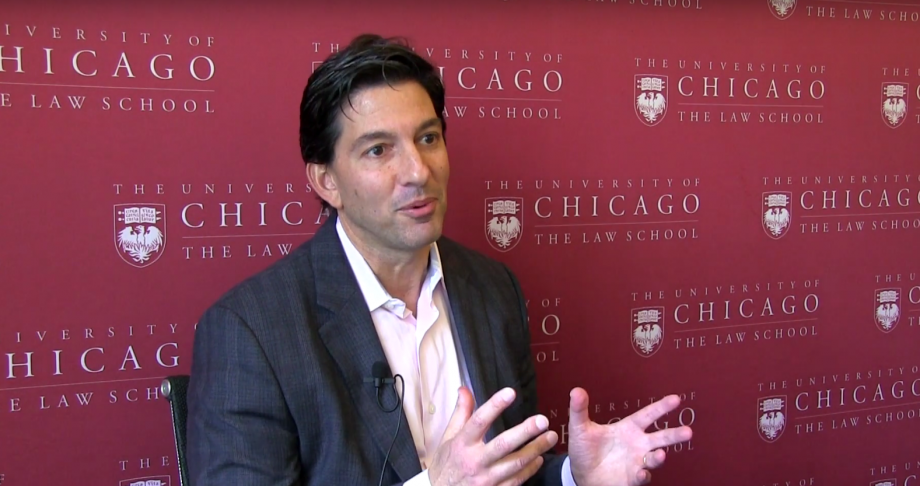 As a first-year law student, David J. Chizewer, '91, watched former Law School Professor Cass Sunstein deliver a paper. The debate and the criticism among faculty were robust—"they went at each other really hard," he remembered—but what really struck Chizewer wasn't simply the tenor of the conversation. It was Sunstein's willingness to listen and embrace other points of view.
It made Sunstein even more convincing.
"Sunstein had already incorporated into his work a lot of the points of view of law professors who I knew were on the other side of the political spectrum. In addition, when they would go back and forth and criticize each other, [both sides] made concessions," said Chizewer, now a litigator at Goldberg Kohn in Chicago. "People would call that intellectual honesty, but I just call it honesty. What I took away from it was how much more persuasive they were because they had made those concessions. … They weren't trying to spin anything. They were trying get to the truth."
Now, as a lawyer, Chizewer often thinks hard about getting to the truth and recognizes the value in building trust through real debate and the occasional concession.
"As a litigator, which is something I've done for 25 years now, …often [I am] up against really smart people from all the top law schools and lots of big, AmLaw 50 firms—and many have the idea that you never concede anything," Chizewer said. "But I think it's a less persuasive way to practice. Even putting aside the morality of being honest, just the practicality and persuasiveness of being honest is important."
My Chicago Law Moment is a series highlighting the Law School ideas, experiences, and approaches that have impacted our students and alumni. Video produced by Will Anderson.