How Information Analytics Will Change the Law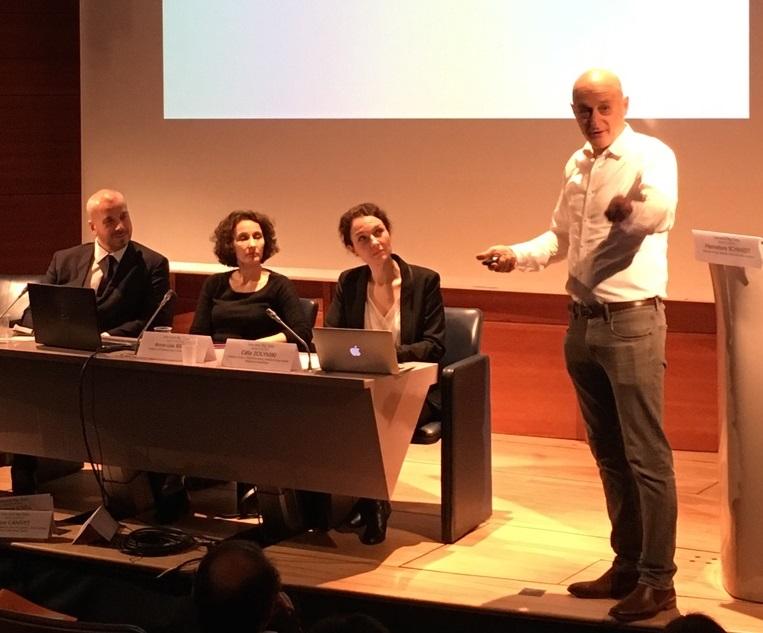 Nearly 200 scholars from around the world gathered earlier this month at the 17th-century Palais du Luxembourg in Paris to explore the ways in which big data could fundamentally change law and the legal profession—a discussion notable not just because it placed radical thought against a backdrop of centuries-old tradition but because it was co-organized by the Law School's Coase-Sandor Institute for Law and Economics and grew from the institute's six-year-old global initiative, the Summer Institute in Law and Economics.
For two days, professors, lawyers, entrepreneurs, students, and lawmakers met at the palace, which was built in 1625 and now houses the French Senate, debating how computer algorithms could be used to write smarter rules or even take the place of judges and institutions, discussions that prompted vigorous debate.
"Sitting in the Salle Clemenceau, the conference hall of the French Senate, speaking in English, and stirring our Chicago law-and-economics havoc in ordinary thinking about the law—it was unprecedented," said Omri Ben-Shahar, the Leo and Eileen Herzel Professor of Law and the Kearney Director of the Coase-Sandor Institute for Law and Economics, who co-organized the conference with Professor Florence G'sell of the François Gény Institute at the University of Lorraine in France.
"And without the Summer Institute," he added, "this conference would not have happened."
Indeed, G'sell, who attended the Summer Institute in 2015, was inspired by that Chicago experience to bring more law-and-social-science to France. With the help of the Coase-Sandor Institute, she recruited various French sponsors and the collaboration of the French Senate.
The two-week Summer Institute, which was launched by Ben-Shahar in 2012, has trained more than 350 top international scholars in the economic analysis of law, sparking a global domino effect of collaborative work. Past participants have already trained countless students and lawyers in the Chicago-type approach. They published papers on law and economics both in America and abroad, invited other participants and Law School faculty to speak at academic conferences in their home countries, and developed law-and-economics workshops and courses, all drawing on the knowledge and connections they nurtured in Chicago.
Participants at the Paris "Law and Big Data" symposium discussed a variety of issues related to the emerging data revolution, including the ways in which analytics will reshape the law and affect individuals. In many cases, technological advances offer more efficient and accurate ways to address legal issues by eliminating the bias inherent in human-driven interpretation and overcoming obstacles caused by complexity and unpredictability. But in some cases, the use of analytics can also raise questions about privacy and autonomy, a topic that stirs lively debates.
Five members of the law school faculty participated in the symposium. Anup Malani, the Lee and Brena Freeman Professor of Law, discussed how data science can be used to guide and evaluate the implementation of government programs in India; Jonathan Masur, the John P. Wilson Professor of Law, explored how the use of subjective well-being data could offer policymakers more accurate measures of benefits and costs than traditional economic markers; Anthony J. Casey, Professor of Law and Mark Claster Mamolen Teaching Scholar, examined how predictive technology could be used to tell people how to comply with the law in real time; and Ariel Porat, the Fischel-Neil Distinguished Visiting Professor of Law, presented his work, co-authored by Ben-Shahar, on data-driven personalized legal rules. Ben-Shahar himself discussed a new paper co-written with Lior Strahilevitz, the Sidley Austin Professor of Law, on how well-designed surveys could help interpret consumer contracts.
"The Chicago faculty learned a great deal from the French and European scholars at the conference. We also had a unique platform to present our own cutting-edge work on how sophisticated data analysis can be used to inform legal rules and build institutions," Ben Shahar said. "It was an exciting intellectual event."