Duty and Tradition
The US Solicitor General and His Principal Deputy are Law School Alumni—and They Represent the History and Shared Values Between the Two Institutions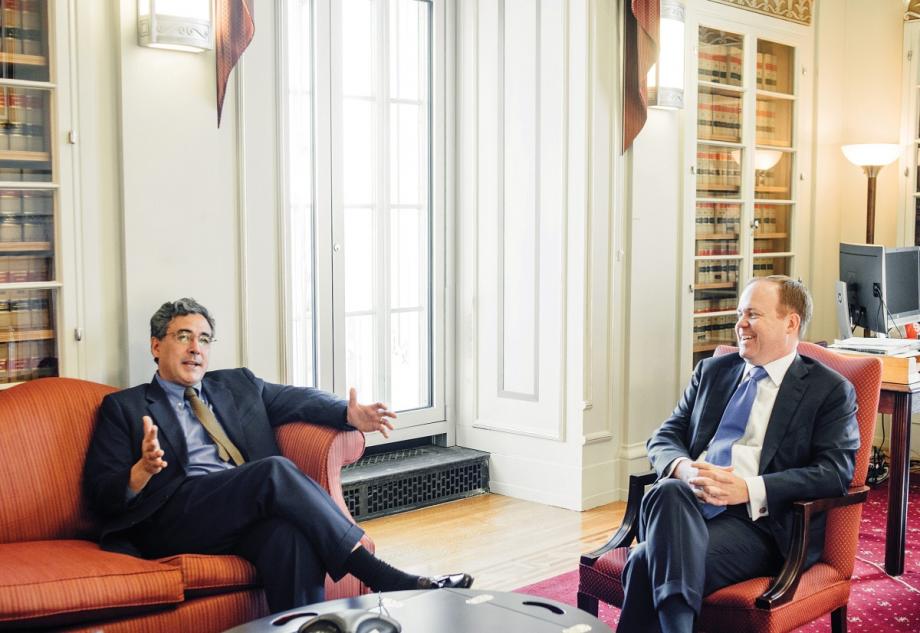 Until you're actually in front of the US Supreme Court delivering an oral argument, it can be hard to imagine just how close the lectern is to the bench, Principal Deputy Solicitor General Jeffrey B. Wall, '03, said one morning late last year. The experience is intimate, intense, and, well, like nothing else.
"You can't keep all nine justices in your field of vision at one time, so you're constantly moving to the right and to the left as you have this conversation," he said. "It's an intimidating experience. It's meant to be intimidating."
He looked over at his boss, US Solicitor General Noel J. Francisco, '96, who six days earlier had made his debut as the federal government's chief high court advocate in Masterpiece Cakeshop v. Colorado Civil Rights Commission, arguably the most contentious case of the fall term, one involving religious freedom, gay rights, and free speech.
Francisco nodded as Wall spoke.
"I do appreciate the fact that you're so close to the bench during an argument," Francisco mused, his left arm resting on the edge of a camelback sofa in his office at the Department of Justice. Behind him, glass-doored bookcases flanked a nearly floor-to-ceiling window with a view of the US Capitol, and across the room, a framed portrait of the late Justice Antonin Scalia looked down from above the fireplace. "It makes it easier to [ignore] everybody else in the room. You can't see them, so you only occasionally get a sense that they're even there."
It was a crisp December morning nearly three months after Francisco was sworn in as the 48th Solicitor General of the United States in the lead-up to one of the most consequential Supreme Court terms in years, in the midst of one of the most politically divisive periods in modern American history. In addition to Masterpiece Cakeshop, the Court's docket was replete with weighty cases on workers' rights, voters' rights, and digital privacy. "And that's just the tip of the iceberg," Wall said. "The SG oversees appellate litigation in the federal courts in general, and the amount of big-ticket litigation in the lower federal courts is staggering—with the travel litigation, sanctuary cities, DACA [Deferred Action for Childhood Arrivals], emoluments clause, contraceptive coverage, the list goes on and on."
In many ways, it's a position that Francisco had been preparing for his entire career—from his immersion in the University of Chicago's culture of fierce but respectful debate to his successful 2016 Supreme Court challenge to the federal corruption conviction of former Virginia governor Robert McDonnell, a case he led as a partner at Jones Day. A graduate of both the College and the Law School, Francisco had spent years honing his ability to cut to the truth of a matter by challenging core assumptions, considering multiple perspectives, and stripping away noise.
"The [divisive political] environment may put us under more of a microscope, but it doesn't—and I don't think it can—change the nature of the job," Francisco said. "At the end of the day we've got to be articulating the right principles for the right reasons and, to the extent we can, keep the chatter out of our heads."
Both of them feel a duty, Wall added, to model civilized, reasoned discourse: it's how they were brought up as law students, and it's a tradition of the office, especially in times of political discord.
Francisco and Wall graduated from the Law School seven years apart—and despite knowing each other for years, they'd never worked together until last spring. But as they described their work, their common intellectual heritage was evident: they share a reverence for rigorous analysis and a style of argumentation that provides common ground even when they disagree. Francisco is known in the office for his laser-like focus on first principles—"What's the right answer, and why? Tell me that first," he always says—and Wall is known for leading intense moot courts when another member of the office is preparing for oral argument.
Together, Francisco and Wall represent the latest chapter in a rich history between their office and the Law School, one marked by notable firsts and parallel values. Francisco, who is of Filipino descent, is the first Senate-confirmed Asian-American solicitor general—and the fourth solicitor general with Law School ties. Robert Bork, '53, served in the mid-1970s; Rex Lee, '63, served in the early 1980s; and the first female solicitor general, Elena Kagan, a former professor at the Law School, served for a year before being nominated to the Court in 2010.
Wall, who worked as an assistant to the solicitor general between 2008 and 2013, is also in good company. Senior Lecturer Frank Easterbrook, '73, now a judge on the Court of Appeals for the Seventh Circuit, served as both a deputy solicitor general and as an assistant to the solicitor general in the 1970s, some of it under Bork. Jewel Stradford Lafontant, '46, the first black woman to graduate from the Law School, became the first woman and the first African American to serve as a deputy solicitor general when she assumed the role in 1973. Former Law School Professor Paul M. Bator served as principal deputy. David Strauss, the Gerald Ratner Distinguished Service Professor of Law and the faculty director of the Law School's Jenner & Block Supreme Court and Appellate Clinic, served as an assistant to the solicitor general under Lee. The list goes on: Eric D. Miller, '99; Curtis E. Gannon, '98; David Salmons, '96; former Law School Professor Michael McConnell, '79; Senior Lecturer Richard Posner; and more. In addition, a string of Law School alumni have also earned prestigious one-year Bristow Fellowships in the solicitor general's office, including Eric Tung, '10; Evan Rose, '13; Joseph Schroeder, '15; and Maggie Upshaw, '16, who is serving now.
"The entire trajectory of how the Law School and the University of Chicago as a whole are structured is geared toward people like us, doing jobs like these," Francisco said. "Ideas are taken seriously and vigorously debated. Controversial points of view aren't shut down, they're taken head on. That's what prepares you to be a lawyer—you're in the crucible of ideas, and you have to vigorously defend your positions and respectfully critique others."  Which pretty much describes the way Francisco and Wall interact as they discuss and debate their way through what several people familiar with the office described as a "monumental" amount of work.
The solicitor general's office argues on behalf of the federal government in virtually every Supreme Court case in which the United States is a party or an amicus, which is about two-thirds of the time. When the United States loses a case in the lower federal courts, it's the solicitor general who decides whether the federal government will appeal. And when stakeholders within the federal government disagree on the right position in a case before the Court, the solicitor general ultimately decides that, too—after a fulsome process that includes memos and, in some cases, meetings with the various entities involved.
Wall is the second-highest-ranking person in the office and the only one other than Francisco who is politically appointed. Although other members of the office—Francisco calls them "some of the smartest attorneys I've ever encountered"—are often part of their discussions, Francisco and Wall seem to be in near-constant conversation. A reception area separates their offices, and they cross it many times every day—consulting, confirming, and arguing.
"One of us floats an idea, the other may be critical of it, and we go back and forth," Wall said. "It's exactly the Chicago method: the, 'Well, why do you say that?' We're constantly pushing each other. I don't feel like my boss is being hard on me, and I don't think he feels like I'm questioning his judgment—we're just trying to get to the right answer."
Those exchanges can be spirited—"I mean, these are hard cases," Wall said—but they ultimately sharpen the analysis and push them closer to the truth.
"It's a mark," Wall said, "of people who went to Chicago."
***
Francisco and Wall both came to Washington, DC, after law school and never left, pursuing similar paths—despite that fact that neither had originally intended to be an appellate litigator. In law school, Francisco had thought he'd be a products liability attorney, and Wall had wanted to be a law professor. But each accepted a clerkship on a US Court of Appeals after graduation and then followed it up by clerking on the Supreme Court, Francisco for Scalia and Wall for Justice Clarence Thomas.
Each devoted time to government service—Wall as an assistant in the solicitor general's office and Francisco as a member of White House legal staff under President George W. Bush and later as a deputy assistant attorney general in the Office of Legal Counsel. Each spent time in private practice, and each came to his current position with experience arguing before the US Supreme Court.
Francisco argued his first high court case in January 2014: National Labor Relations Board v. Noel Canning, a successful challenge to recess appointments made by President Obama to the NLRB. It was the only time Francisco argued before his former boss Scalia, who wrote a concurrence to the unanimous opinion. The experience, Francisco said, was both terrifying and wonderful.
"My co-counsel in that case was the US Chamber of Commerce, and their general counsel, a woman named Lily Claffee, knew how terrified I was, and she sent me this wonderful note," Francisco recalled. "She said, 'I know you think everyone is looking at you and you think that if you tank, it will end your career. But that's just not true. Everything is done, the briefs are done, and they're perfect. Just go up there and have fun.' It was such a nice note. And when I went up there, it was just as Jeff said earlier: you're nervous until you put your hands on that lectern. And then as soon as it starts, everything kind of goes away, and you're having a conversation with the justices. I remember feeling this sense of disappointment as I was winding up—it was my first time arguing before the Supreme Court, and now it was over."
Wall's first oral argument before the Supreme Court, a False Claims Act case in April 2009, also resulted in a unanimous decision—and one written by his former boss Justice Thomas. Although he'd argued in a state appellate court, it was his first-ever argument in federal court. A dozen more Supreme Court arguments would follow in the next eight and a half years.
When their professional orbits finally crossed at the solicitor general's office in 2017, Francisco and Wall had each built an arsenal of complementary experiences. The early months involved some shuffling—to comply with federal law, Wall briefly served as the acting solicitor general while Francisco was awaiting Senate confirmation—but they developed a strong work routine. Wall quickly learned that Francisco prefers to start all legal discussions in the same place: with a solid understanding of the right answer and the core principles. Everything else—the federal interest, case law, other schools of thought—could come later.
"You need to know why you're right, regardless of what the case law says—particularly at the Supreme Court, which can overrule precedent and isn't bound by the lower courts," Francisco said. "If you can figure that out first, you can figure out how to distinguish the case law or how to make a completely different argument than others have made in the past. And that, by the way, is the type of questioning that we learned at Chicago: it's not just about how the case law applies, it's about knowing why your bottom-line position is right in the first place."
And so now, when talking to Francisco, Wall starts with the right answer, and he tells others to do the same.
***
When David Strauss thinks back to his old boss Rex Lee, he recognizes a quality that is both quintessentially UChicago Law and more broadly true of all good lawyers.
"It's that people who understand and treasure the craft of lawyering can talk to each other and not even notice that they might be different politically, culturally, or in a hundred other ways," Strauss said. "They find common ground in how they think about a problem."
Lee, he said, was devoted to the open exchange of ideas and adept at straddling the difficult line that comes with occupying a politically appointed, but historically independent, executive office.
"Rex was a great boss, and he protected the office from politics," Strauss said. "He made sure we could be conscientious government lawyers, not people who were serving a political agenda—and I think he did that at a significant cost to himself. There was pressure on Rex to allow greater political interference than he did. He was the person who had to take the brunt of that pressure so the lawyers in his office wouldn't feel it."
Strauss remembers Lee saying, "You know, some people want me to be the pamphleteer general, but I'm not—I'm the solicitor general."
In many cases, the processes in the office are designed to effectively analyze input so the solicitor general can make informed decisions that best reflects the nation's interests, especially when there are conflicting points of view about how a case should proceed.
"It can be a difficult analysis in some cases because there are many parts of the United States, and there are many interests among many components," said David Salmons, '96, an appellate litigator who worked as an assistant under two solicitors general, Ted Olson and Paul Clement, from 2001 to 2007. "But there's a process and tradition that has developed over time and that I think is remarkably consistent from solicitor general to solicitor general, regardless of which political party is in power. That process is followed very carefully and thoughtfully. While it doesn't always yield the perfect result, it is a strong protection against undue political influence."
And this is what has resonated with Salmons over the years: there is a sense of duty and awe that inhabits the Office of the Solicitor General, regardless of political sway. You can feel it, he said, walking through the halls.
"The solicitor general's office is often the final word on the interest and position of the United States in litigation, and you have to bring your best," Salmons said. "There's a history and a tradition that you have a responsibility to carry on."
When Strauss joined the office in 1981 from the Office of the Legal Counsel, he, too, felt the duty and the awe. It was hard to think of a more thrilling place to practice law—especially for someone like him, who loved constitutional law and the Supreme Court.
He argued his first Supreme Court case that year, Ralston v. Robinson, a federal Youth Corrections Act case. He was the third argument of the day on the first Monday in October—the opening of the Court's term and Justice Sandra Day O'Connor's first day on the job.
During one of the first two arguments that day, O'Connor, who was the first woman justice, asked a question, and the lawyer "basically talked over her," Strauss remembered. When it was his turn, Strauss listened to the new justice's question and then claimed a little spot in Supreme Court history.
"I gave Justice O'Connor her first real answer to a question," he said, chuckling.
Strauss has delivered 18 more arguments in the Court since that day. His last came in December when he argued on behalf of the University of Chicago in Jenny Rubin v. The Islamic Republic of Iran, a case that centers on whether terror victims should be able to seize Iranian artifacts displayed at the University's Oriental Institute. (Strauss was ultimately successful: in late February, the Court unanimously ruled that the clay tablets and other artifacts were protected from seizure by the Foreign Sovereign Immunities Act.) Even more than 36 years later, the preparation for an oral argument is still intense, Strauss said.
"The closest thing to studying for an exam that I've ever encountered in adult life is preparing for an argument," he said. "You don't know what you're going to be asked, and there are an infinite number of things you need to prepare on. You know while you're doing it that you're spending too much time preparing, but you can't figure out what piece of that you can dispense with."
So, for the most part, you don't dispense with any of it.
***
In the solicitor general's office, moot courts are legendary.
Everyone does at least two before an argument, Wall said, "whether it's the easiest case of the term or the hardest—it doesn't matter."
The level of media attention doesn't really change the preparation, though controversy and public scrutiny can certainly add to the intensity. Francisco felt it when he argued Masterpiece Cakeshop—the case about the Colorado baker who refused, on religious grounds, to make a custom wedding cake for a gay couple—before a packed courtroom as protesters and the media gathered outside.
"Think about it: to debut as a solicitor general in Masterpiece Cakeshop? Those are high stakes," said Wall, who that same week delivered the 13th Supreme Court argument of his career in the sports-betting case Christie v. National Collegiate Athletic Association. "He did a great job, and he should be very proud. That is a tough way to break in as the SG."
Ultimately, though, each case has its own set of hurdles, regardless of the public's level of interest. Salmons' first case before the Court, for instance, involved how to calculate attorney fees under a provision of the Social Security Act—a "super-law-nerdy question," he said, and one that didn't attract an iota of media attention. Still, in 30 minutes, the justices interrupted him to ask questions "something like 74 times," he said. "It was fast and furious, which is typical."
And so, on every case, the lawyers in the solicitor general's office pore over every brief and relevant case, consider every conceivable question, and analyze their answers to the hard ones. They dig to the core of a case until they've internalized what Salmons calls "the tectonics" of it—the deep-down pieces that bump up against other deep-down pieces and create friction.
"There's a lot of strategy that goes into that," said Salmons, who remembers moots as some of the most rewarding experiences of his time in the office. "You have to understand the issues that are deep in the heart of the case, the internal factors that may be driving people's reactions to a case. There's a way of knowing a case that is much more than just knowing memorized answers to hard questions."
Those who know Francisco and Wall say the two men are well equipped for all of it—the deep analysis, the vigorous debate, the ability to cut to the core principles of a matter and tune out the noise.
"I remember them both as great students and good people," said Strauss, who taught both men at the Law School.  "I think they'll bring excellent lawyering skills to the office. But I also think they will do what Rex Lee did, which is to maintain the integrity of the office as a place where government lawyers practice their craft."
Added Salmons, a Law School classmate of Francisco's: "I think very highly of Noel. I think he will serve the interest of justice and the Office of the Solicitor General, and he will represent very well the history and traditions of the University of Chicago Law School as well."
Those duties are ones that never stray far from Francisco's or Wall's mind. Each sees his role as a privilege, a chance to model reasoned and principled legal analysis.
"For me, this is an opportunity to participate in and have an impact on the issues that have the deepest effect on our country," Francisco said that day in December, sitting on the couch in his office across from the portrait of Scalia.
It was Francisco who wanted the Scalia portrait in his office, where it presides in the center of the room, within sight of both Francisco's desk and his sitting area. Scalia was a mentor and hero to Francisco, an early influence who shared Francisco's classical approach to law and jurisprudence. Scalia, Francisco has said, also began every case from first principles.
Recently, Francisco wrote about his old boss—a former Law School professor—in a special memorial issue of the University of Chicago Law Review.
"With his focus on history and tradition, Justice Scalia steadfastly resisted the temptation to use the judicial role to impose any particular value on society—even when modern conventional wisdom pointed strongly in one direction," Francisco wrote in an essay titled "Justice Scalia: Constitutional Conservative." "He often emphasized that his purpose was not to take any position on the underlying policy question, but only to defend the right of the people to resolve that question through the democratic process; to ensure 'all participants, even the losers, the satisfaction of a fair hearing and an honest fight.'"
The honest fight is important to Francisco, too.
"People can have vigorous disagreements on legal issues," he said. "But to me the only way you have them properly resolved by our judiciary is if you have lawyers on both sides of the case who are putting forth their best arguments in a forthright fashion with candor between the lawyers and between the lawyers and the courts. We need to foster a sense of civility and honesty."