Trailblazing Ambassador, Former Law School Dean of Students James C. Hormel, '58, 1933-2021
Philanthropist Inspired and Helped Fund Law School Public Interest Programs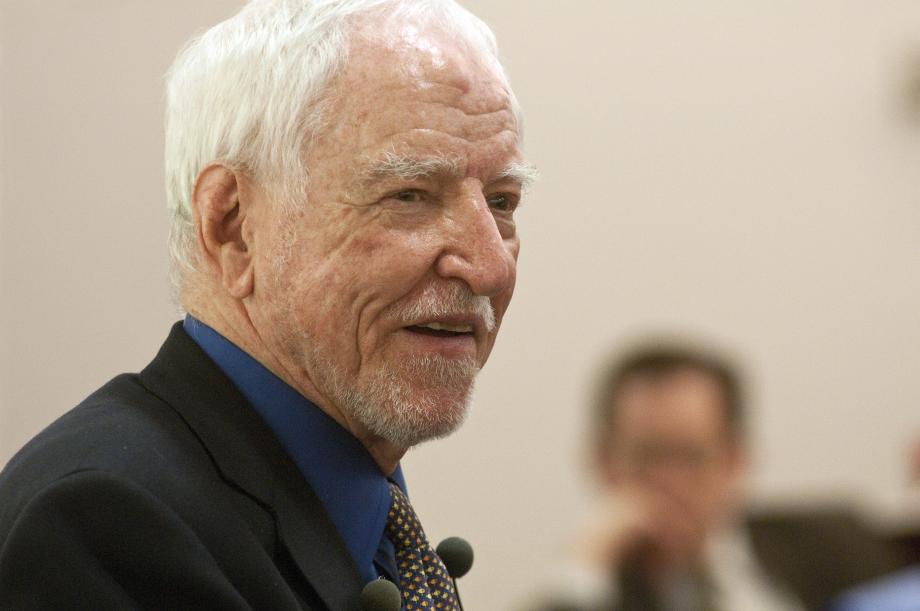 James C. Hormel, '58, a philanthropist and LGBTQ+ activist who served as the University of Chicago Law School's first full-time dean of students and America's first openly gay ambassador, died in San Francisco Friday morning. He was 88.
Hormel, a grandson to the founder of Hormel Foods, helped launch the Human Rights Campaign, served as an ambassador to Luxembourg, and was one of the Law School's most influential and engaged supporters. He was one of only six Life Members of the Law School Council and a generous donor whose gifts not only provided direct financial support to hundreds of future lawyers but helped inspire an entire suite of public service programming that served thousands and thousands of Law School students over several decades. In 1986, Hormel created a loan forgiveness program to encourage law students to pursue public service and, over the years, funded scholarship programs for students planning to pursue public interest work during or after law school. His generosity inspired other gifts and programs as well, fueling the development of postgraduate fellowships, clinics, summer internship funding, and more. Hormel was also one of several donors who established the Law School's Stonewall Scholarship Fund, one of the first scholarships in the nation aimed at supporting students planning to use their legal educations to further LGBTQ+ rights. 
"Jim's connections to the Law School were many, long lasting, and impactful," said Dean Thomas J. Miles, the Clifton R. Musser Professor of Law and Economics. "As a graduate of the Law School, he led a trailblazing career. As our dean of students, he served the Law School and our students selflessly. As a Life Member of the Law School Council, he gave each dean through the years his gracious friendship, advice, and wisdom. He was among the first advocates for a dedicated public interest program at the Law School, and he funded this program generously over the decades. This vision has enabled our students to pursue work in public interest and public service immediately upon graduation and with a reduced burden of debt throughout their careers. On behalf of the entire Law School community I extend our deepest sympathies to Jim's family and all who loved and admired him." 
Professor Geoffrey R. Stone, who served as dean of the Law School between 1987 and 1994, worked closely with Hormel in creating the Stonewall Scholarship Fund.
"This was at a time when being openly gay was still very challenging for law students and lawyers, but Jim was determined to take a major step toward advancing the cause of gay rights," Stone said. "We worked hard together to create a fund that would enable our students to make a meaningful difference in the world in this then-highly challenging area of individual rights."
Hormel earned his undergraduate degree from Swarthmore in 1955 then headed to Chicago to study law. After graduating from the Law School in 1958, he clerked for the Illinois Appellate Court, then practiced briefly with Peterson, Lowry, Rall, Barber, and Ross before returning to the Law School as an administrator in 1961. Hormel served as dean of students and dean of admissions, roles that had previously been filled by members of the faculty.
After he left the University in 1967, Hormel began managing his family investments and became involved in politics. Hormel served as United States ambassador to Luxembourg from June 1999 to December 2000, assuming the position after a two-year confirmation battle that centered on gay rights. He was alternate representative of the US delegation to the 51st United Nations General Assembly in 1996. He also was a member of the US delegation to the 51st UN Human Rights Commission, which met in Geneva in early 1995. Also in 1995, and again in 1997, he served on the Western States Regional Selection Panel for the President's Commission on White House Fellowships. In 1995, he participated in the President's Conference on the Pacific Rim, and the following year, he was a member of San Francisco Mayor Willie Brown's Economic Summit. From 1994 through 1997, he served on the Board of Directors of the San Francisco Chamber of Commerce.
In 1980, Hormel helped found the Human Rights Campaign, an LGBTQ civil rights organization, which honored him with the Lifetime Achievement Award in 2001. In 1996, he funded what is now known as the James C. Hormel LGBTQIA Center at the San Francisco Public Library. He has served as a member of the board of directors of the American Foundation for AIDS Research and was a founding director of the City Club of San Francisco, a club created to bring together community leaders of diverse backgrounds.
His memoir, Fit to Serve: Reflections on a Secret Life, Private Struggle, and Public Battle to Become the First Openly Gay U.S. Ambassador, was published in 2011. He was the chairman of Equidex, Inc., a San Francisco-based firm that manages his and his family's investments and philanthropic activities.
A Friend to the Law School
Hormel was a trusted advisor to Law School deans for decades. He joined the Law School Council, then called the Visiting Committee, in 1987, and served as chairperson between 1991 and 1994. In 2002, he was elevated to the rare position of Life Member.
"For decades, no dean ever had a better friend, wiser counselor, or more zealous advocate for students, especially those who sought novel or different paths in the law," said Professor Douglas Baird, who served as dean of the Law school between 1994 and 1999.
Hormel advocated for and supported programs aimed at students committed to pursuing careers in public interest law, establishing the James C. Hormel Public Service program at the Law School in 1986.
Professor Saul Levmore, who served as dean between 2001 and 2009 and worked with Hormel in 2004 to create the James C. Hormel Fund to support summer or postgraduate public interest employment, described Hormel as "a good friend of the Law School, as well as a friend of mine."
"Our time went way back, as I had taught an adoring granddaughter of his much earlier at the University of Virginia," Levmore said. "Jim taught me what I know about Mexican Art, and even something about cold-calling students. He did these things with a humility and graciousness that is hard to emulate. But I can try."
In 2014, Hormel also helped establish the James C. Hormel Public Interest Law Scholarship Program Fund to provide scholarship support to law students exhibiting a strong commitment to the public interest and public service.
His enthusiasm and commitment inspired others, including Lillian Kraemer, '64.
Kraemer praised Hormel earlier this year during a ceremony installing longtime clinical faculty member Herschella Conyers as the Law School's inaugural Lillian E. Kraemer Clinical Professor in Public Interest Law. In her remarks, Kraemer shared that her dedication to public interest was in part motivated by Hormel's generosity and commitment to those pursuing careers in public service.
"First of all, I applaud the incredible philanthropy of my fellow Swarthmorian and Chicagoan, Jim Hormel, who has established a loan reduction program for graduates of our Law School entering into a career in public service," said Kraemer, who served on the Law School Council with Hormel for nearly a decade and is also a Life Member. "Jim's thoughtfully designed program makes the Law School an attractive place for those who want to practice in the public sector to come to. And I hope that the Kraemer Chair and its research scholars will help to keep the students committed to the goal during the three years they spend here."
Another fellow Swarthmore and Law School graduate, James Gregory, '88, called Hormel "a remarkable man." Gregory first met Hormel when he visited the Law School during Gregory's second year. Hormel had recently endowed the public service loan forgiveness program, and he asked to meet some of the students who were active in what was then a fledgling LGBT affinity group. During that first meeting, Gregory and Hormel discovered that they shared an undergraduate alma mater, and they began what would become a more than 30-year friendship.
"When I first met Jim he already was a prominent human rights advocate and a pioneer in advancing LGBTQ rights. He was always connecting people and encouraging their engagement in progressive causes. Over his lifetime he mentored many younger lawyers, like myself, who were inspired to live more open and authentic lives and to continue to push for greater diversity and inclusion at our firms and within the profession," Gregory said. "Jim was a very warm and loving person, with a kind word for just about everyone. He was great company and fun to be with—witty and quick to laugh. Having lived such an interesting life, he had many great stories that he liked to share. He loved music, theater, and art and was generous with friends. He was a real gentlemen and liked to end a visit or dinner by saying, 'It's been a real treat.'"
Gregory, who served with Hormel on the Swarthmore Board of Managers and, between 2013 and 2017, on the Law School Council, said Hormel would be remembered for the impact he had on so many people.
"He was very proud of the Law School, which he was so devoted to," Gregory said. "He touched many lives here and elsewhere and will be greatly missed by everyone who knew him."
Hormel is survived by his spouse, Michael P. N. A. Hormel; five children; 14 grandchildren; and seven great-grandchildren.