In Their Own Words: Admissions Essays That Worked
Throughout this issue, countless examples show why we are so proud of the students at the law school. One might think that we get lucky that the students the admissions office chose for their academic accomplishments also turn out to be incredible members of our community, but it's really all by design. Our students show us a great deal more in their applications than just academics—and we care about a lot more than their numbers. In these pages, meet five of our students in the way we first met them: through the personal statements they wrote for their law school applications. And through their photos, meet a sixth: Andreas Baum, '12, the talented student photographer who took these pictures for us.

Tammy Wang, '12
EDUCATION: Johns Hopkins University, BA in International Relations, concentration East Asian Studies, with honors (2007)
WORK EXPERIENCE: AsianFanatics.net
LAW SCHOOL ACTIVITIES: University of Chicago Law Review, Immigrant Child Advocacy Project Clinic, APALSA, Admissions Committee, Law School Film Festival

I fell in love for the first time when I was four. That was the year my mother signed me up for piano lessons. I can still remember touching those bright, ivory keys with reverence, feeling happy and excited that soon I would be playing those tinkling, familiar melodies (which my mother played every day on our boombox) myself.

To my rather naïve surprise, however, instead of setting the score for Für Elise on the piano stand before me, my piano teacher handed me a set of Beginner's Books. I was to read through the Book of Theory, learn to read the basic notes of the treble and bass clefs, and practice, my palm arched as though an imaginary apple were cupped between my fingers, playing one note at a time. After I had mastered the note of "C," she promised, I could move on to "D."

It took a few years of theory and repetition before I was presented with my very first full-length classical piece: a sonatina by Muzio Clementi. I practiced the new piece daily, diligently following the written directives of the composer. I hit each staccato note crisply and played each crescendo and every decrescendo dutifully. I performed the piece triumphantly for my teacher and lifted my hands with a flourish as I finished. Instead of clapping, however, my teacher gave me a serious look and took both my hands in hers. "Music," she said sincerely, "is not just technique. It's not just fingers or memorization. It comes from the heart."

That was how I discovered passion.

Beethoven, Mozart, Mendelssohn: the arcs and passages of intricate notes are lines of genius printed on paper, but ultimately, it is the musician who coaxes them to life. They are open to artistic and emotional interpretation, and even eight simple bars can inspire well over a dozen different variations. I poured my happiness and my angst into the keys, loving every minute of it. I pictured things, events, and people (some real, some entirely imagined— but all intensely personal) in my mind as I played, and the feelings and melodies flowed easily: frustration into Beethoven's Sonata Pathétique, wistfulness into Chopin's nocturnes and waltzes, and sheer joy into Schubert. Practice was no longer a chore; it was a privilege and a delight.

In high school, I began playing the piano for church services. The music director gave me a binder full of 1-2-3 sheet music, in which melodies are written as numbers instead of as notes on a music staff. To make things a bit more interesting for myself—and for the congregation—I took to experimenting, pairing the written melodies with chords and harmonies of my own creation. I rarely played a song the same way twice; the beauty of improvisation, of songwriting, is that it is as much "feeling" as it is logic and theory. Different occasions and different moods yielded different results: sometimes, "Listen Quietly" was clean and beautiful in its simplicity; other times, it became elaborate and nearly classical in its passages. The basic melody and musical key, however, remained the same, even as the embellishments changed. The foundation of good improvisation and songwriting is simple: understanding the musical key in which a song is played—knowing the scale, the chords, the harmonies, and how well (or unwell) they work together—is essential. Songs can be rewritten and reinterpreted as situation permits, but missteps are obvious because the fundamental laws of music and harmony do not change.

Although my formal music education ended when I entered college, the lessons I have learned over the years have remained close and relevant to my life. I have acquired a lifestyle of discipline and internalized the drive for self-improvement. I have gained an appreciation for the complexities and the subtleties of interpretation. I understand the importance of having both a sound foundation and a dedication to constant study. I understand that to possess a passion and personal interest in something, to think for myself, is just as important.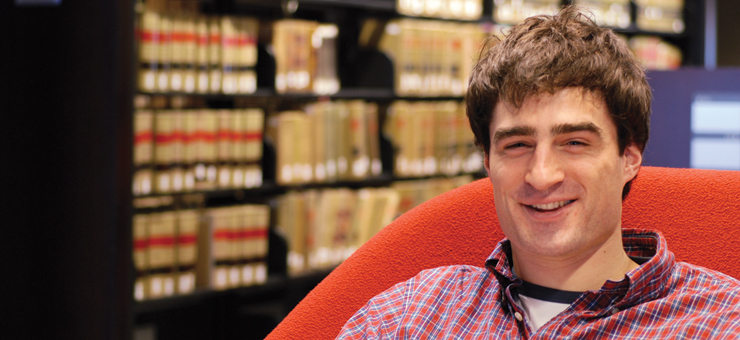 Josh Mahoney, '13
EDUCATION: University of Northern Iowa, BA in Economics and English, magna cum laude (2009)
LAW SCHOOL ACTIVITIES: Student Admissions Committee, flag football, Tony Patiño Fellow

The turning point of my college football career came early in my third year. At the end of the second practice of the season, in ninety-five-degree heat, our head coach decided to condition the entire team. Sharp, excruciating pain shot down my legs as he summoned us repeatedly to the line to run wind sprints. I collapsed as I turned the corner on the final sprint. Muscle spasms spread throughout my body, and I briefly passed out. Severely dehydrated, I was rushed to the hospital and quickly given more than three liters of fluids intravenously. As I rested in a hospital recovery room, I realized my collapse on the field symbolized broader frustrations I felt playing college football.

I was mentally and physically defeated. In South Dakota I was a dominant football player in high school, but at the Division I level my talent was less conspicuous. In my first three years, I was convinced that obsessively training my body to run faster and be stronger would earn me a starting position. The conditioning drill that afternoon revealed the futility of my approach. I had thrust my energies into becoming a player I could never be. As a result, I lost confidence in my identity.

I considered other aspects of my life where my intellect, work ethic, and determination had produced positive results. I chose to study economics and English because processing abstract concepts and ideas in diverse disciplines was intuitively rewarding. Despite the exhaustion of studying late into the night after grueling football practices, I developed an affinity for academia that culminated in two undergraduate research projects in economics. Gathering data, reviewing previous literature, and ultimately offering my own contribution to economic knowledge was exhilarating. Indeed, undergraduate research affirmed my desire to attend law school, where I could more thoroughly satisfy my intellectual curiosity. In English classes, I enjoyed writing critically about literary works while adding my own voice to academic discussions. My efforts generated high marks and praise from professors, but this success made my disappointment with football more pronounced.

The challenge of collegiate athletics felt insurmountable. However, I reminded myself that at the Division I level I was able to compete with and against some of the best players in the country.While I might never start a game, the opportunity to discover and test my abilities had initially compelled me to choose a Division I football program. After the hospital visit, my football position coach—sensing my mounting frustrations—offered some advice. Instead of devoting my energies almost exclusively to physical preparation, he said, I should approach college football with the same mental focus I brought to my academic studies. I began to devour scouting reports and to analyze the complex reasoning behind defensive philosophies and schemes. I studied film and discovered ways to anticipate plays from the offense and become a more effective player. Armed with renewed confidence, I finally earned a starting position in the beginning of my fourth year.

My team opened the season against Brigham Young University (BYU). I performed well despite the pressures of starting my first game in front of a hostile crowd of 65,000 people. The next day, my head coach announced the grade of every starting player's efforts in the BYU game at a team meeting: "Mahoney—94 percent." I had received the highest grade on the team. After three years of A's in the classroom, I finally earned my first 'A' in football. I used mental preparation to maintain my competitive edge for the rest of the season. Through a combination of film study and will power, I led my team and conference in tackles. I became one of the best players in the conference and a leader on a team that reached the semi-finals of the Division I football playoffs. The most rewarding part of the season, though, was what I learned about myself in the process. When I finally stopped struggling to become the player I thought I needed to be, I developed self-awareness and confidence in the person I was.

The image of me writhing in pain on the practice field sometimes slips back into my thoughts as I decide where to apply to law school. College football taught me to recognize my weaknesses and look for ways to overcome them. I will enter law school a much stronger person and student because of my experiences on the football field and in the classroom. My decision where to attend law school mirrors my decision where to play college football. I want to study law at the University of Chicago Law School because it provides the best combination of professors, students, and resources in the country. In Division I college football, I succeeded when I took advantage of my opportunities. I hope the University of Chicago will give me an opportunity to succeed again.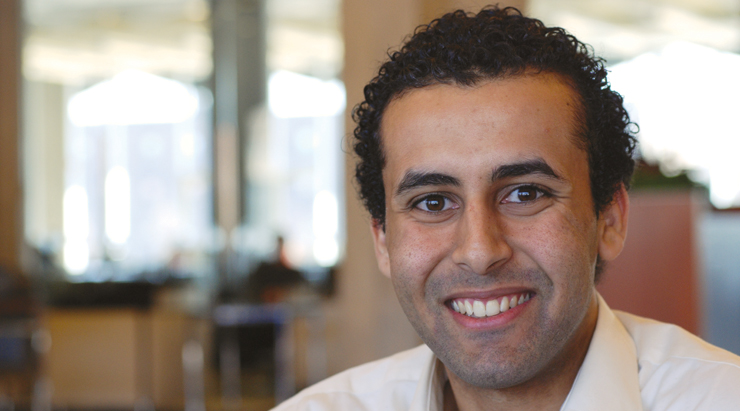 Osama Hamdy, '13
EDUCATION: University of California, Berkeley, BA in Legal Studies, AB in Media Studies (2010)
LAW SCHOOL ACTIVITES: BLSA, Intramural Basketball

I was a shy thirteen-year-old who had already lived in six locations and attended five schools. Having recently moved, I was relieved when I finally began to develop a new group of friends. However, the days following September 11, 2001, were marked with change. People began to stare at me. Many conversations came to a nervous stop when I walked by. However, it wasn't until one of my peers asked if I was a terrorist that it really hit me. Osama, my name is Osama. I went from having a unique name that served as a conversation starter to having the same name as the most wanted man in America. The stares and the comments were just the beginning. Eventually I received a death threat at school. I remember crying alone in my room, afraid to tell my parents in fear that they might not let me go to school anymore.

My experience opened my eyes up to racial and religious dynamics in the United States. I started to see how these dynamics drove people's actions, even if some were not aware of the reasons. The more I looked at my surroundings with a critical eye, the more I realized that my classmates had not threatened me because of hate, but because of fear and ignorance. This realization was extremely empowering. I knew that mirroring their hostility would only reinforce the fear and prejudice they held. Instead, I reached out to my peers with an open mind and respect. My acceptance of others served as a powerful counter example to many negative stereotypes I had to face.With this approach, I was often able to transform fear into acceptance, and acceptance into appreciation. I chose not to hide my heritage or myself, despite the fear of judgment or violence. As a result, I developed a new sense of self-reliance and self-confidence. However, I wasn't satisfied with the change that I had brought about in my own life. I wanted to empower others as well. My passion for equality and social justice grew because I was determined to use my skills and viewpoint to unite multiple marginalized communities and help foster understanding and appreciation for our differences and similarities alike.

The years following September 11th were a true test of character for me. I learned how to feel comfortable in uncomfortable situations. This allowed me to become a dynamic and outgoing individual. This newfound confidence fueled a passion to become a leader and help uplift multiple minority communities. During the last two summers I made this passion a reality when I took the opportunity to work with underprivileged minority students. All of the students I worked with came from difficult backgrounds and many didn't feel as though college was an option for them. I learned these students' goals and aspirations, as well as their obstacles and hardships. I believed in them, and I constantly told them that they would make it. I worked relentlessly to make sure my actions matched my words of encouragement. I went well above the expectations of my job and took the initiative to plan several additional workshops on topics such as public speaking, time management, and confidence building. My extra efforts helped give these students the tools they needed to succeed. One hundred percent of the twenty-one high school juniors I worked with my first summer are now freshmen at four-year universities. I feel great pride in having helped these students achieve this important goal. I know that they will be able to use these tools to continue to succeed.

Inspired by my summer experience, I jumped at the opportunity to take on the position of Diversity Outreach Ambassador for the San Francisco Bar Association Diversity Pipeline Program. In this position, I was responsible for helping organize a campus event that brought educational material and a panel of lawyers to UC Berkeley in order to empower and inform minority students about their opportunities in law school. In this position I was able to unite a diverse group of organizations, including the Black Pre-Law Association, the Latino Pre-Law Society, and the Haas Undergraduate Black Business Association. Working in this position was instrumental in solidifying my desire to attend law school. The lawyers who volunteered their time had a significant impact on me. I learned that they used their legal education to assist causes and organizations they felt passionate about. One of the lawyers told me that she volunteered her legal services to a Latino advocacy association. Another lawyer explained to me how he donated his legal expertise to advise minority youth on how to overcome legal difficulties. Collaborating with these lawyers gave me a better understanding of how my passion for law could interact with my interest in social justice issues.

My experiences leading minority groups taught me that I need to stand out to lead others and myself to success. I need to be proud of my culture and myself. My experiences after September 11th have taught me to defeat the difficulties in life instead of allowing them to defeat me. Now, whether I am hit with a racial slur or I encounter any obstacles in life, I no longer retreat, but I confront it fearlessly and directly. I expect law school will help give me the tools to continue to unite and work with a diverse group of people. I hope to continue to empower and lead minority communities as we strive towards legal and social equality.
Eliza Riffe, '13
EDUCATION: University of Chicago, AB in Anthropology, with honors (2006)
WORK EXPERIENCE: Sarbanes-Oxley coordinator and financial analyst, ABM Industries

Harper Library, situated at the center of the main quadrangle at the University of Chicago, resembles a converted abbey, with its vaulted ceilings and arched windows. The library was completed in 1912, before Enrico Fermi built the world's first nuclear reactor, before Milton Friedman devised the permanent income hypothesis, and well before Barack Obama taught Constitutional Law. Generations of scholars have pored over Adam Smith and Karl Marx in the main reading room, penned world-class treatises at the long wooden tables, and worn their coats indoors against the drafts in the spacious Gothic hall. Abiding over all of these scholars, and over me when I was among them, is an inscription under the library's west window that has served as my guiding intellectual principle: "Read not to believe or contradict, but to weigh and consider."

Per this inscription, which is an abridgement of a passage by Sir Francis Bacon, we readers ought to approach knowledge as a means of enhancing our judgment and not as fodder for proclamations or discord. The generations of scholars poring over Marx, for example, should seek to observe his theories of economic determinism in the world, not immediately begin to foment a riot in the drafty reading room at Harper. The reader may contend, though, that too much weighing and considering could lead to inertia, or worse, to a total lack of conviction. The Harper inscription, however, does not tell its readers to believe in nothing, nor does it instruct them never to contradict a false claim. Instead it prescribes a way to read. The inscription warns us to use knowledge not as a rhetorical weapon, but as a tool for making balanced and informed decisions.

On the cruelest days in February during my undergraduate years, when I asked myself why I had not chosen to pursue my studies someplace warmer, I would head to Harper, find a seat from which I would have a clear view of the inscription, and say to myself: "That is why." On such a day in February, seated at a long Harper table with my coat still buttoned all the way up, I discovered how much I appreciated Carl Schmitt's clarity and argumentation. I marveled at the way his Concept of the Political progressed incrementally, beginning at the most fundamental, linguistic level. As an anthropology student, I wrongfully assumed that, because Schmitt was often positioned in a neo-conservative tradition, I could not acknowledge him. That day in February, I took the Bacon inscription to heart, modeled its discipline, and was able to transcend that academic tribalism. I added the kernel of The Concept of the Political, Schmitt's "friend-enemy" dichotomy, to an ever-growing array of images and ideas that I had accumulated, among them Marx's alienation, C. S. Peirce's indexicality, and Pierre Bourdieu's graphical depiction of social space. This patchwork of theories and descriptive models, when weighed and considered, informs my understanding of new ideas I encounter.

The academic dons who decided to place the Bacon quote under the western window intended that the idea would transcend the scholastic realm of its readers. Indeed, in my work as a financial analyst for a publicly traded company, it is often a professional touchstone. Though each day in the world of corporate finance is punctuated with deadlines and requests for instantaneous information, I am at my best as an analyst when I consider all of the data thoroughly and weigh the competing agendas. Like emulsified oil and vinegar that separate over time when left undisturbed, the right answer will emerge from among all of the wrong answers when I take the time to consider all of the possibilities. An extra hour spent analyzing an income statement can reveal even more trends than could a cursory glance. Moreover, the more I weigh and consider when I have the opportunity, the more I enhance the judgment I will need to make quick decisions and pronouncements when I do not have time.With inner vision sharpened by years of consideration, I am able to "see into the life of things," as Wordsworth described in writing of "Tintern Abbey."

Wordsworth's memory of the abbey provided him much-needed transcendence in moments of loneliness or boredom. The memory of the inscription under the west window at Harper—"Read not to believe or contradict, but to weigh and consider"—has a similar function. For Wordsworth, Tintern alleviated emotional anguish; for me, the Bacon inscription reaffirms a sense of intellectual purpose. The words under the window, their meaning, and the very curvature of the letters in the stone are fixed in my mind and will continue to be as I enter the life of the law. What intrigues me most about legal education is the opportunity to engage simultaneously in the two complementary processes the Harper inscription inspires in me—building a foundation of theories and descriptive models while enhancing my judgment with practice and patience.
Evan Rose, '13
EDUCATION: University of Otago (New Zealand), BA in Philosophy (1999)
WORK EXPERIENCE: Ski and Snowboard Schools of Aspen/Snowmass, Eurospecs Limited (NZ)
LAW SCHOOL ACTIVITIES: LSA 1L Representative, BLSA, Student Admissions Committee

As I tumble through the air, time seems to slow. I have fallen hard many times before, but even before I hit the ground I can tell this fall is different. I complete one and a half back flips and slam shoulders-first into the slope. As I lie on the hill, the snow jammed into the hood of my jacket begins to melt, and icy water runs down my back. I do not yet know that the impact has broken my neck.

I grew up only a short drive from some of New Zealand's best ski resorts, but my family could never afford ski vacations. My first opportunity to try snowboarding came on a trip with my university flatmate.With expectations shaped purely by the media, I left for the trip assuming snowboarding was a sport for adrenaline junkies, troublemakers, and delinquents. Much to my surprise, I instead found that it provided me with a sense of peace that defied these preconceptions.

Anxiety had been a constant companion throughout much of my childhood. I had not always been this way, but years of physical and psychological abuse at the hands of my stepfather had taken their toll. My once carefree demeanor had changed, leaving me fearful, panicky, and timid. On a snowboard these feelings faded into the background for the first time in years, and the difference was profound. I never truly realized the pain I had endured until riding gave me the opportunity to escape it. I sought out every possible opportunity to go riding, and through the sport I pushed the limits of both my physical and mental courage. Snowboarding became a vehicle for regaining the confidence and self-worth that had been taken from me through the injustice of abuse. Even as I began to ride competitively in boardercross racing and halfpipe, launching myself into the air over sixty-foot jumps, the sense of peace I gained during my first day on a snowboard stayed with me. It did, at least, until that April afternoon.

As I lay in a hospital bed a few hours after my accident, an overwhelming sense of fear replaced any confidence that snowboarding had instilled in me. I faced the prospect of a lengthy and complicated surgery, with no certainty about the outcome. I knew my shattered vertebrae could easily leave me paralyzed. I was lucky to be alive, but any sense of luck eluded me as pain sent me in and out of consciousness. Two days later, surgeons worked for seven hours to rebuild my neck. I awoke to learn that I had escaped any serious nerve damage. However, I would need to be immobilized by a brace twenty-four hours a day, and for over three months, before I could even contemplate rehabilitation.

Those months passed slowly. When I was finally able to start the process of rehabilitation, I made recovery my full-time job. I quickly learned that pain was to become the central reality of that year. The first day I could walk to my mailbox marked a significant achievement. Determined to return to full health, and even hoping to eventually return to riding, I gritted my teeth through the daily therapy sessions. At each subsequent visit, my doctor expressed his surprise at the progress of my recovery. Only twelve months after my injury, he cleared me to make a few careful runs on an easy, groomed slope. While I made it through those first few runs safely, they left me shaking with fear.

Since then, I have again found joy in riding, but no amount of determination will allow me to ride the way I had before. I won't be attempting double back flips again any time soon. Rather than focusing on my own riding, I now direct my energy into coaching. My experiences showed me the transformative power of courage and self-confidence, and taught me to build these qualities in others. At the Aspen Skiing Company, I develop and implement teaching curricula for more than two hundred snowboard instructors. My goal is for my fellow coaches to recognize that snowboarding can offer much more than just a diversion. It has the potential to have a profound and inspiring impact on their students' lives.

In the ample time my recovery allowed for reflection, I found solace in the fact that the abuse in my childhood fostered in me not bitterness, but an enduring dedication to fairness and justice. As a college student, this dedication led me to seek out classes in ethics and morality. As a manager and leader, I strive to display both courage and enduring fairness. My interest in the legal profession stems from my belief that laws represent the concrete expressions of justice and fairness in our society.

After discovering the salvation it held for me, I believed that I was reliant on snowboarding. Yet, being forced to face the grueling process of rehabilitation without it allowed me to take the final step to recovery from the trauma of my childhood. I realized I am much stronger and more resilient than I had previously believed. I realized that courage is not something that snowboarding gave me but something that has always been within me. These realizations have prepared me to broaden the scope of my dedication to justice. Secure in the knowledge that the courage and determination I have shown will help shape my future success, I am now ready to take on this new challenge: the study and practice of law.