A Superior View
New SCOTUS Clinic Builds Skills and Political Capital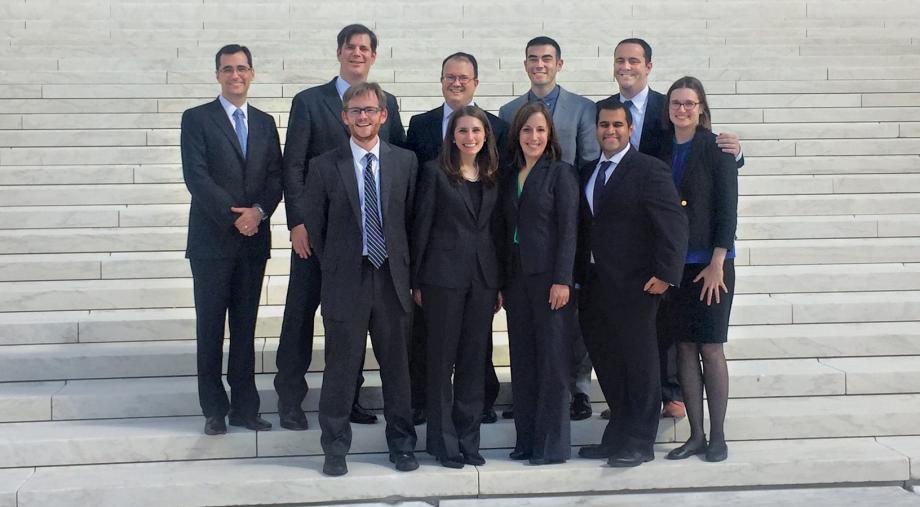 One afternoon a few weeks into the school year, Joshua Pickar, '17, spent three hours in a Washington, DC, hotel conference room hammering a former Illinois solicitor general with questions. The preparation session was intense and tiring, but it was worth it: the next day, Pickar watched as the lawyer, Law School Lecturer Michael A. Scodro, faced many of the same questions—this time from the eight justices of the Supreme Court of the United States.
Scodro excelled during oral argument, and Pickar—who had been working on the case, Manuel v. City of Joliet, through the Law School's new Jenner & Block Supreme Court and Appellate Clinic—felt a rush knowing he'd played a part in preparing him. Equally exciting was hearing the justices use language he and the other three students in his clinic had written in the brief before the Court, which centered on the relationship between the tort of malicious prosecution and the Fourth Amendment.
"To hear the justices speak about our own ideas and words was just really rewarding and invigorating," Pickar said.
The Supreme Court and Appellate Clinic, which the Law School launched last spring in partnership with Jenner & Block, gives students a chance to work with experienced litigators on US Supreme Court and federal appellate cases. Three of the four initial student members of the clinic—all but Pickar—graduated in the spring, opening up spots for new students this fall. The clinic currently has six students, with plans to continue to grow to approximately 12 students per quarter. According to clinic student Annie Gowen, '17, the clinic is poised to be "one of the best appellate clinics in the country."
Professors Sarah Konsky and David Strauss, Lecturer Michael Scodro, and Jenner & Block partner Matthew Hellman (on screen) talk to clinic students.
Promise of the clinic's launch is part of what led Pickar to transfer to the Law School at the beginning of his second year. Still, he never dreamed that he'd get to sit in the highest court of the land, listening to an argument that he had helped both brief and moot. Pickar was surprised that the clinic landed a merits case at all, let alone during its first week. He had expected to be assigned part of a petition-stage amicus brief, and with good reason: the Court grants roughly only one of every 100 petitions for certiorari.
Success on this front has continued into this academic year. The clinic currently is co-counsel for the petitioners in two additional Supreme Court merits cases. The first case, Honeycutt v. United States, involves the question of whether federal law mandates joint and several liability among co-conspirators for forfeiture of the reasonably foreseeable proceeds of a drug conspiracy. Another, Kokesh v. Securities and Exchange Commission, raises the issue of whether a five-year statute of limitations applies to certain claims for disgorgement. The clinic's students have been hard at work on these cases—debating potential strategies, researching legal issues, and drafting arguments.
"The big issue for Supreme Court clinics is there are very few Supreme Court cases, and everybody wants them," said David A. Strauss, the Gerald Ratner Distinguished Service Professor of Law, who co-leads the new clinic with Jenner partner Matthew S. Hellman. An assistant solicitor general of the United States before joining the Law School in 1985, Strauss has argued 18 cases before the Court, and he coedits the Supreme Court Review with professors Geoffrey Stone and Dennis Hutchinson.
Josh Wilson, '17, and Annie Gowen, '17
Assistant Clinical Professor of Law Sarah M. Konsky, '04, who supervises students day-to-day as the clinic's director, agreed: "We have been quite fortunate to have three Supreme Court merits representations in our clinic's first year. These cases have been tremendous learning opportunities for our students." 
Konsky also co-teaches a Supreme Court and Appellate Advocacy seminar, a clinic prerequisite, with Scodro. She joined the Law School last year from Sidley Austin, where she was a partner focusing on appellate and trial court litigation.
"Any Supreme Court litigator will tell you this: you never know where the next case is coming from," Strauss said. "And we're in the same position; you can't count on a steady stream of cases. But, you know—knock wood—so far so good."
In addition to its work on the three merits cases, the clinic has filed merits-stage amici briefs in two cases: Peña-Rodriguez v. Colorado and Endrew F. v. Douglas County School District RE-1. The former concerns whether a rule prohibiting jurors from impeaching their verdicts constitutionally may be applied to bar evidence of racial bias. At issue in the latter is what level of educational benefits the Individuals with Disabilities Education Act (IDEA) requires.
The clinic students work closely with the faculty and clinic partners from Jenner. For all its cases, the clinic's first step is the same: decide as a group whether to get involved. The clinic leaders are "very flexible" and "open to whatever suggestions we have about taking a case," said Jeongu Gim, '17, who joined the clinic this fall.
Jeongu Gim, '17, and the clinic's director, Sarah Konsky
Part of the calculus in deciding whether to file an amicus brief is "political capital," Pickar said. You have to ask what your "value add" is—how you as a clinic might be able to put an "interesting spin" on things that might influence the justices. In Peña-Rodriguez, for instance, clinic members decided to file their amicus brief on behalf of the National Association of Federal Defenders to try to show that the practice the defendant in the case was advocating seemed to work successfully in many jurisdictions. In Endrew F., the clinic filed on behalf of 118 members and former members of Congress who had been involved in enacting the statute that the Court was interpreting.
"Not being just carbon copies of other Supreme Court clinics has really stood out to me, because it's kind of a transferrable skill," Pickar said. "If you start a new company or organization, what is going to be different about it? What's its value add? There's kind of both the political part of the clinic and the legal part, and seeing how they interact has been really exciting."
Step two? Strategize. The students discuss how best to present the case at hand: what arguments to make and what arguments to avoid.
Right after that usually is research. Konsky breaks down the work into specific projects for each student each week. For Endrew F., for example, the students dug deep into the legislative intent behind the IDEA—from the original 1975 precursor to the IDEA, all the way through the most recent amendments to it.
"This is the only time in law school I've gotten experience doing legislative history research," Gowen said. "If you're on a journal, you can get a little bit of exposure to that; you learn how to use Hein for statutes. But trying to find substantive points is much different from cite checking a quotation."
Gim said Konsky does a "really good job" of ensuring the students do only substantive work. "She makes sure that whatever time we put into the clinic really benefits us," he said.
Konsky similarly noted that she and the other clinic leaders are very focused on the clinic's goal of teaching students to be strong appellate advocates, and they make that a key consideration when crafting student projects and experiences. 
"We really want our students to feel and to be part of the team and to be immersed in the process right alongside the partners and the others who are working on the case," Konsky said.
Alexandra Waleko, '17, speaks during a clinic meeting.
And Jenner & Block is always there to help, students said.
"I'm happy we have Jenner's support, because they have an amazing team, and they are always there if things get really crazy, like if one of the legislative history reports is 1,000 pages," Gowen said.
During weekly clinic meetings, the pieces of the puzzle come together. The students talk about what they've found and how to integrate it, which allows them to see the relevance of each of their individual contributions.
Next comes writing, editing, writing, editing—and then some more writing and editing. Often, after a student has researched a particular issue, he or she drafts that argument or section of the brief.
Gowen is grateful for the "incredibly detailed feedback" she has received on her writing through the clinic—"something you don't get really at all in law school, outside of maybe 1L Legal Research and Writing." 
"Your writing changes so much from the end of 1L to the beginning of 3L, especially after you've completed your 2L summer job," Gowen said. "I really felt like I needed to get some more of that detailed, intensive feedback before graduation, and so I'm really glad I got the opportunity to do that."
Gim noted that he has benefited from the collaboration among the attorneys, students, and sometimes clients. "All these different people having different voices and writing styles, but seeing [it] all come together—just one, single, coherent brief—was just a really cool experience."
He also stressed that one doesn't need a particular career trajectory to have such a positive experience with the clinic. He, for one, will be joining Skadden in DC to do regulatory work when he graduates.
And Pickar recently won a Rhodes Scholarship, which he will use to pursue a master of philosophy in International Relations at the University of Oxford next fall.
Some students do have their sights set on the Supreme Court, or appellate practice more broadly. Gowen, for example, will be starting a clerkship on the Seventh Circuit next year. She said she is drawn to appellate law in part because of the strong focus on writing and diverse, engaging subject matter.
Yet even for students who don't want to take that route, the skills honed within the clinic—strategic thinking, analytical skills, good writing, working well on a team—will be essential throughout their careers.
Strauss also hopes students will walk away from the clinic with a strong sense of how the Supreme Court thinks about cases, and how that thinking affects litigation in the lower courts.
"The Supreme Court has a view of how litigation is proceeding, and what issues are important, throughout the country," he said, and lawyers involved in litigation before the Supreme Court have to think the same way. "For students to have an idea of how the system looks from that point of view—I think that's a valuable thing for any litigator and, in fact, for any lawyer in the United States." 
Editor's Note: After the print version of this story went to press, the Supreme Court ruled on three cases on which the clinic worked. The Court ruled in favor of the position taken by the clinic in both Pena-Rodriguez and Endrew F. On March 6, the Court ruled 5-3 in Peña-Rodriguez that the no-impeachment rule must give way when there is evidence that jury deliberations were swayed by racial bias. The clinic's brief on Peña-Rodriguez, filed on behalf of the National Association of Federal Defenders, argued that there is a long history of allowing jurors to impeach their verdicts to ensure fairness. On March 22, the Court ruled unanimously in Endrew F. that schools may not settle for minimal progress for disabled students. The clinic's brief on Endrew F., filed on behalf of 118 members of Congress, argued that IDEA was meant to "consistently and clearly" raise expectations for the quality of education provided to students with disabilities.
On March 21, the Court issued a 6-2 decision in Manuel v. City of Joliet. The majority decision did not reach the question of the relationship between the tort of malicious prosecution and the Fourth Amendment. It instead acknowledged that a Fourth Amendment claim could survive the initiation of legal process in a case, and remanded the case to the Seventh Circuit to determine the parameters of such a claim—including when it accrues—in the first instance. 
Career development