Brad Hubbard, '13: A "Rising Star" Credits Law School Community with Paving Path to Success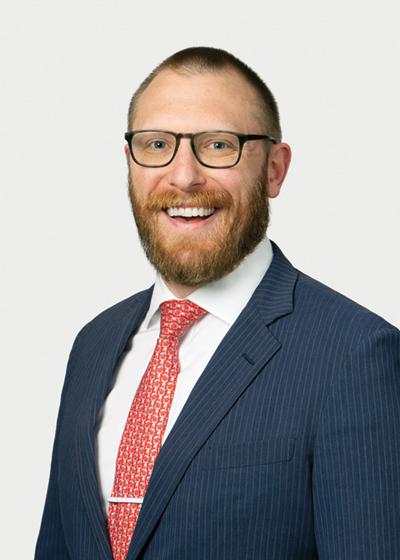 Brad Hubbard, '13, was named Kentucky's outstanding male student athlete in his senior year of high school, a swimmer who was undefeated in dual meets and won the state championship in his event. He starred in college swimming, too, captaining the nationally ranked University of Missouri team and being named an Academic All-American.
Now he's a different kind of star, a "rising star" among lawyers under 40 as designated by Law 360 earlier this year. It's an accolade that goes along with Lawdragon describing him as someone "who will define where the legal profession of our country goes" and "whose leadership will be called upon by businesses and individuals," and by Best Lawyers in 2022 and 2023 as "one to watch."
Calling him a "rising" star might be understating the case; his star is already shining very brightly. As a partner in the appellate and constitutional law practice group at Gibson Dunn & Crutcher's Dallas office, his representation of clients before the US Supreme Court, the Texas Supreme Court, and state and federal courts of appeals throughout the country has resulted in, among other things, reversing the largest judgment in the 160-year history of the False Claims Act; reversing a half-billion-dollar jury verdict and other seven- and eight-figure verdicts; winning several eight-figure arbitration cases; and protecting a social media giant from liability for third-party content generated by its users.
"Maybe even more than most Law School graduates, I attribute my career path and professional success to the Law School," Hubbard said. "There was the great education, of course, but there are also the people. Fellow Law School alums have guided and mentored me in immeasurable ways."
Prerak Shah, '10, was working at Gibson and suggested to Hubbard that Gibson would be a great place for Hubbard to work before Hubbard began a clerkship on the Eighth Circuit. When Hubbard rejoined Gibson after the clerkship, the cochair of the firm's national appellate and constitutional law practice group was James Ho, '99. "He created opportunities for me that I never imagined I'd have so early in my career, including, just a few years after joining the firm, arguing cases in the federal courts of appeals and serving as lead counsel in a case we won at the US Supreme Court," Hubbard recalled.
When Ho became a federal court of appeals judge in 2018, Hubbard joined him to help set up chambers and serve as one of his inaugural law clerks. When Hubbard returned to Gibson, the new head of the appellate and constitutional law practice group was Allyson Ho, '00. "Even though I was only a fifth-year lawyer, Allyson put me in front of clients, vouched for me, created opportunities—which included arguing an eight-figure appeal while still an associate—and trusted me to come through," Hubbard said. "And Judge Ho and Allyson Ho have not only been amazingly supportive mentors; they have modeled what it looks like to practice law with courage, principle, and dedication."
At the Law School, where he was managing editor of the Law Review, a Kirkland & Ellis Scholar, and vice president of the Federalist Society, Hubbard was also a member of the Texas Law Society. "Even though I hadn't lived in Texas, I was drawn to Dallas as a place where I could have a top-tier practice at a top-flight firm while also having a more family-friendly quality of life," he said. "It has turned out that way. Gibson's appellate practice is second to none, and I couldn't be happier than I am to be living here with my wife and our son and daughter. I've been blessed in so many ways, and I look forward to building the brightest future for our outstanding practice and my wonderful family."