Opening a Door to Legal Academia
New Student-Led Symposium by Chicago Journal of International Law Highlights Student Scholars, Faculty Engagement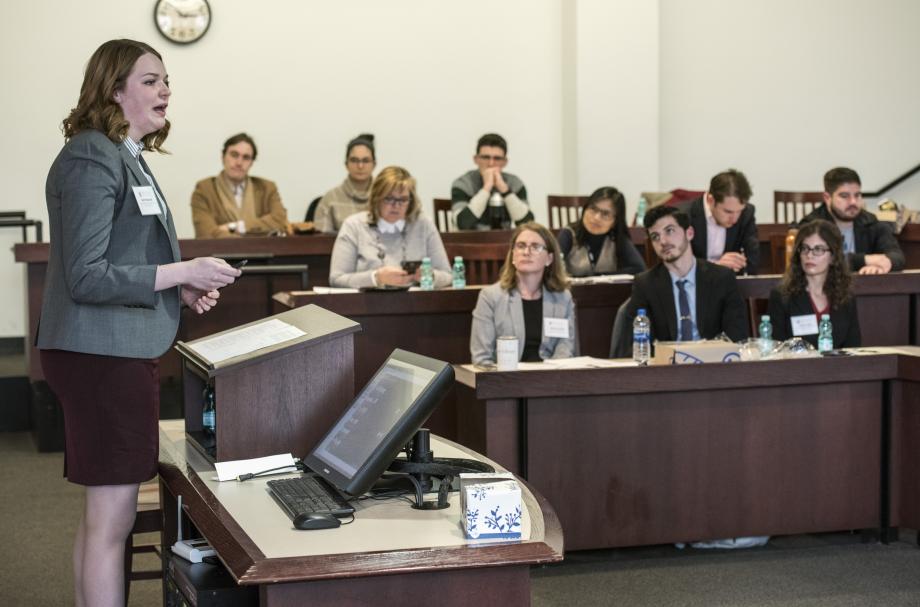 Sahar Segal, '20, had covered a lot of ground since August. She'd spent months researching international law, writing drafts of a paper on human rights and housing affordability, and, more recently, mooting the presentation she was about to give to nearly a dozen Law School faculty and at least 30 current and admitted students, staff, and members of the public.
Now, standing at the podium in the front of Room V, Segal explained her theory: Rather than focusing on policies like rent control, maybe housing unaffordability was a problem of supply and demand—something, perhaps, that governments could address more effectively through zoning reform. If states applied an economic approach, Segal said, they could increase supply or reduce demand and allow the internationally recognized right to housing to be more fully realized.    
Faculty members were intrigued.
During the question-and-answer period, Professor Adam Chilton called the approach "refreshing."
"You make compelling arguments, but then take a middle ground approach," he said. "Why? I think you can push this further."
Professor William Hubbard concurred, challenging Segal just as he would with a faculty colleague.
Segal and two other students, Beth Macnab,'20, and Osama Alkhawaja,'20, were featured presenters during the Chicago Journal of International Law's inaugural symposium, "International Law and the Twenty-First Century"—a student-driven event designed by CJIL's executive board to give their peers a chance to experience workshop culture and contribute to legal academia.  
"I have been in conversations with many professors and students focused on the question of how to make legal academia accessible to all interested students," said Laurel Hattix,'19, the journal's editor-in-chief. "We want staffers to be able to debate the merits of their arguments and make their scholarship accessible to a wider audience."
It was the latest in a series of opportunities at the Law School aimed at potential future scholars.
"This year has marked an inflection point in the growth of opportunities for students at the Law School to develop and present their own research," Hubbard said. "The Junior Scholars Colloquium and PALS [Psychology and Law Studies] Lab are new forums where students can present their original research. But the CJIL symposium was the capstone for the year. A large audience went back and forth with the presenters in the way that you see at the best faculty workshops and conferences."
The symposium began with a lunchtime lecture by Chilton, an assistant professor of law and a Walter Mander Research Scholar. The day concluded with a keynote address by Senior Lecturer Diane Wood, chief judge of the Seventh Circuit Court of Appeals, followed by a celebratory reception.
During the session, each student spoke briefly about his or her paper—which in journal-speak is called a "comment"—and then answered audience questions, often engaging in energetic exchanges. Afterward, the presenters were all smiles, scribbled notes in hand.
"My favorite part was engaging with students and professors about my comment," Segal said, reflecting on the day.
Macnab agreed.
"The symposium was a wonderful opportunity to present my work in front of my peers and faculty in order to get useful, detailed feedback," Macnab said. "The experience felt much like a University of Chicago workshop—the faculty rigorously questioned my work, pushing to find the weakest points in my argument. That supportive, yet challenging, exercise was exactly what I was looking for."
In her presentation, she argued that international human rights agreements protecting people with disabilities should be interpreted to extend to individuals living with HIV. She not only made her case but highlighted how legal academia can be a resource for advocates. She outlined steps that nonprofits could take to combat stigma and lobby for reform of discriminatory laws and policies.
Alkhawaja, whose research focused on the current state of corporate accountability under international law, said the experience had helped him refine his ideas.
"Distilling several months of research and writing into a short presentation forced me to learn how to articulate my thesis in a cogent manner," he said. "And now, after fielding questions from expert faculty members and critically engaged students, I'm going back to the drawing board with insights on the strengths and weaknesses of my argument."
Members of the Chicago Journal of International Law (CJIL) develop original comments as part of their membership on the journal. Ordinarily, each comment undergoes several rounds of edits from the journal's editors and executive board, as well as from the student's faculty advisor.
But this year was different. CJIL's executive board saw an opportunity to engage a broader cross-section of the Law School community in the process.  
While conceptualizing the symposium, the board drew inspiration from faculty workshops—a dynamic part of the academic lives of law professors at the University of Chicago—and the Salzburg Global Cutler Fellows Program, a program that annually provides students from the top 11 law schools with an opportunity to share their international law scholarship during a weekend in Washington, DC.
To help prepare students for the symposium, Tom Ginsburg, the Leo Spitz Professor of International Law and Ludwig and Hilde Wolf Research Scholar, agreed to moot Segal, Macnab, and Alkhawaja's presentations earlier in the quarter.
"This was a terrific initiative of the CJIL editors," said Ginsburg, who serves as the journal's faculty advisor and participated in the symposium. "The student papers were superb, and the engagement could not have been better. This is exactly the kind of thing we need more of."
The Chicago Journal of International Law was established during the 1999-2000 academic year and publishes twice a year. Each issue features a select number of comments chosen for publication. CJIL membership is competitive. Law students are invited to be a part of the journal either as a result of their participation in a writing competition the summer after their 1L year or as a 2L or 3L through the journal's topic access program.
Organizers of this year's CJIL symposium hope that it will become a tradition, a sentiment shared by faculty members who participated in the discussion, some of whom have even volunteered to be part of the event next year.
"I really enjoyed the student presentations at the CJIL symposium," Hubbard said. "One of my favorite things about the Law School is its strong workshop culture—reading a paper and then having a great discussion about it with the author and your colleagues. That was the experience for me at the CJIL symposium, reading the student papers and participating in their talks. And I'll add that the students were fabulously well prepared."