Creating a National Community for Muslim Law Students
UChicago Law Students Co-Host National Conference Aimed at Creating New Network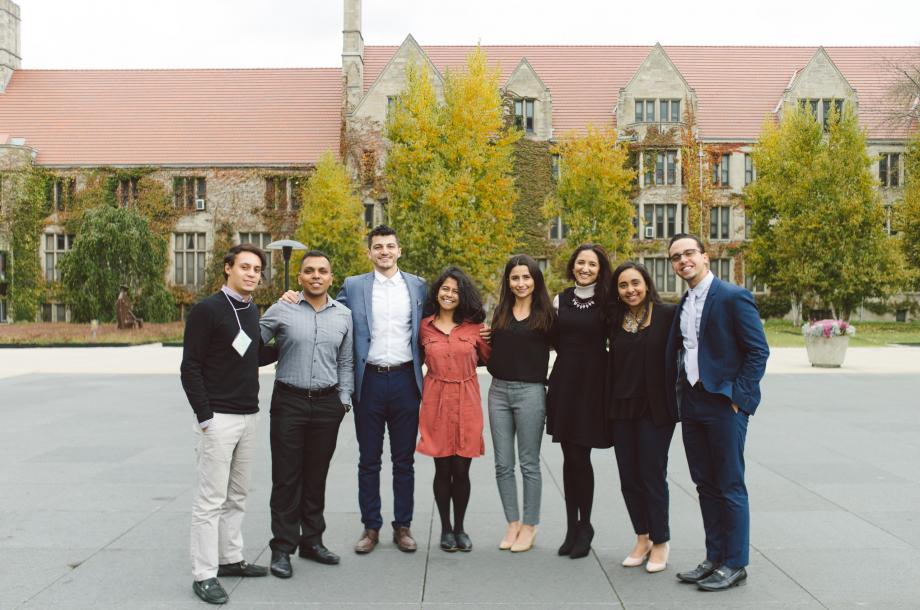 My classmate Leena El-Sadek, '20, still remembers exactly where she was when the news broke in January 2017 that President Donald Trump had signed an executive order temporarily blocking travel from seven Muslim-majority countries. An American Muslim who was working as a research analyst in North Carolina at the time, El-Sadek told me she had felt something "close to despair" ever since then-candidate Trump had called for a "total and complete shutdown of Muslims entering the United States" at a 2015 rally in South Carolina.
As the "Muslim ban" battle unfolded—with revised executive orders and legal challenges ultimately landing before the US Supreme Court—Muslims across the United States pulled together to protest the restrictions and advocate for their rights. El-Sadek and I, like many young Muslim Americans, wanted to be part of this effort, and the following September we both entered the University of Chicago Law School. But although we found a strong community in the Muslim Law Students Association (MLSA) at UChicago, there wasn't a national organization tying us to our peers across the country.
Now, two years later, we are part of changing that.
Last month, the University of Chicago and Northwestern MLSA chapters co-hosted the National Muslim Law Students Conference, drawing more than 70 Muslim law students from more than 28 law schools and 15 states—one of the largest gatherings of Muslim law students in the country. The conference, aimed at establishing a national community, network, and support system for Muslim law students, followed an inaugural event held in 2018 at Yale Law School. In addition to El-Sadek and me, the UChicago planning committee included Ariya Serbest, '20; Mazen Osman, '20; Maheema Haque, '20; and Nyle Hussein, '21.
The conference, which included workshops led by Muslim leaders in the legal profession and networking and community-building opportunities, was a critical step toward developing an institutional framework of leadership to ensure that Muslim voices are supported and heard in the legal world. During the event's second day, which was held at the Law School, attendees gathered throughout the first floor, from the Green Lounge to the courtroom corridors, exchanging stories, networking, and relishing the opportunity to inhabit a space that was created by Muslim law students for Muslim law students. Some students were the sole representatives from their respective schools, and for many, this conference was the first opportunity to engage with other Muslim law students, Muslim professors, and Muslim attorneys.
"I was surprised to see that we all had similar experiences and sentiments as Muslim students in various institutions across the country," Serbest said. "The connection I felt with the attendees was instant because of these shared struggles and goals."
Sharing Stories and Strategies
The keynote address was kicked off by Sarah Gad, '20, a member of the University of Chicago MLSA chapter running for US Congress in Illinois' 1st District. Gad shared her story to the conference attendees, explaining how her faith helped her persevere through her lowest moments, and how her run for political office is rooted in a love and concern for her community.
The Islamic Scholarship Fund sponsored the "Paths to Public Interest" panel, during which representatives from Muslim Advocates, the New York Attorney General's Office, CUNY Law, and the Council on American Islamic Relations (CAIR) shared their experiences in pursuing careers in public interest. They highlighted, among other issues, challenges regarding Muslim representation in their respective careers, and what tools they utilize to address the shortage of Muslim voices. Attendees were also able to attend panels and workshops on legal academia and private practice.
A reception at the Law School gave Muslim students, many of whom do not drink for religious reasons, an opportunity to network with potential employers in an alcohol-free environment. Attorneys and recruiters from Kirkland & Ellis, Schiff Hardin, Sidley Austin, Skadden, the ACLU, the Cook County Public Defender's Office, and Palestine Legal were in attendance.
"It was a very rewarding experience to see Muslim students and lawyers connect and bond over a facet of their identity that they might not always get to express within a law school classroom," Haque said. "The conversations started were rich and diverse in nature because of it."
The conference also included a strategy session that allowed representatives from each law school to discuss challenges facing Muslim law students, including efforts to work with their schools to accommodate Ramadan schedules and prayer spaces, incidents of Islamophobia, low representation of Muslims in the legal profession, and a shortage of networking and genuine mentorship opportunities. Attendees brainstormed solutions and voted on creating a national institutional structure in which they could maintain the connections and conversations while continuing to share resources.
By the time the National Muslim Law Students Conference concluded, other participants and I agreed that it had achieved a simple yet necessary goal: to create a community where none existed before. I'm proud of the efforts Law School students are making to promote and ingrain diversity and inclusion on campus and in the legal profession writ large. By convening Muslim law students for this event, our MLSA chapter created a foundation for future projects and initiatives to flourish.
"I came to law school thinking I wouldn't find any one like me, let alone a community that empowers me as much as this MLSA does," El-Sadek said. "The friends and memories I have gained throughout planning and hosting this conference has been the greatest reward of my law school experience. I will never forget it."
Osama Alkhawaja, '20 is a member of the University of Chicago Law School's Muslim Law Students Association.