"This is a Moment to Build on Our Strengths": A Discussion with Dean Thomas J. Miles
Thomas J. Miles found his intellectual home at the University of Chicago. He earned his PhD here, and he joined the Law School faculty in 2005, a year after arriving as an Olin Fellow in Law and Economics. In the past decade, the Law School's culture has influenced him in profound ways: it taught him that the best scholars and leaders welcome tough questions, that the intersection of disciplines can create fascinating lines of inquiry, and that a small faculty benefits from the ability to engage constantly and intensely. It was at the Law School that Miles discovered that he loves to teach.
On November 1, Miles, the Clifton R. Musser Professor of Law and Economics, became the Law School's fifteenth dean, taking the helm at the very place that helped shape his vision, ideals, and dedication to rigorous inquiry. Now he will help shape the Law School, building on recent successes from nearly every corner: powerful new initiatives, a faculty that is larger and stronger than ever before, a diverse student body, and an alumni base that is engaged, and that he hopes to engage further.
With this foundation in mind, Miles sat down with Assistant Director of Communications Becky Beaupre Gillespie in early December to discuss the Law School's future, the keys to its strength—and the wonders of nature that can be seen from the Laird Bell Quadrangle, if one knows when and where to look.
GILLESPIE: I know it's only been about a month since you became Dean of the University of Chicago Law School, so let's start by looking toward the future: what most excites you about the months and years ahead?
MILES: I am a product of the University of Chicago, and what makes the University as a whole—and particularly the Law School—an incredibly special place is its commitment to both outstanding scholarship and outstanding teaching. I am most excited about making sure that we continue to preserve, nurture, and foster those two values.
GILLESPIE: What do you hope to accomplish as dean?
MILES: I'm very fortunate because [Interim Dean] Geof Stone and, of course, [former Dean] Michael Schill left the Law School in terrific condition; this is a moment to build on our strengths. Three broad priorities are our students, faculty, and alumni. Our students have never been more qualified, and we want to continue that. Our entering classes have never been more diverse, and we want to continue to expand and build on that. Generous scholarship programs such as the Rubenstein Scholars Program have been crucial in ensuring that we have the most qualified and intellectually curious students. With respect to faculty, we've grown to 38 full-time faculty members, which is an all-time high. In growing the size of the faculty, we have added truly outstanding colleagues who excel both as scholars and teachers. This growth has reinforced the Law School's robust culture of engagement. Our culture is a key to our strength. It is why our faculty are such productive and great scholars and why they're such effective teachers—it is a small faculty, and they engage with each other continuously. A third priority is alumni, and we plan to continue to engage with them in person as we always have—for instance, through Reunion events, First Monday events at the beginning of every Supreme Court term, and visits by alumni who mentor and speak to our students. But we also are exploring ways to use technology to share the intellectual life of the Law School with our alumni. For instance, this summer Randy Picker [the James Parker Hall Distinguished Service Professor of Law] taught a MOOC, "Internet Giants: The Law and Economics of Media Platforms," which enrolled more than 12,000 people from around the world. An exciting part of the design was a special layer for university alumni; this is one way we help ensure that intellectual engagement doesn't end at graduation.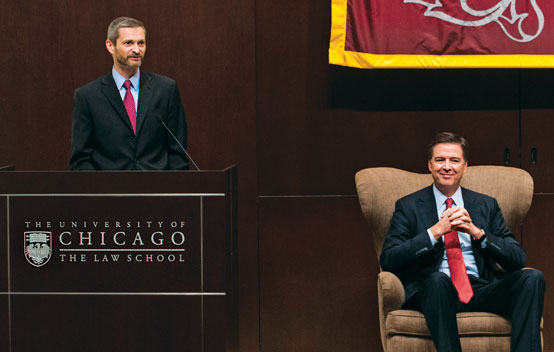 In one of his first public appearances as Dean-designate, Miles introduces FBI Director James Comey, '85, to a packed Law School Auditorium.
GILLESPIE: Speaking of culture, how has UChicago shaped you as a scholar, a thinker, and a leader?
MILES: Well, most directly, it convinced me that I wanted to spend my career doing law-and-economics scholarship and, particularly, that I wanted to focus on empirical analysis. At a more general level, the UChicago culture has influenced the way I think about and evaluate scholarship: I value scholarship that is analytical and clearly reasoned. One of the things I most enjoy about our workshops at the Law School is the way in which we question and interrogate the line of argument when a speaker presents a paper. It is deeply satisfying to see and participate in that questioning, and it has shaped the way I evaluate scholarship. It is often said that the response to a tough and challenging question should be, "Thank you." I think about leadership in the same way: We have high expectations for what we want from our leaders, and faculty are not shy about letting leaders know when they have not met expectations. That's the only way to improve, and the only way to know a direction we're taking is the right one. I see a parallel between our approach to scholarship and how we think about leadership in the Law School. We have to welcome close evaluation and tough questions.
GILLESPIE: In recent years, the Law School has invested resources in business and leadership programming, most notably through the Doctoroff Business Leadership Program—which offers those students a core business curriculum taught by leading Booth faculty, as well as internship, mentorship, and enrichment opportunities—and the Kapnick Leadership Development Initiative, which uses the robust ideas of brain science to help all 1L students develop the interpersonal skills necessary to build effective relationships as lawyers. What do you see for the future of these programs?
MILES: Both of these programs give our students a set of skills and experiences that prepare them for long careers in which they will work collaboratively and move into leadership roles in business, government, and law. The Doctoroff Business Leadership Program is in its third year and already has generated significant excitement. Business leaders, many of them alumni, have generously served as mentors and have applauded our students. The students have acquired a deeper understanding of the business context for legal questions that arise. The number of applications to the program has risen sharply; the word is out. With respect to the Kapnick Initiative, faculty say they've noticed that the 1L students are much more willing to speak in class. As a result, the classroom dynamic is more positive and more effective; we can focus more clearly on the ideas and the legal content. The first cohort of students who participated in the Kapnick Initiative have just completed the interview process for their summer 2L jobs, and the feedback we've received from hiring partners has been enthusiastic. They have noticed a distinct change in our students—they are more professional, they are more confident. One hiring partner, a graduate of the Law School, said that he had been interviewing students for summer positions at UChicago and other elite law schools for more than a decade, and although our students have always been good, they've never been so good.
GILLESPIE: That must have been fantastic to hear.
MILES: It's fantastic and gratifying. We have had immediate returns and immediate success with both the Doctoroff Program and the Kapnick Initiative that has been noticed by our students, our faculty, and our alums. Both programs are new to the Law School but are very much in keeping with the Law School's interdisciplinary tradition. Both of these programs also have brought us closer to Booth, and we are looking forward to strengthening and deepening these collaborations.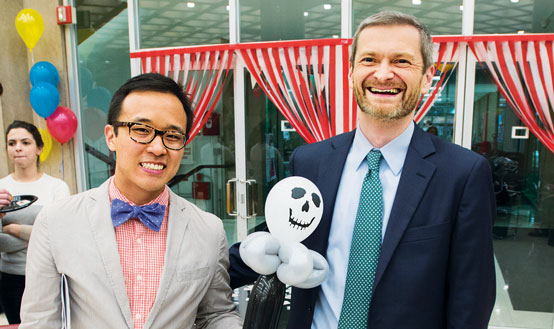 Dean Miles enjoys attending the annual CLF auction.
GILLESPIE: The Law School's public interest program has also been an area of growth in recent years with the addition of donor-funded postgraduate fellowships and the popular Pro Bono Service Initiative, among other things. How would you like to see the public interest program continue to grow—and why is this an important investment?
MILES: Just as we have many students who pursue business law, we have students who pursue public interest work—and it is equally important that we serve their needs. Students who pursue careers in public interest immediately after graduation face unique challenges, and we help them meet these challenges in three ways: support for summer public interest employment, loan forgiveness after graduation, and postgraduate public interest fellowships. We are committed to continuing these three forms of support. Support for summer public interest employment gives students the opportunity to experience public interest work, gather information to help them make decisions about their future path, and make valuable connections. Loan forgiveness is an important element in many students' decisions to pursue public interest because salaries are, of course, lower than in the private sector. We are fortunate to have seven postgraduate fellowships: the James and Patrice Comey Fellowship Fund, the Barbara and Mark Fried Fund for Public Interest, the Mikva Fellowship Program Fund, the Lillian Kraemer Post-Graduate Public Interest Fund, the Steve Marenberg and Alison Whalen Public Interest Fellowship Fund, the Charlotte Von Hoene Fellowship Fund, and the new Mark Claster Mamolen Post-Graduate Fellowship to Support Public Interest Work to Promote and Defend the Rights of Women. These have become an important bridge from graduation to permanent employment in public interest, and we hope to expand these opportunities. Fellowships like these are increasingly the career path into public interest. Most often the fellowship leads our graduate to permanent employment with the host organization; 100 percent of our students who have had these fellowships have pursued public interest careers. We're proud of the success, and we hope to provide our students more of these opportunities.
GILLESPIE: Let's talk briefly about the field in which your own scholarship is based. The Coase-Sandor Institute for Law and Economics has been particularly innovative in its use of empirical analysis—applying economic tools outside of the traditional areas and using them to examine different aspects of law, society, and human behavior. Is this a significant shift?
MILES: The Coase-Sandor Institute has been an enormous boon to the Law School. One particular area of success has been the support it provides for faculty doing empirical or quantitative research. In the past decade—and I think this is related to the influx of PhD/JDs into legal academia—there has been a greater emphasis on empirical legal scholarship. In law and economics there has always been a fair amount of empirical scholarship, but even that has blossomed in the past few years.
GILLESPIE: What do you see in the coming years for Coase-Sandor? What are your goals for the Institute?
MILES: We, of course, want to continue the research support. Coase-Sandor also provides terrific support for academic conferences, hosted by our faculty members across a whole range of topics, and that will continue. In addition, Coase-Sandor has also been creative and entrepreneurial in developing its Summer Institute in Law and Economics. Professor Omri Ben-Shahar created this project to bring in scholars from other countries and introduce them to the ideas of law and economics—and where better to learn these ideas than the birthplace of law and economics? It allows scholars to take these ideas that have been so influential in America back to their home countries, and it raises the profile of the Law School internationally among legal academics and among the next generation of lawyers there.
GILLESPIE: And this year the Summer Institute reached scholars from more countries than ever before—tangible evidence of the spreading influence of law and economics, right?
MILES: Yes, and it has been gratifying to see that growth. We will continue to foster that growth—and do it in a way that allows these people who are already legal scholars, but don't know about law and economics or haven't been exposed to it in a systemic way, to be able to learn these tools and take these ideas that have been so influential in American academia back to their home countries.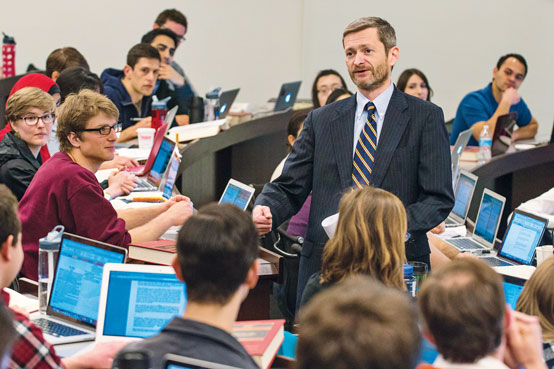 Once Dean Miles settles into his new responsibilities, he is eager to get back to teaching.
GILLESPIE: The clinics have had a big year, too. What thoughts do you have about their growth?
MILES: The clinics are at a great moment: every student who wants a clinical experience can have a clinical experience, and we have several new clinics, the newest of which is the Innovation Clinic, headed by Salen Churi [Assistant Clinical Professor of Law and Bluhm-Helfand Director of the Innovation Clinic]. Another example is the work [Clinical Professor] Craig Futterman has been doing through the Civil Rights and Police Accountability Clinic and through his work with [the Invisible Institute's] Jamie Kalven to create an astonishing database of citizen complaints about police misconduct in Chicago. It has had enormous influence, as has his work in securing the release of the video showing the shooting of Laquan McDonald. We've seen the Superintendent of Police relieved of his duties, and we've seen the creation of a new Police Accountability Task Force that includes another clinician, Professor Randolph Stone, and one of our alums, Lori Lightfoot, '89.
GILLESPIE: Will you continue to teach as dean?
MILES: Not this academic year because I'm taking on these new responsibilities, but I plan to teach next academic year and thereafter. We will decide which course later this year, but the expectation is that it's going to be a 1L course so that as many students as possible have an opportunity to meet me and to be taught by the dean.
GILLESPIE: What do you most value about working with students?
MILES: One of the most wonderful surprises when I joined the faculty was finding out that teaching is not only challenging and intellectually engaging but also a tremendous amount of fun. And it's fun because our students are so engaged and take the discussion and evaluation of ideas so seriously—it really makes it a joy. I'm eager to go back into the classroom and teach them as dean. One of the hardest things in thinking about the deanship was the fact that I would teach less.
GILLESPIE: So what motivates you on a daily basis? When you wake up in the morning, what gets you out of bed and keeps you moving forward?
MILES: Thinking about what I can do today to make the Law School better. Right now, the Law School is in a terrific place—but we can make it better still. So I think: what can I do today? There are so many different ways to do that. We can make teaching better for students and we make the curriculum better for students. We can facilitate faculty scholarship and engage our graduates. We can take the ideas that have been born and developed here in the Law School and share them with the wider world or the wider community, whether that's the academic community or the world as a whole. When we can walk out of the building at the end of the day and say we did one of those things—that's an accomplishment. So when I wake up in the morning, I think: Can we do some of that today? That's what motivates me.
GILLESPIE: Let's talk a little bit about the path that led you here. It started with an interest in law, and then an interest in economics. What drew you to these fields?
MILES: In undergrad, I majored in political science and always thought I would go off to law school and become a lawyer. But the more political science I studied, the more interested I became in economics, because economics seemed so crucial to understanding what was happening in politics. After graduating, I worked at the Federal Reserve Bank of Boston for a couple of years, and I assisted economists who were using the tools of economics and statistics to analyze regulatory problems. That was fascinating—both their ability to use the concepts of economics to generate predictions about what the effects of regulation would be, and then to use tools of econometrics, or statistics, to go out and test those predictions and see if they were borne out. That really turned my head and made me think, I want to get a PhD in economics. I was drawn to the work of the late Gary Becker [University Professor of Economics and Sociology] and I wanted to come to UChicago; I was lucky enough to come here and study under Becker, as well as great people like Bill Landes [Clifton R. Musser Professor Emeritus of Law and Economics and Senior Lecturer] and Steven Levitt [William B. Ogden Distinguished Service Professor, Economics Department and the Law School]. Once I'd finished my coursework and began to think about research questions of my own, I was increasingly drawn to questions that had originally motivated me: the effects of regulation, the effects of law. And I realized that, in order to study those questions in an effective way—in a way that would really make a contribution to scholarship and to knowledge—I needed to know more about law, too.
GILLESPIE: So you came full circle, back to that early interest in law.
MILES: I came full circle—and I decided to go to law school. As we know, it has become increasingly common for elite law schools to fill their ranks with interdisciplinary scholars who have both a JD and a PhD in economics or history or other field; I'm one who chose that path.
GILLESPIE: Before we wrap up, we'd like to hear a little bit about who you are outside of the Law School. What do you like to do when you're not working? I've heard that you're a bird watcher.
MILES: When I'm not working I enjoy getting outdoors, hiking, and observing the natural world. For reasons even I don't understand, I've always found birds fascinating. So, yes, I consider myself a "birder" or bird watcher.
GILLESPIE: So what kinds of birds do we see here in Chicago besides the obvious ones? Are there some more unusual ones that you've spotted that maybe the average person wouldn't know that we get here in Chicago?
MILES: Chicago is a great place for birds. It's on a major migratory route. The lakefront, such as Jackson Park, provides superb opportunities to observe birds and wildlife. Even at the Law School, nature is evident. I've seen a Cooper's hawk bathing in the fountain, a peregrine falcon snacking on a pigeon on the loading dock, and one winter night a coyote trotting along the Midway.
GILLESPIE: That's really neat—beauty right outside our doors.
MILES: There's much to see even in our highly urbanized area.