Let's Put On a Show! 25 Years of Law School Musicals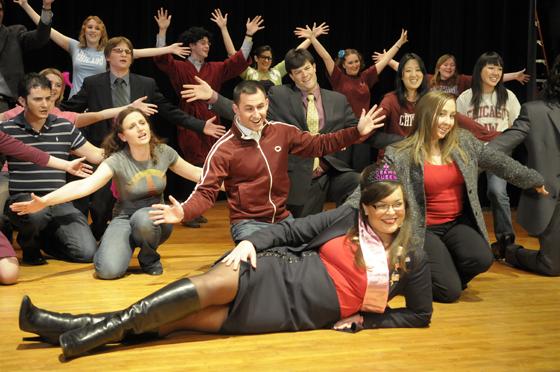 When Saul Levmore announced in early February his intention to leave his post as Dean of the Law School, little did he know that he was playing into the plot of this year's Law School Musical, Chicago First: A Musical We Can Believe In! In the musical version of reality, Dean Levmore has already stepped down, leaving the school in the hands of a market-selected (i.e.,student-elected) Interim Dean. This scenario happily drives the plot through enough twists and turns to cover the parodies of professors and laments about law school life that we have come to expect from the annual show, with just enough room to incorporate jokes and characters that resonate with our collective experience of the presidential election.
Chicago First is the twenty-fifth musical to go up at the Law School, and the show has become something of an institution. But how exactly did the tradition begin? For that we can thank Mike Salmanson, '86, Josh Hornick, '85, and Jeff Pecore, '85, who spearheaded the first show in 1983–84. That first production, Lawyers in Love, traced the budding relationships of three pairs of star-crossed first years and featured entirely original music, lyrics, and book by Salmanson and Hornick. Pecore stepped up to direct. Salmanson recalls a "healthy skepticism" among the students and faculty that first year, and that the audience clearly didn't know quite what to expect. After some "awkward chuckling" at the first song-and-dance number, attendees warmed up to the show, and it's been a popular event for participants and audiences each year since. The first show involved about twenty students; by the 1986 show, more than fifty were involved; this year's program listed sixty-five cast, crew, and orchestra members.
Owing in part to the effort required to create original music and lyrics, plots in recent years have generally followed the storyline of an existing Broadway show or popular movie, with new lyrics penned for time-tested musical numbers or popular hits. Chicago First took its plot cues from current events, but featured "When You're Good to Michele" (Dean of Students Michele Richardson, that is, sung to the tune of "When You're Good to Mama" from Chicago!) and "Here We Are Again" (to the tune of Whitesnake's "Here I Go Again"), among other song parodies.
Faculty, though often mercilessly spoofed, are generally good-natured about the show. Students eagerly anticipate which faculty member will have a cameo, information that is closely guarded until the actual appearance on opening night.
This year, Professor Richard McAdams did the honors, playing his fictional twin brother, Bob, with admirable realism. Those wanting to reminisce about past shows are invited to the Law School's Facebook page, where there are archival shots from many of the shows. We look forward to your tags, captions, and corrections and will transfer this information to our archival records. And certainly, if you have any photos to contribute, please feel free to upload them!