In Law School Visit, Judge Boasberg Discusses Career Paths, January 6 Trials, and Politicization of the Judiciary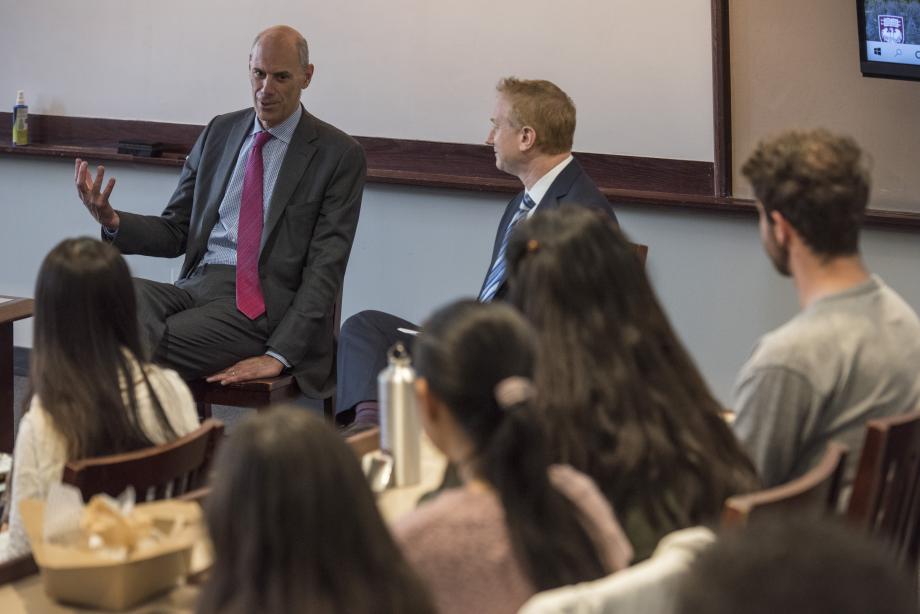 Judge James E. Boasberg of the US District Court for the District of Columbia wants law students to know that "opting is a good thing." While recognizing the persuasive draw of open options and broad training—a pitch law students are familiar with hearing from the Big Law firms that recruit them directly—Boasberg told students in recent Law School talk that "you gotta opt at some point." Otherwise, he joked, they risk a tombstone that reads, "he kept his options open."
In the third Edward H. Levi Distinguished Visiting Jurist lecture of the academic year, delivered in late November of 2022, Boasberg discussed his career path, the January 6 insurrection trials, and more. As he spoke, it became clear what Boasberg has opted for: a career centered around public service and opportunities for greater professional challenges, which have led him to his current position as a US District Court Judge.
"For me, what's great is the variety—that every day, something new could walk in the door that's high profile, that's interesting, that's complex," Boasberg said about his current role during a question-and-answer session with Professor Jonathan Masur. "It's amazing and it makes it really a fun place to work every day."
After law school and an appellate clerkship, Boasberg opted to join a small, litigation-focused firm so that he could play a more significant role in smaller cases—the second attorney on a $75,000 case, for example, rather than the 10th attorney on a $75 million case.  
He left his law firm to join the US Attorney's Office as an assistant US attorney (an AUSA), first and foremost to serve the public. It also gave him a chance to get trial experience. He said he "really had a hard time leaving" public service at the US Attorney's Office, but when he felt himself plateauing as an AUSA, he decided to apply to be an Article I Superior Court Judge, a decision driven by his aspiration to be "on the better end" of the wide spectrum of judges he'd seen in his career thus so far. Nine years later, in 2011, President Obama appointed Boasberg to the federal bench, and the Senate confirmed Boasberg in a unanimous vote.
His public service-oriented career made the discussion of his role in hearing the January 6th insurrection cases even more meaningful for attendees. In his fireside chat with Masur, the John P. Wilson Professor of Law, Boasberg described his work on the cases so far—primarily sentencing defendants who had pled guilty—and the handful of trials set for early 2023.
One difficulty, Boasberg told students, is that the January 6th trials are operating in an area with "a lot of law still to be made." Matching the defendants' alleged crimes to statutes is one challenge; as Judge Boasberg pointed out, "there were no statutes that were written that said, 'it is a criminal offense to storm the capital and interfere with the counting of certification of the electoral college after the presidential election'… No one could fathom something like this."
Boasberg said the charges have not always fit the conduct; some defendants, for instance, have pled to the misdemeanor of "parading, demonstrating, or picketing in a capitol building," which was meant to cover people yelling and disrupting Congress, not for the crime of storming the Capitol. He predicted that many questions of criminal law in these cases will end up being decided by the US Court of Appeals or the Supreme Court, such as determining what obstruction, corruption, and conspiracy means in this context.
In the January 6th sentencings that have come before him so far, Boasberg has been conscious that his remarks have the potential to be heard and absorbed by the broader public and press, given the national significance of the insurrection. In contrast with his typical criminal defendant sentencings, where there are at most a couple of people present, he felt that in January 6th cases, "it's important to say each time what's at stake."
Boasberg acknowledged that because the public increasingly perceives the judiciary as politicized, it was even more important to model apolitical behavior in the January 6th sentencing, and take the time to "explain why we're doing things, so we're seen as being thoughtful and not politicized."
Boasberg was candid, though, in acknowledging the way that times and practices around the judiciary have changed in a more political direction. For example, he said he does not like the media's tendency to describe judges according to which president appointed them—yet he admitted that he, too, sometimes wonders who appointed a judge when he learns of a specific decision. He recognized that this politicization impacts law students directly, saying it is "sort of sad" that law students might feel pressure to affiliate with conservative or liberal pipelines in order to access opportunities like clerkships. He said it is a stark contrast from 20 years ago when "the way to succeed [was] 'don't say anything controversial because that will only derail you.'"  
During a busy day on campus, Boasberg also met with students from the Federal Courts class taught by Tom Ginsburg, the Leo Spitz Distinguished Service Professor of International Law, and the Elements of the Law class taught by Lior Strahilevitz, the Sidley Austin Professor of Law. Students said they loved Boasberg's ability to combine humor, entertaining storytelling, and practical advice.  
"Judge Boasberg's talk was unique," said Nat Berry, '24, who attended the event. "While every judge who comes to campus has something interesting to say about the law, what has stuck with me about Judge Boasberg is his personality. He was engaging, candid, and funny."