In Law School Lecture, Comey Mixes Personal Stories with a Call to Service and a Lesson on Leadership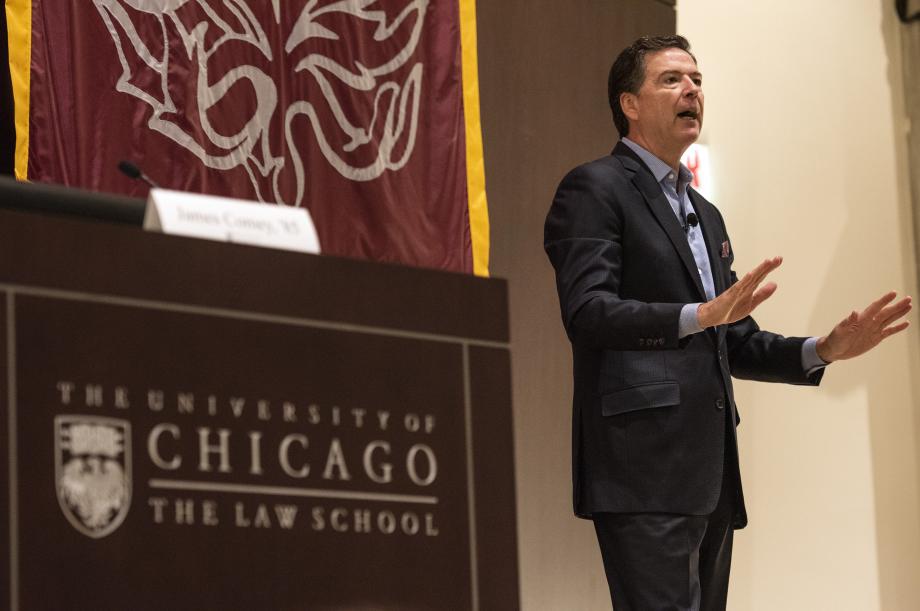 Former FBI Director James B. Comey, '85, told a packed auditorium at the University of Chicago Law School Tuesday that he thinks the United States is being "stress tested" right now but that, ultimately, the country is continuing to move on an upward, albeit jagged, slope.
"I actually believe our current president is illuminating things for us that we were taking for granted," Comey said during the 2019 Ulysses and Marguerite Schwartz Memorial Lecture, which drew hundreds of students, faculty, and other members of the University of Chicago community. "I think he is accomplishing—without intending to—a shrinking of the presidency, which I think is healthy and closer to the design of the founders, and the energizing of Congress and the courts that hasn't happened in a couple of decades. … I don't want to argue that it's a good thing that Donald Trump is our president, but I see good things happening as a result of what he's doing."
Comey's talk was at once a lesson on ethical leadership—a role he believes lawyers, and particularly Law School graduates, are uniquely suited to fill—a call to service, and a series of insights about his time as FBI director. He didn't shy away from talking about encounters with Trump or his abrupt dismissal in May 2017. ("I like that Dean [Thomas] Miles said, 'When he left government…'" Comey told the audience after Miles introduced him. "I was fired." The comment drew the first of many laughs.) Instead, Comey—who spoke without notes—used his personal stories to underscore his message about leadership, a role he said is defined by four qualities: kindness coupled with toughness and confidence coupled with humility.
"The best bosses and teachers I ever had would not want to be up here—they want to see [their students and employees] up here," Comey said. "Insecure people can't do that. An important way to measure leaders is to look at who they've launched—who worked under them and then went on to do great things."
Almost everyone, he said, suffers from imposter syndrome, which he described as "the fear that if you knew me the way I know me, you'd think less of me." But strong leaders recognize their position at the top of a hill, and know that it is their responsibility to be the one to show humility and to listen. The right kind of listening, he added, "is a confession that 'I don't know, and you might know something that I don't.'" Active listening requires vulnerability, which the listener shows by enduring silence, responding thoughtfully without interrupting, and displaying open body language, he added.
"Think about the problem created by the hill: I'm the leader at the top of the hill, and I'm afraid of being exposed. People rise when I come into a room. If I'm talking and confess I don't know something … I'm exposed," Comey said. But as a leader, he added, "it's my job to flatten the hill."
Comey said he encountered both the best listener—and the worst—during his final months as FBI director. "They were both US presidents," he said.
President Obama, he said, seemed to make it a point when they met to "flatten the hill" by sitting in the soft chairs in the Oval Office rather than behind the desk.
"He would frequently not wear his jacket, and he would have me sit in the first position on the couch, open his posture, and he would be silent," Comey said. "He knew that if he interrupted, I might stop talking."
Trump, by contrast, almost always sat behind the desk, and "he almost never stopped talking," Comey said. "So if you needed to tell him something, especially something about him … you'd have to shout it up the hill, over the desk, and into a storm of words."
Comey also told students that ethical leadership is not about answers, but how one arrives at the answer. A good leader, he said, looks beyond short-term concerns to figure out what factors should truly guide a decision. They also surround themselves with smart people, and they think about how the decision will be viewed in the future.
Students at the Law School have already been practicing these values because they are baked into the culture, he told the audience.
"You get this," he told students. "You've not only practiced what it takes to be an ethical leader. You've internalized the [common values] that hold us together. So my hope for all of you is you will take this amazing education you are getting here and realize the value of it … and use it to participate in the life of institutions of all kinds and in the life of this … country."
During his visit, which took place over two days, Comey also met with students and faculty and guest taught with Professor John Rappaport in Rappaport's Criminal Procedure class.
Comey has visited the Law School before, offering remarks at the 2015 Diploma and Hooding Ceremony at Rockefeller Chapel and returning the following October to discuss race and policing.