Finding the Right Fit
Associate Dean for Career Services Lois Casaleggi Loves Her Job. She Wants the Law School's Students to Find That, Too.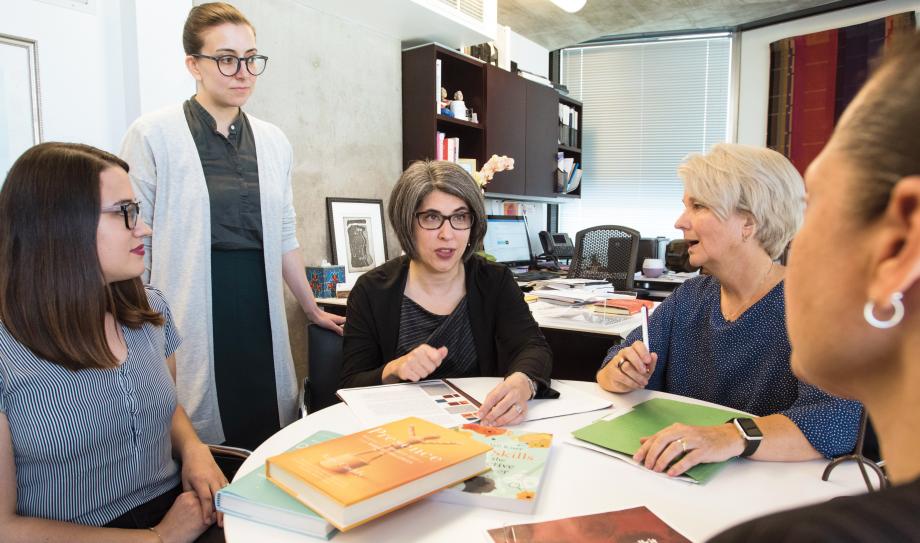 Lois Casaleggi has seen a bit of change.
Since she joined the Law School's Office of Career Services 15 years ago, the department's staff has nearly doubled. They have weathered a market crash. And they've seen shifts in students' job preferences, too: although the majority still join law firms after graduation, increasing numbers pursue public interest work or enter judicial clerkships—and the office has flexed to meet that demand.
"It was a very different market when I arrived," said Casaleggi, who became the new associate dean for career services when Abbie Willard retired this summer. "And I'm proud of how our office has responded to the changes."
Casaleggi led the charge in collecting and analyzing the Law School's career data, an effort that created both a window into big-picture market trends and a storehouse of information that students and alumni can access when exploring potential jobs. She has helped thousands of students figure out which legal career fits their talents and passions, often adjusting her own communication style to ensure that she's "meeting them where they are." She has been active at a national level, too, serving on numerous committees for the National Association for Law Placement and spending two years on the organization's board of directors.
"We have been so grateful for Lois's expertise and extraordinary service to our students and our community over the past 15 years," said Dean Thomas J. Miles, the Clifton R. Musser Professor of Law and Economics. "She has been a crucial partner to faculty in developing our programs for both clerkship and academic hiring, and she has been a valued career counselor for many students, bringing to bear her encyclopedic knowledge of the legal job market. She will be outstanding in her new role."
When Casaleggi arrived at the Law School, she was drawn, in part, to what she called an "all-star team" that included people like Willard, retiring Career Services Director Paul Woo, and Lisa Abrams, now a private consultant.
"These are three legends in the career services industry," Casaleggi said. "Everybody knew who they were. And I had this chance to work with them, to come in and be a sponge and learn from them."
This spring, Casaleggi chatted with Director of Content Becky Beaupre Gillespie about the value of one-on-one career counseling, her goals for the coming year, and why she's devoted an entire bookshelf at home to Harper Lee's To Kill a Mockingbird.
Gillespie: You were a psychology major as an undergraduate at the University of Illinois, then went to law school, and then practiced law for seven years before entering the career services field. Tell me a bit about your early academic interests.
Casaleggi: Law was something I hit upon in grade school. It struck me as something that would allow me to be intellectual and analytical, but also in service to others. When I got to college, I needed a major, and I chose engineering. My dad was an engineer, and he always said that lawyers are problem solvers and engineers are problem solvers. But the engineering curriculum was rigid, and I quickly realized that if I moved into the College of Liberal Arts and Sciences, I could explore lots of different things: psychology, sociology, political science. Psychology really spoke to me.
Gillespie: Counseling future lawyers—that seems like a nearly perfect blend of your degrees.
Casaleggi: It is, and that was part of my pitch when I was trying to break into the field. I'd had a great time practicing law, and I'd been fortunate to work in firms with lawyers who gave junior attorneys tons of responsibility. But I hit a point where [I thought], I don't think I want to do this forever. So I did what I now would tell a student in those same shoes to do: think about what motivates you in a job, what you're good at, what you like doing, and what really makes you tick. One of the things I'd discovered in my seven years of practice was that I enjoyed training and mentoring students and junior associates. I'd worked with the summer associate program and the law clerk program, and I'd been part of the hiring committee. All of it fit: I was good at it, and it motivated me.
Gillespie: I know you're a fan of the Myers-Briggs Type Indicator—you've become an expert in using an understanding of personality traits in career counseling. So, first, of the 16 Myers-Briggs types, which are you?
Casaleggi: I'm an ISTJ, which stands for Introversion Sensing Thinking Judging. The two middle letters in particular influence many things: communication, decision-making, motivation. The fact that I am an ST—a sensing thinker—means, most simply, that I like details and I'm oriented toward logic and rules, which fits very well with the practice of law. Among lawyers, Ts are overrepresented—both STs, like me, and NTs [intuitive thinkers]. Career services, on the other hand, tends to draw more people who are Fs rather than Ts. F is known as feeling, and it represents a preference toward values-based and people-based decision-making. I care about those things, but I'm most driven by logic, efficiency, data, and information.
Gillespie: How do you incorporate Myers-Briggs when you're counseling students?
Casaleggi: We don't necessarily know the "type" of the person across the table—and that's okay because we're not using it in that way. What we do know is that these types and preferences exist, and they affect how people best receive information. Because many lawyers are either NTs or STs, my go-to way of doing things works for many law students. But sometimes it doesn't, and I've learned over the years how to quickly tell that I'm not speaking that student's language. I won't know if the student is an NF [an intuitive feeler, the opposite of a sensing thinker], but my first shift will be to pull back on the details and the process and to focus more on the big picture and the people. I don't offer different advice—the content is the same—but I communicate and connect in a different way. And this is important: I can have the greatest content in the world, but if I don't deliver it in a way that the other person can hear, then I'm not effective.
Gillespie: Speaking of your love for detail, you've led the effort to collect, manage, and analyze legal career data at the Law School. Tell me a bit about this project.
Casaleggi: Law schools have been asked in recent years to report increasing amounts of information and increasing detail about that information—and it's no surprise that this has become an area of specialization for me. It hits my sweet spot, allowing me to put my strongest preferences to work. I've also wholeheartedly embraced the trend because I see the need for it. For instance, if a student comes in and says she's really interested in working in Boston, we have this treasure trove of information—alums who summered in Boston or currently work in Boston. It also enables us to take a step back and look at the bigger picture: where our students go, what they do, which employers are coming to our on-campus interview program, which employers students are interested in seeing—and not just which types of employers and practice areas, but which cities. Data allows us to provide students with valuable information, adjust to changes in the market, and tweak our own processes.
Gillespie: What are the core values that you bring to this work and to your new role?
Casaleggi: We have embraced, and are driven by, an individual approach to career services. Our goal is to help students find the right fit. We have students who go to large law firms, students who pursue public service, students who clerk. These are all great things to do with your law degree, and it is important to find which thing, or combination of things, is right for each individual. We want to make sure students have what they need to make informed decisions. I also value transparency: I like to know what the expectations are, and I like the people around me to know what the expectations are. I'm very direct—that's part of my leadership style.
Gillespie: What are your goals for your first year as associate dean for career services?
Casaleggi: The first is to make sure that students have a seamless experience. We have a number of new team members joining the office, and I want to be sure students do not feel bumps in the road—and I don't think they will. I'd also like to do even more with data analytics. There are always cycles in the market, which means there will be another economic downturn at some point. Data can help us think about that. What will it look like? What types of jobs do our students want, and which of those might contract in a downturn? What have we seen in prior downturns? What do we anticipate seeing in the next downturn? That, in addition to our experience and knowledge of the market, is where data can really inform our thinking and help us prepare.
Gillespie: In the past 15 years at the Law School, what has made you the proudest?
Casaleggi: Our individual approach and willingness to be open and to reevaluate. It's what allowed us to navigate the market crash 10 years ago. We were pretty nimble and able to do some innovative things quickly. For instance, law firms were deferring associates, so we started a deferred associates listserv. Everyone was still working one-on-one with counselors,  but we also could get information out to groups of people quickly and easily. In any year, our one-on-one approach puts us several steps ahead of the starting line: we know what's going on with people, we know their successes, we know their struggles, and we know what they want.
Gillespie: What's your favorite Law School tradition?
Casaleggi: I love the hooding ceremony at graduation. It's so special and the setting is magical, there in Rockefeller Chapel.
Gillespie: I know you're a big fan of the theater. What are some of your favorite shows?
Casaleggi: Well, like many people, Hamilton just blew me away—it was amazing. As a kid, I loved Jesus Christ Superstar. The first show I ever saw on Broadway was 42nd Street—I still have on vinyl the soundtrack of that Broadway cast. I've seen many productions of Who's Afraid of Virginia Woolf?, which has just been astounding. Every time I see it, there's something new. I also was really affected by the play Disgraced.
Gillespie: Do you have a favorite book?
Casaleggi: I'm a stereotypical lawyer—I can't live without To Kill a Mockingbird. In my library at home, I have a To Kill a Mockingbird shelf. I probably have six or seven versions—I have it in French, I have it in Italian. I have books about the book. I have books about [the author] Harper Lee, too.
Gillespie: You and I share a reverence for the TV series The West Wing. If you could be anybody in President Jed Bartlet's White House, who would you be?
Casaleggi: Leo McGarry. I love Leo. And that chief of staff role—as much as I'm a detail person, I'm also a big-picture person. One of my leadership strengths is being able to do both of those things at a high level. I like details—and the details stick with me—but I also love being able to step back and say, Yes, here's the obvious impact, but let's think several steps down the road. What are the longer term consequences? Who needs to be involved in this decision? What do we need to think about to make this decision?
Gillespie: What else do you enjoy doing outside work?
Casaleggi: My son plays baseball, and it's one of my favorite sports. It's so fun to go out to the ballfield with him. He and I also take a mother/son trip to New York every year—we see shows, spend tons of time in Central Park, and explore the city. He'll be 12 next fall, and this has become a great tradition of ours.
Gillespie: What haven't we discussed that you would like people to know?
Casaleggi: Just how great it is to work at an institution like this. I have found for myself what I want our students to have, too—the right fit and something that is truly satisfying.
Career development